SPONSORS
Our award partners and sponsors play an important role in supporting Golden Chef's culinary talent by providing vital prize funding, sharing in our vision to support the future of the industry, and celebrating young chefs striking out to make their mark and take their careers to the next level.
Thank you to our sponsors and event supporters who have helped us in shaping this year's competition, to make it an inspiring and rewarding experience for our participants.

We're thrilled to have a new sponsorship launch with SOLIDTEKNICS this year. Healthy, sustainable and multi-generational cookware, proudly 100% made in Australia! 
Designed for both professional and home kitchens, SOLIDTEKNICS range of one-piece wrought iron and stainless cookware is suitable for all heat sources from stovetop to woodfired pizza ovens. Better for chefs, and the environment. 
 

Our 2021 Golden Chefs will be in the running to win some impressive prizes courtesy of SOLIDTEKNICS, that are sure to be welcome additions to your professional chef kitchen equipment.

 

Check out chef Jayden Osbourne, the Regional QLD finalist with his new state-of-the-art SOLIDTEKNICS AUS-INO™ pan.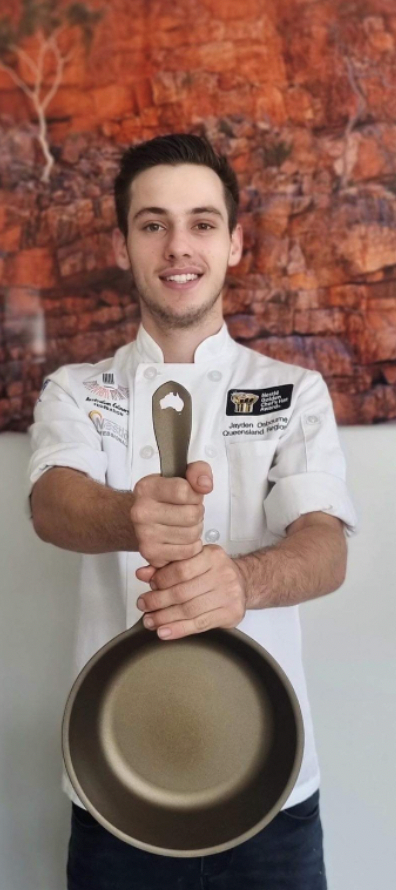 We're proud to announce our new partnership with Best Restaurants of Australia. As the most respected and largest interactive dining guide, Best Restaurants have always strived to support our hospitality industry and chef talent of the future. 

We're very excited to have them on board and you should be too. They're giving our 2021 talent the opportunity to win prizes to dine in Australia's most iconic restaurants and get even more inspired in their culinary journeys. 

Best Restaurants of Australia draws together all the latest restaurant news, food & wine events, professional reviews, chef profiles, and new openings. So you can discover all the top award-winning venues, right at your fingertips.

Find out more at bestrestaurants.com.au
Follow Best Restaurants on Facebook & Instagram