ALUMNI
Celebrating moments from the past 58 years.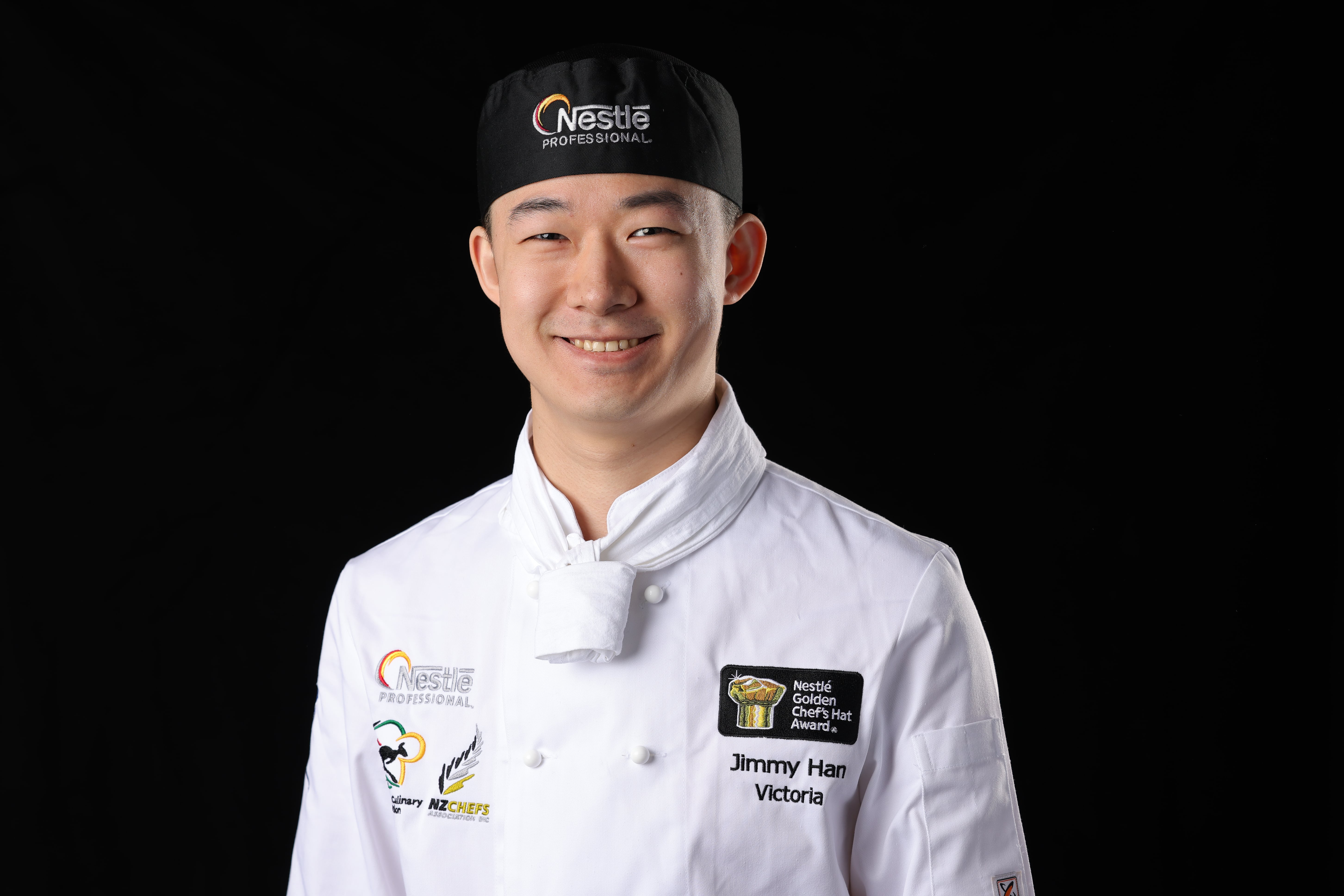 2023 Winner
Jimmy Han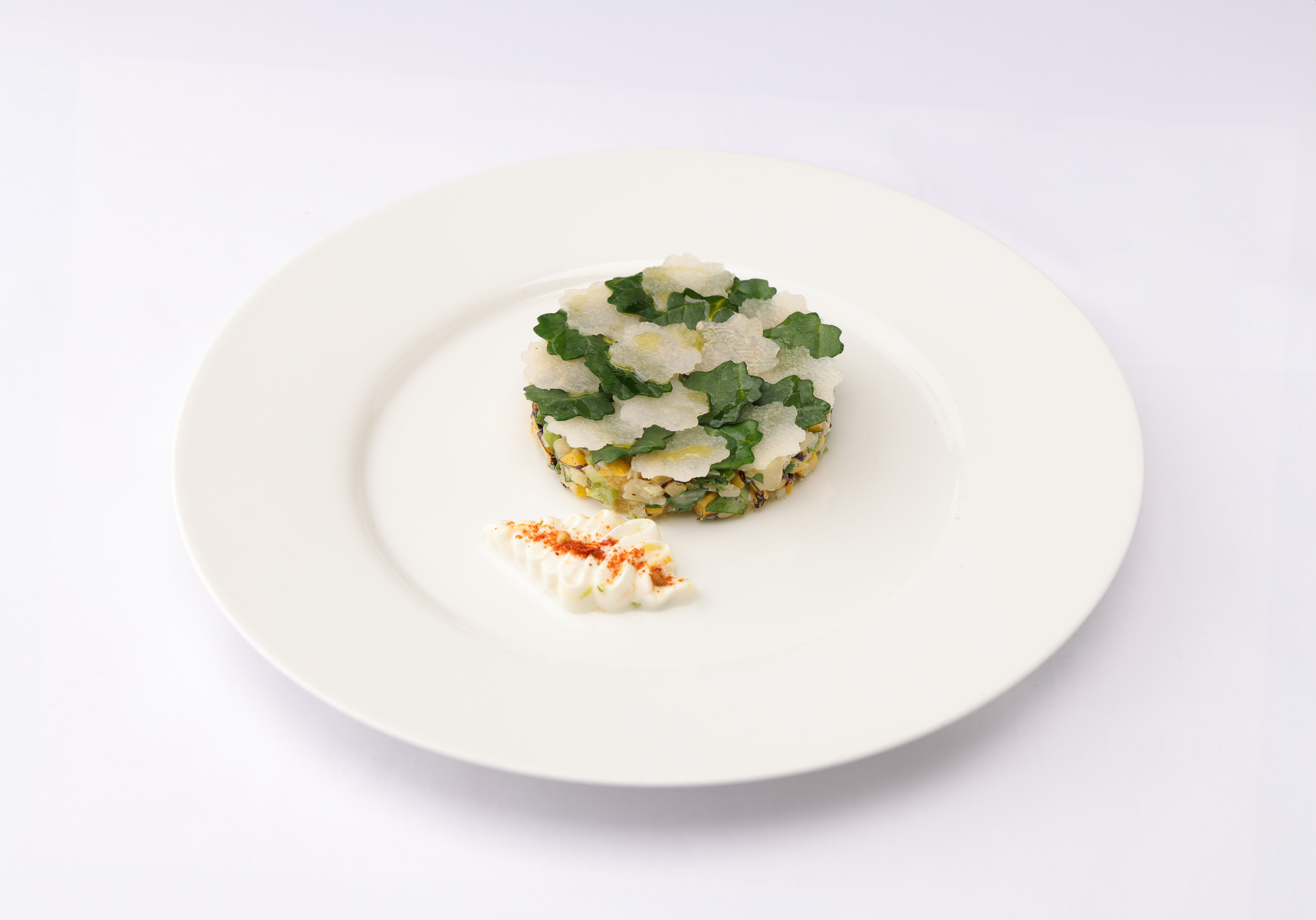 2023 Winning Entrée & Best Savoury Dish
Torched corn salad with nashi pear, baby spinach and Greek Yoghurt. (Jimmy Han)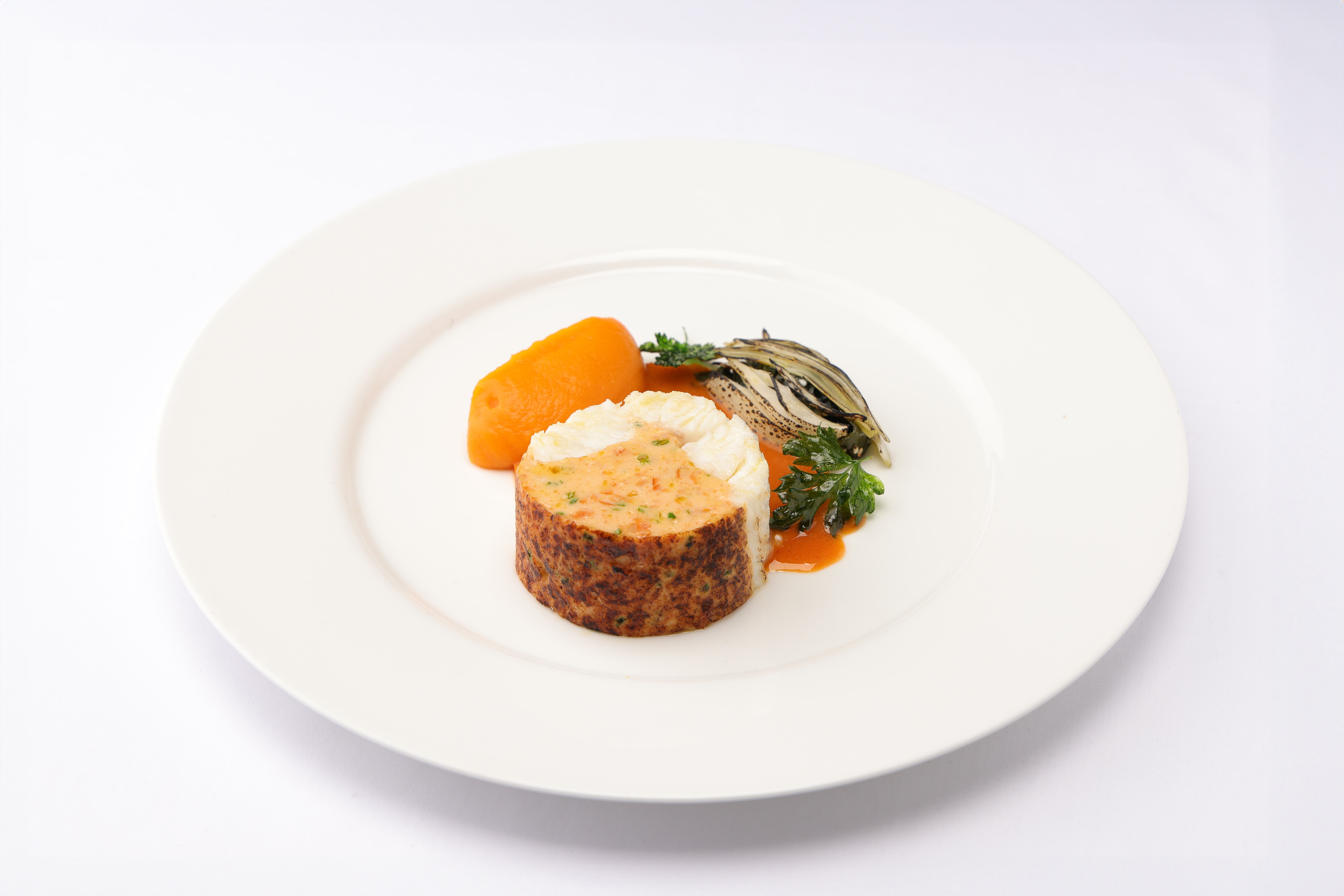 2023 Winning Main & Best Savoury Dish
Murray Cod with chorizo, fennel wakame salad, sweet potato puree and tom yum butter sauce. (Jimmy Han)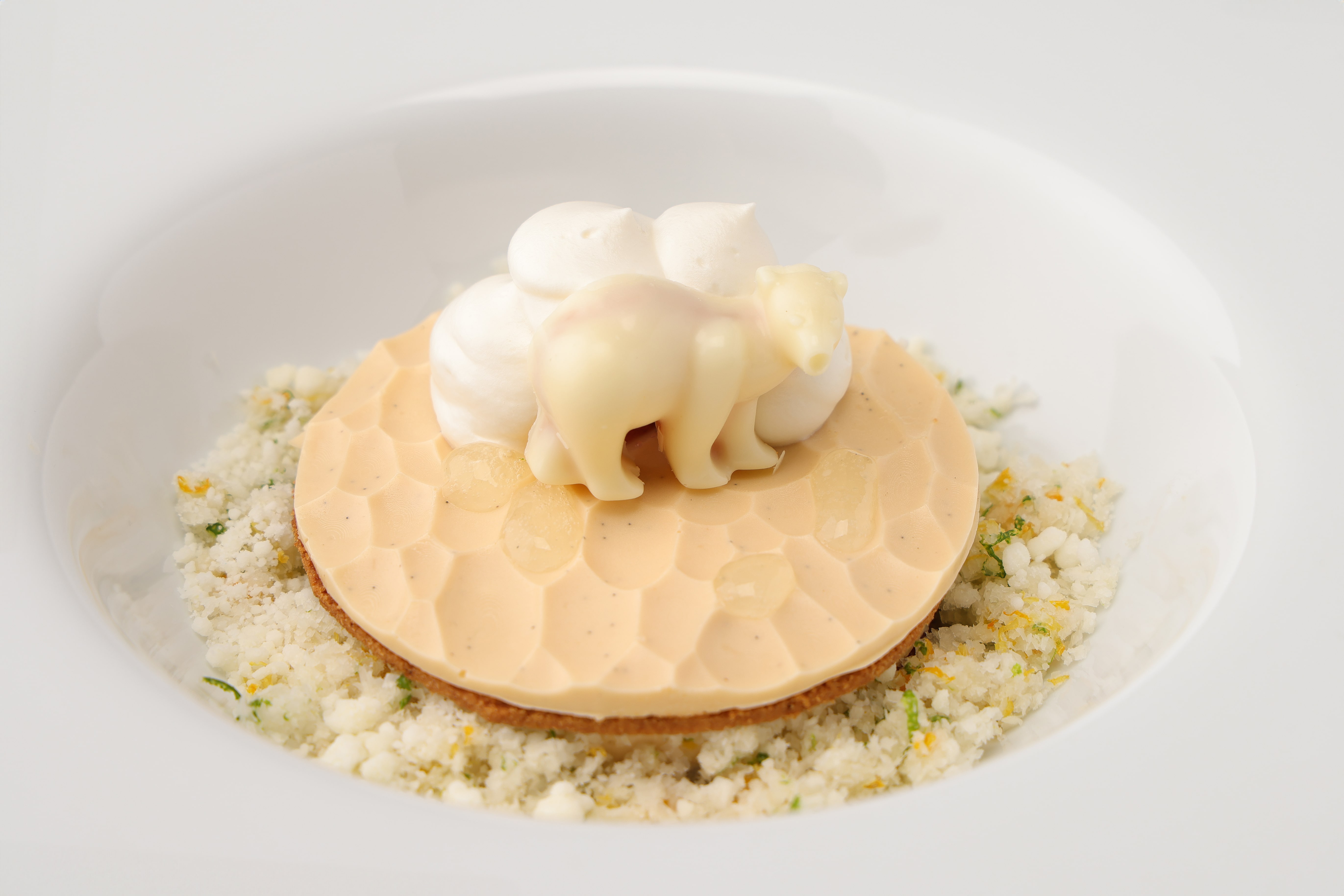 2023 Winning Dessert & Best Dessert Dish
Vanilla black pepper bavarois. Sable lemon gel, white chocolate soil with shaved macadamia and raspberry jelly. (Jimmy Han)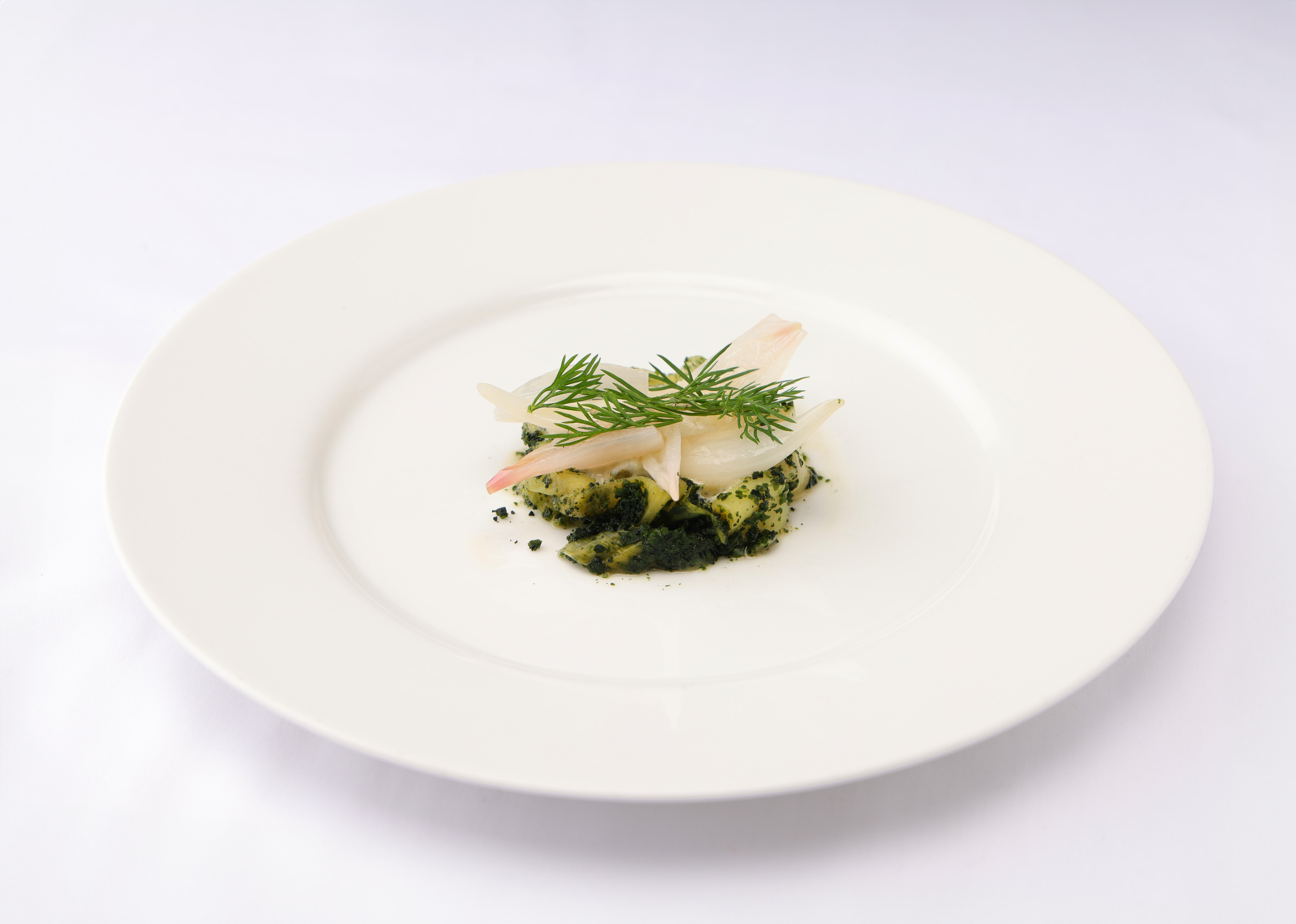 2023 Most Creative Use of a Nestlé Product
Braised leek and wakame mosaic, onion and BUONDI coffee broth, sweet and sour eschalots with a macadamia nut cream. (Ashleigh Handsaker)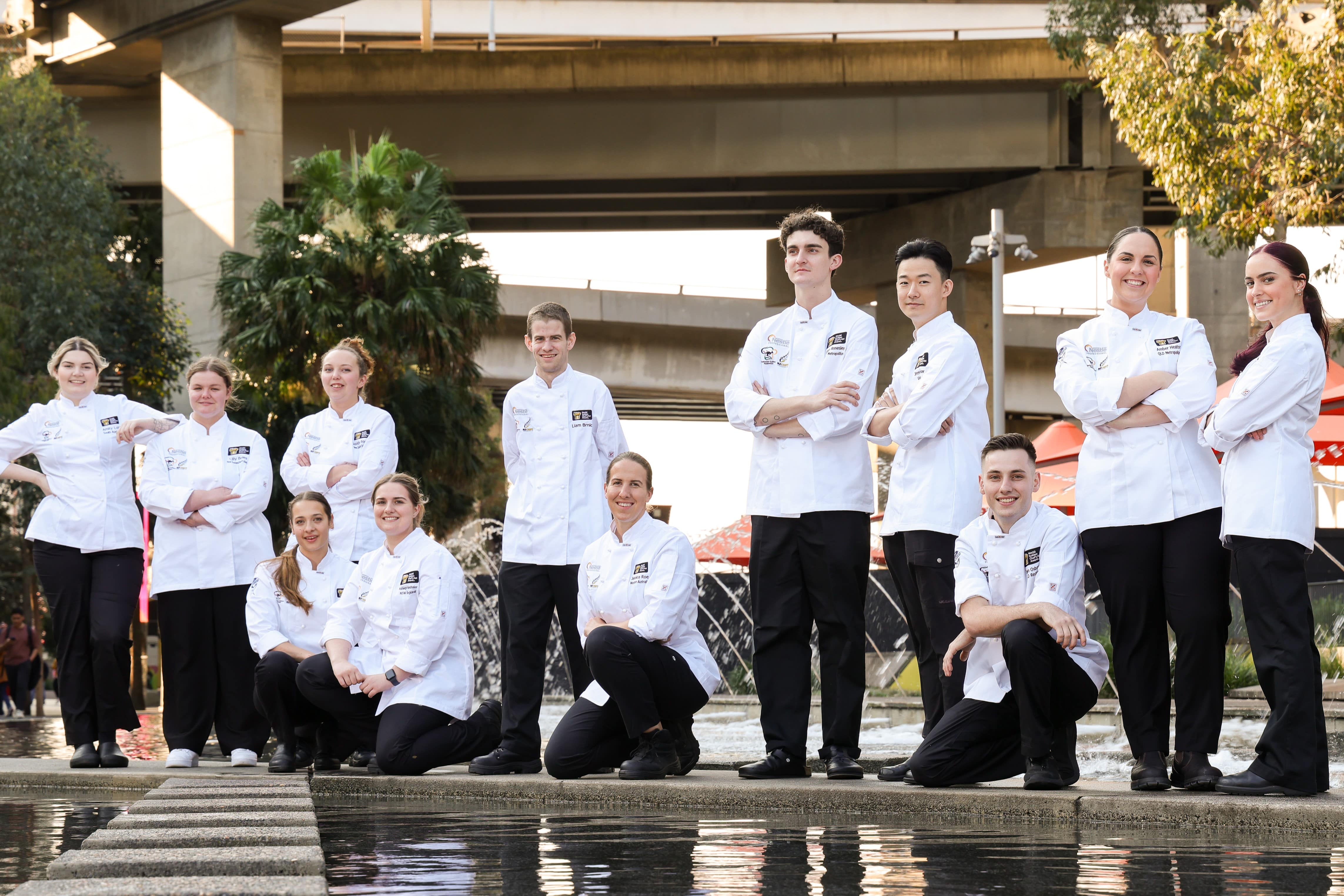 2023 Grand Finalists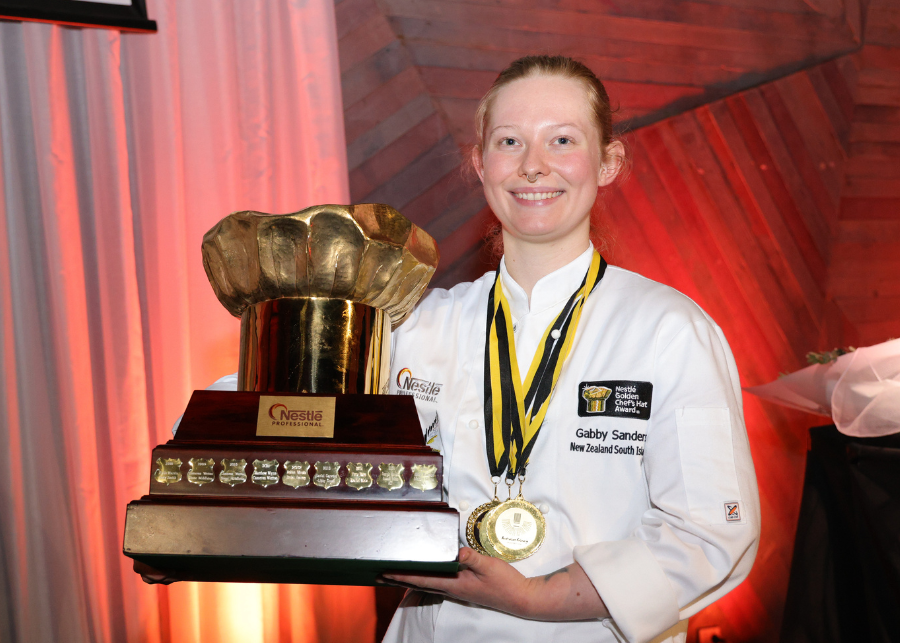 2022 Winner
Gabby Sanders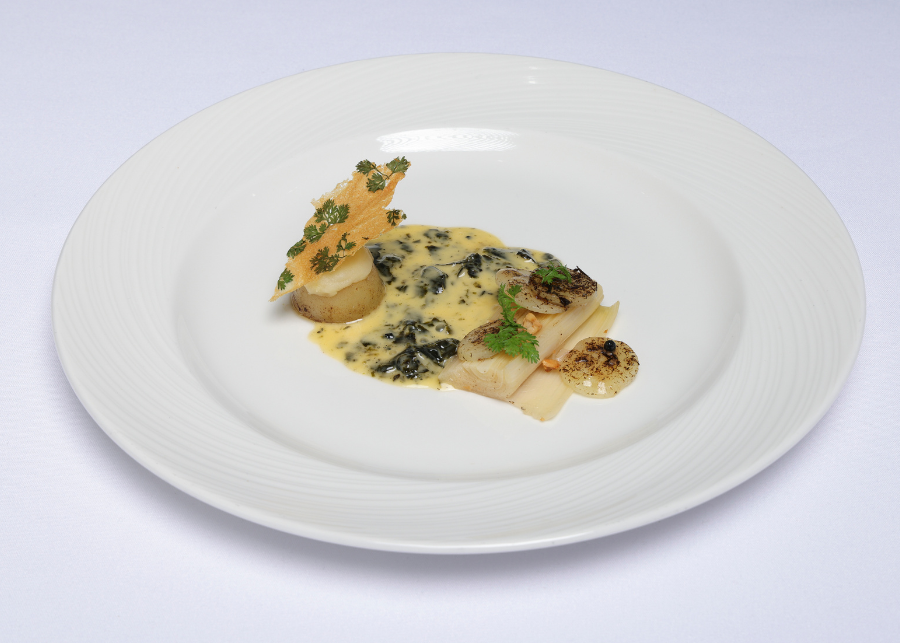 2022 Winning Entrée
Leek, potato and smoked beurre blanc sauce.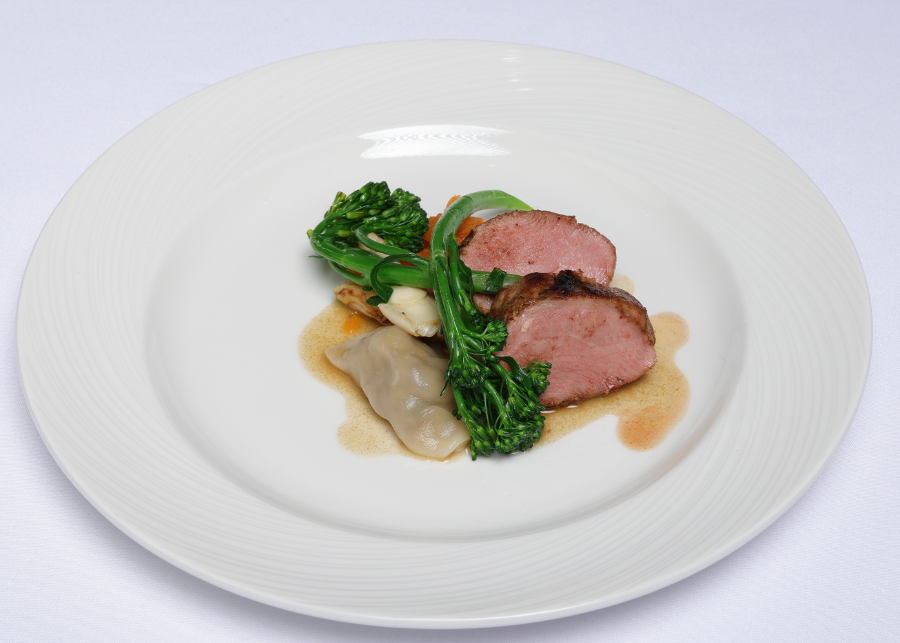 2022 Winning Main
Glazed pork, caramelised soy dumpling and Asian pork jus.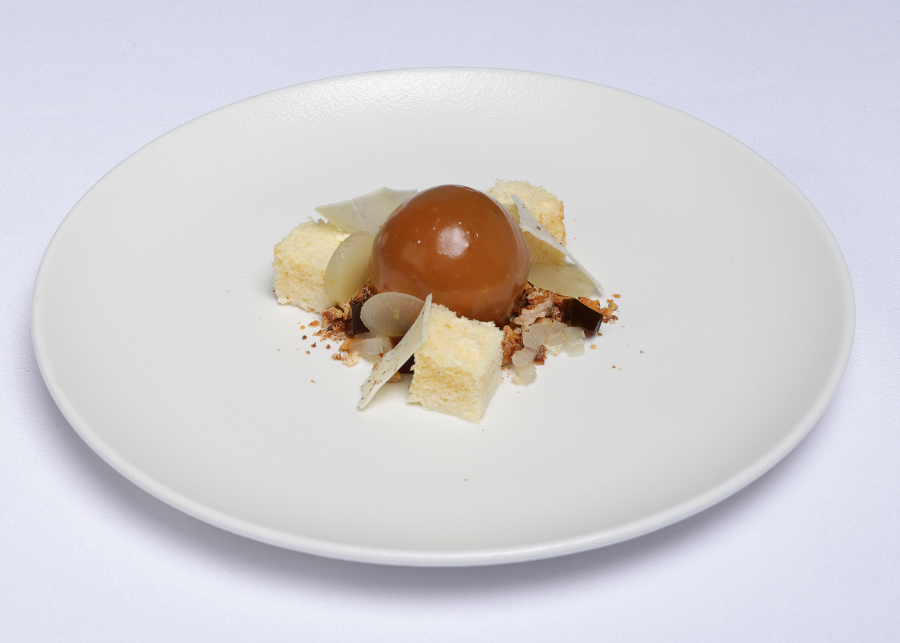 2022 Winning Dessert
Chai spiced cake, with caramel, coffee, walnut, pear, and white chocolate.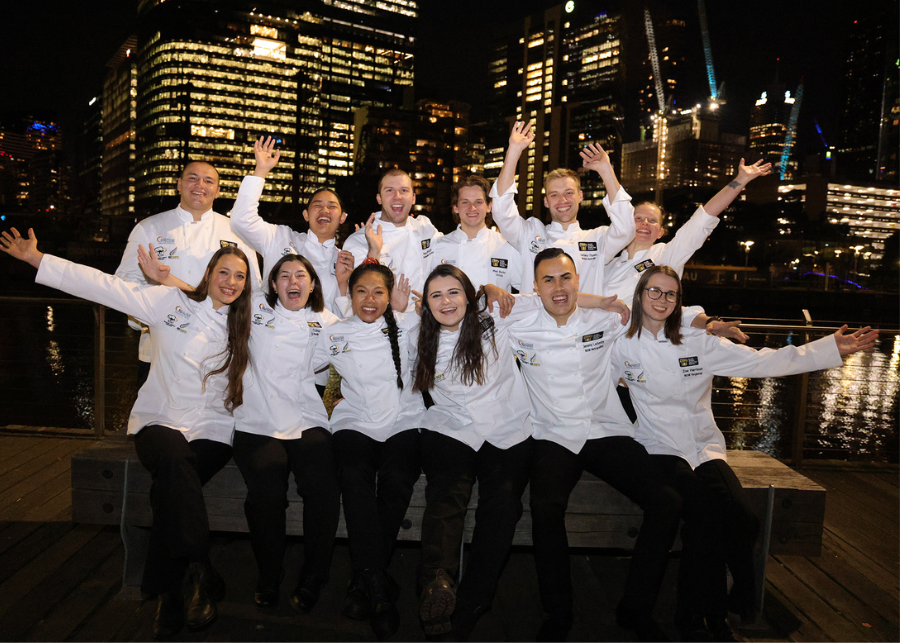 2022 Grand Finalists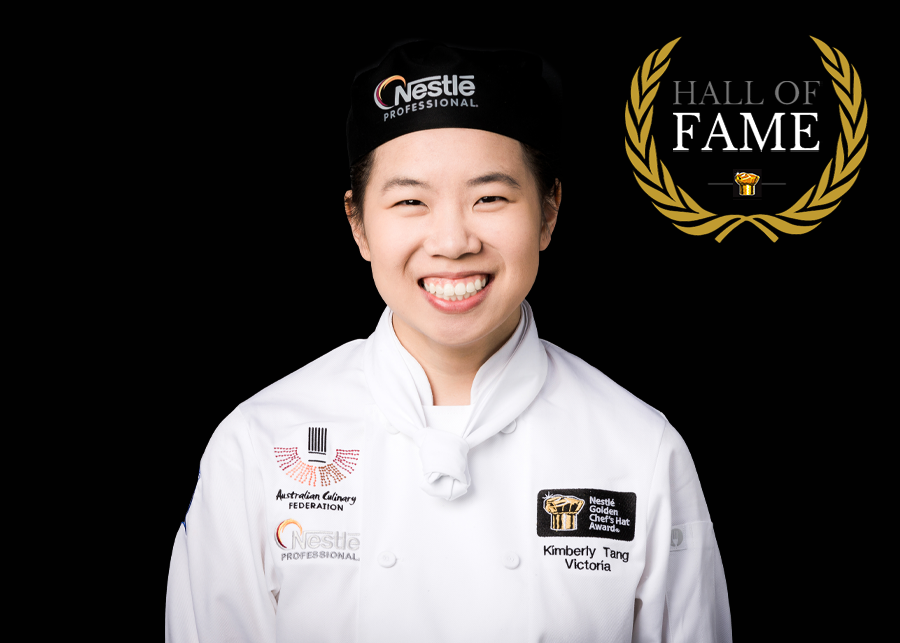 Kimberly Tang
Read more about Kimberly's journey after being crowned the 2021 Nestlé Golden Chef of the Year in the Hall of Fame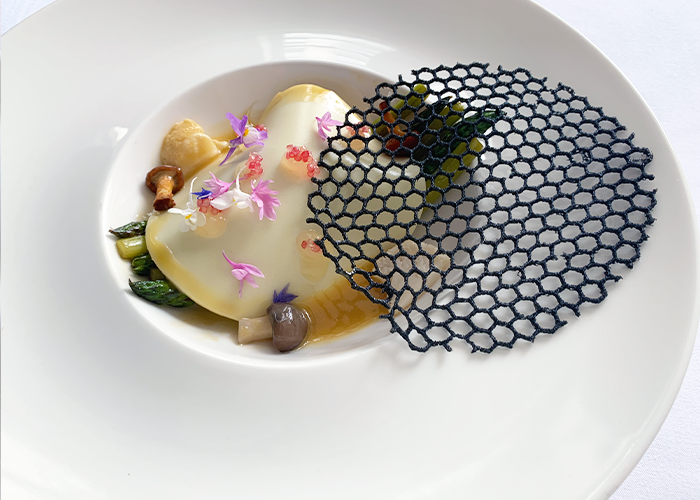 2021 Winning Entrée
Mushroom Ravioli: Onion and horseradish jelly, mushroom and black garlic Parcel, asparagus, pickled foraged mushrooms, yuzu gel, black garlic tuile, and ponzu emulsion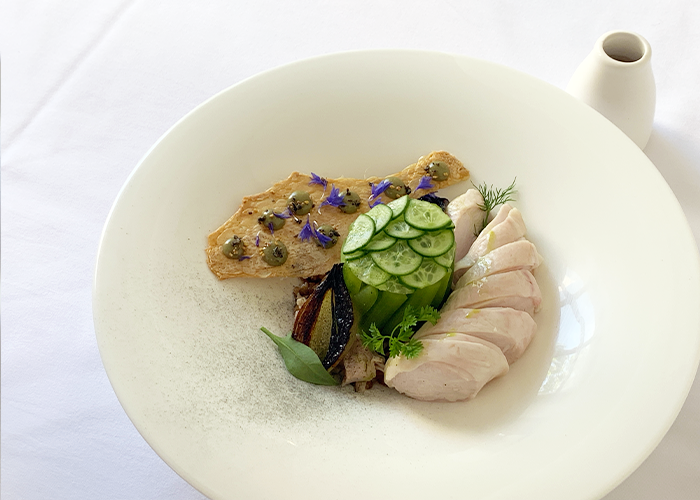 2021 Winning Main
Hainanese Chicken: Hainanese style chicken with black garlic emulsion, mushroom pearl barley, crispy chicken skin, negi oil, baby onions, shitake, and smoked charcoal pepper dust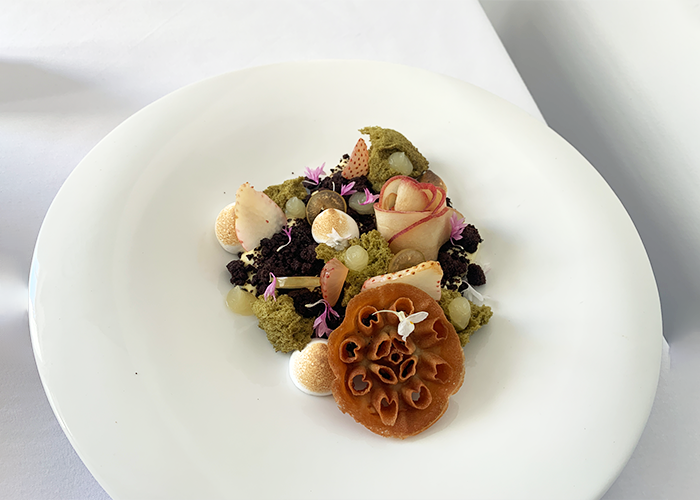 2021 Winning Dessert
Peaches & Strawberries Cream Zen Garden: Mascarpone Cremeux, black garlic and chocolate soil, matcha sponge, mushroom meringue, coconut lotus cookie, umeboshi compressed white peaches, strawberries, grapes, and yuzu gel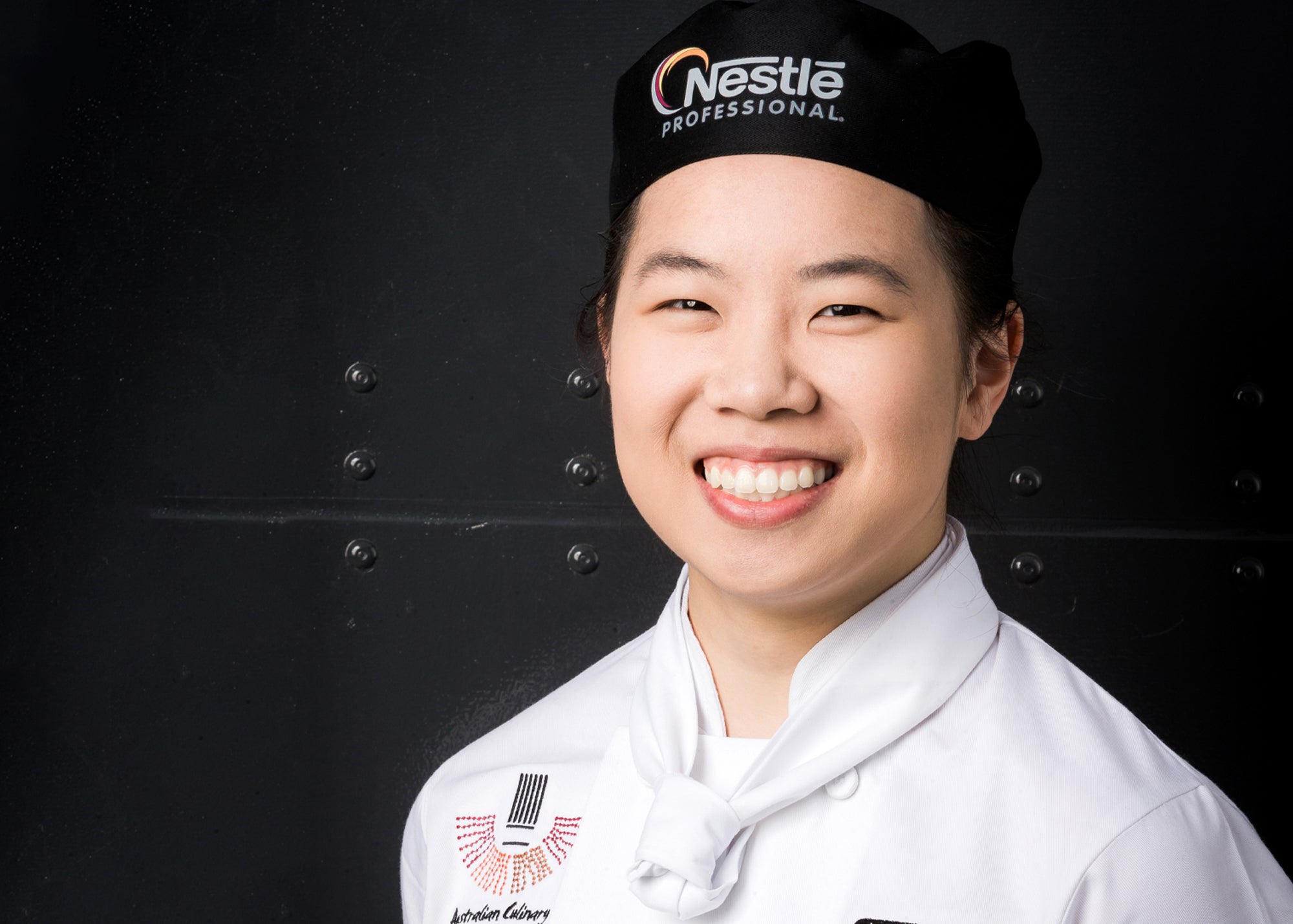 2021 Winner
Kimberly Tang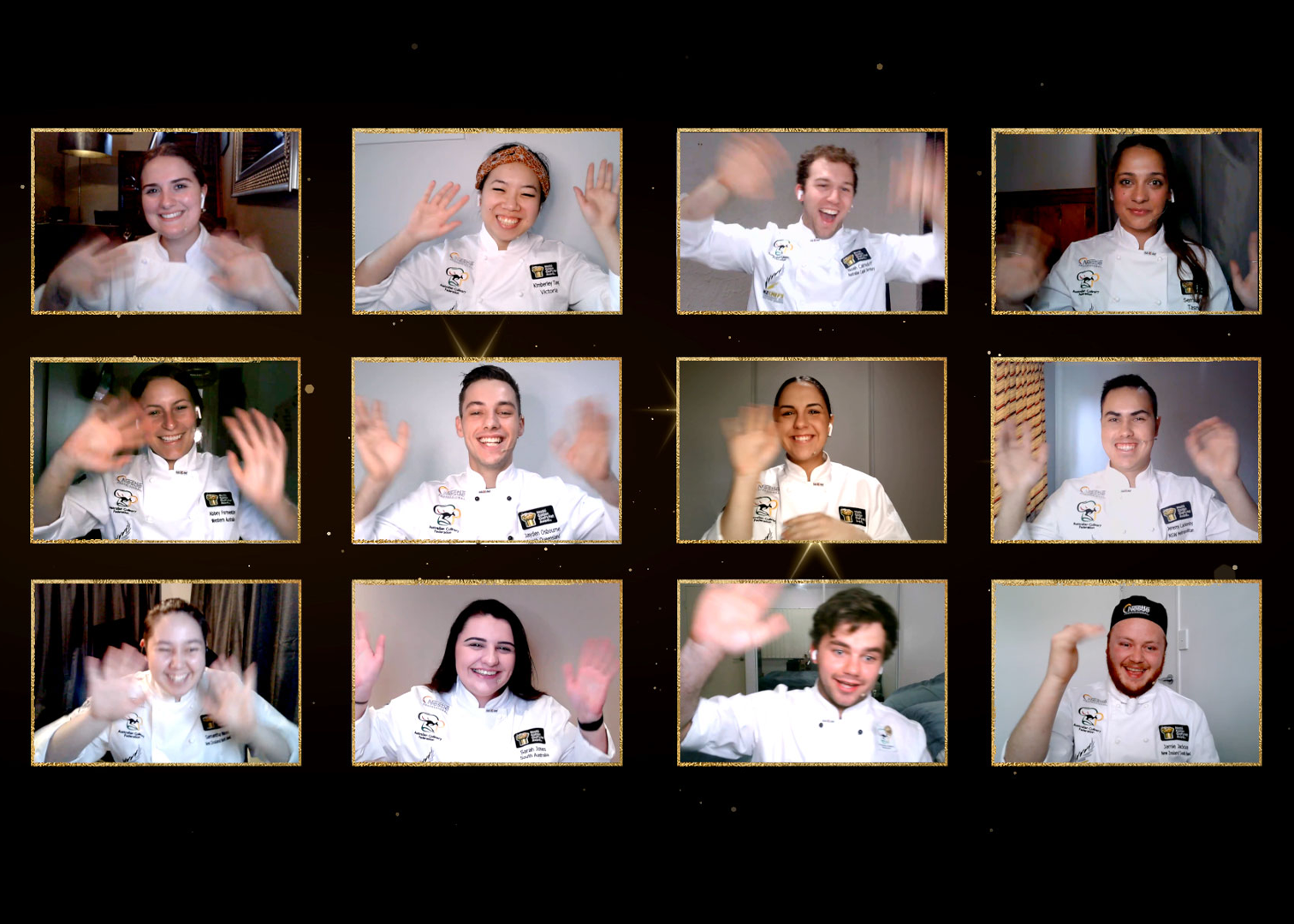 2021 Grand Finalists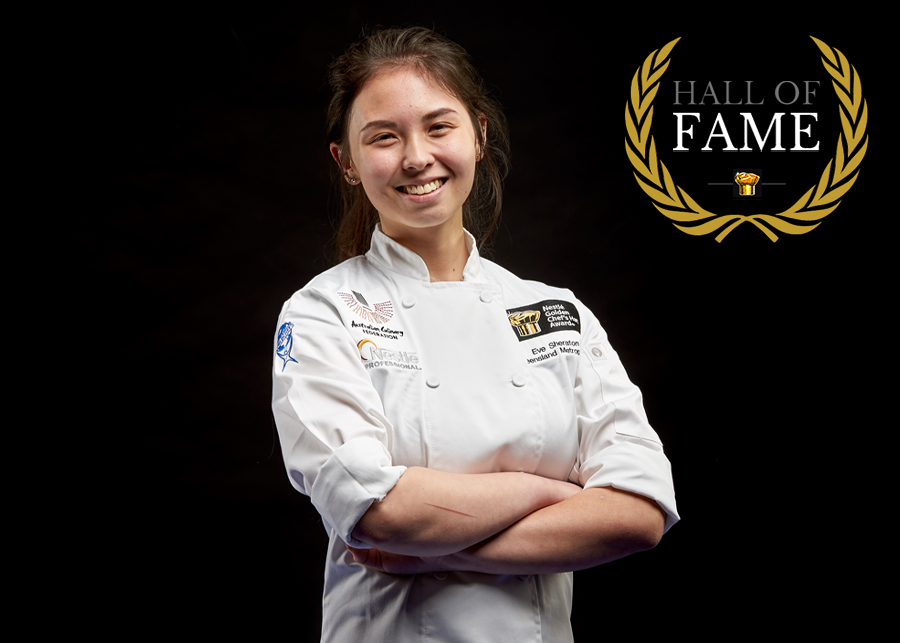 Eve Sheraton
Read more about Eve's journey after placing as a national finalist in the 2018 & 2020 Nestlé Golden Chef Awards in the Hall of Fame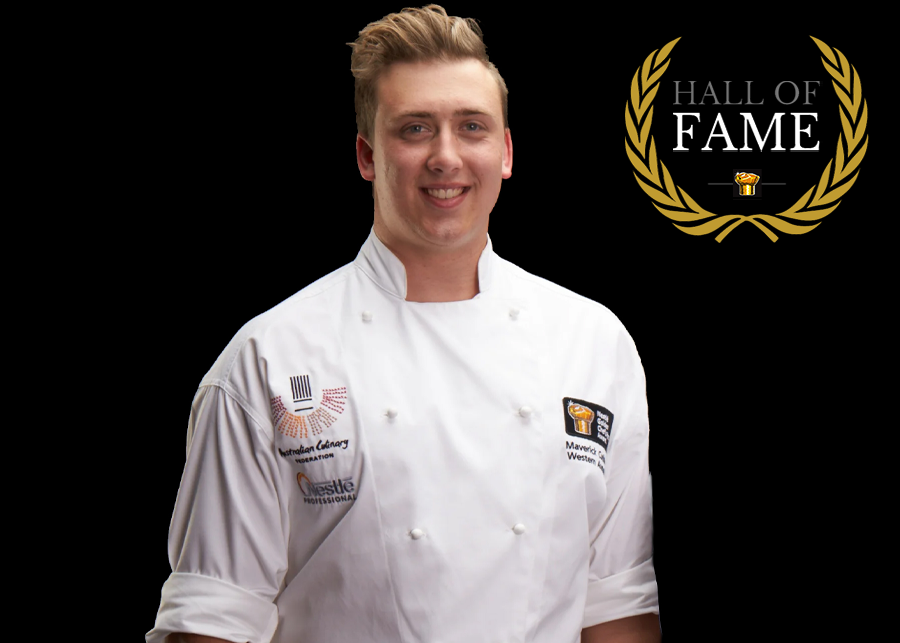 Maverick Cuthbert
Read more about Maverick's journey after placing as a national finalist in the 2019 & 2020 Nestlé Golden Chef of the Year in the Hall of Fame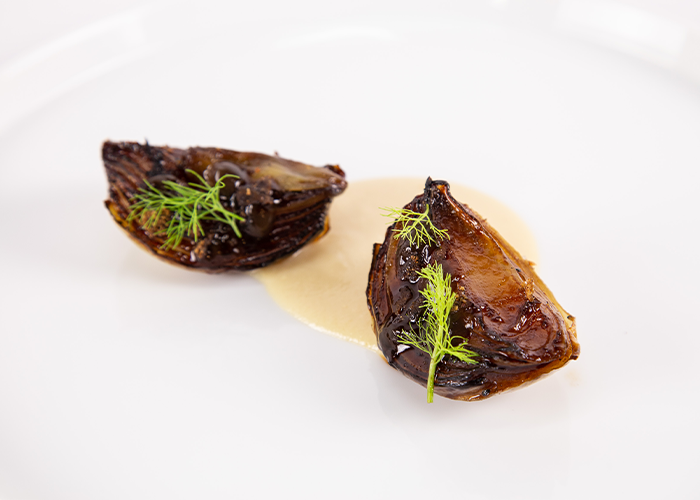 2020 Winning Entrée
Salt Baked Onions, Mushroom, Fennel and Fermented Rice purée, Juniper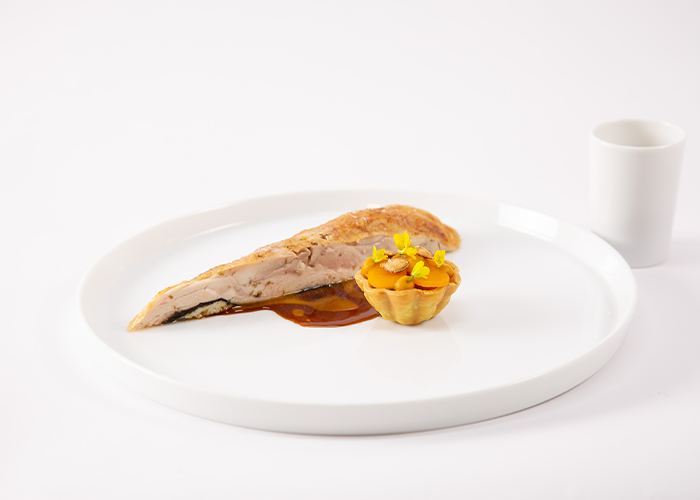 2020 Winning Main
Reconstructed Chicken and Butternut Tart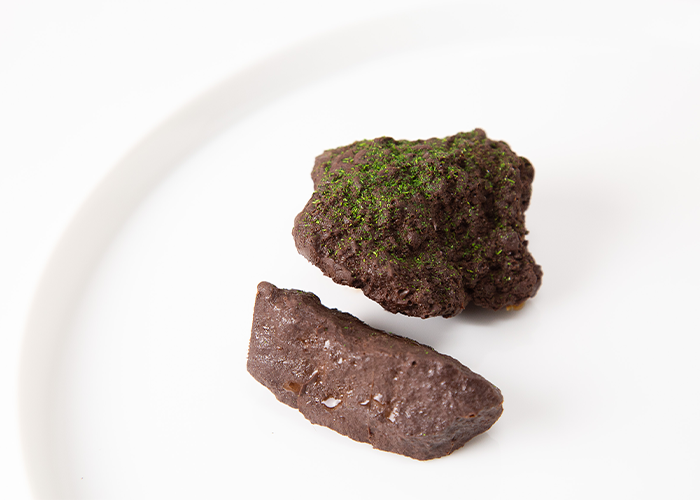 2020 Winning Dessert
Chocolate, Sour Pear Mousse, Umami Caramel and CHEF Black Garlic Paste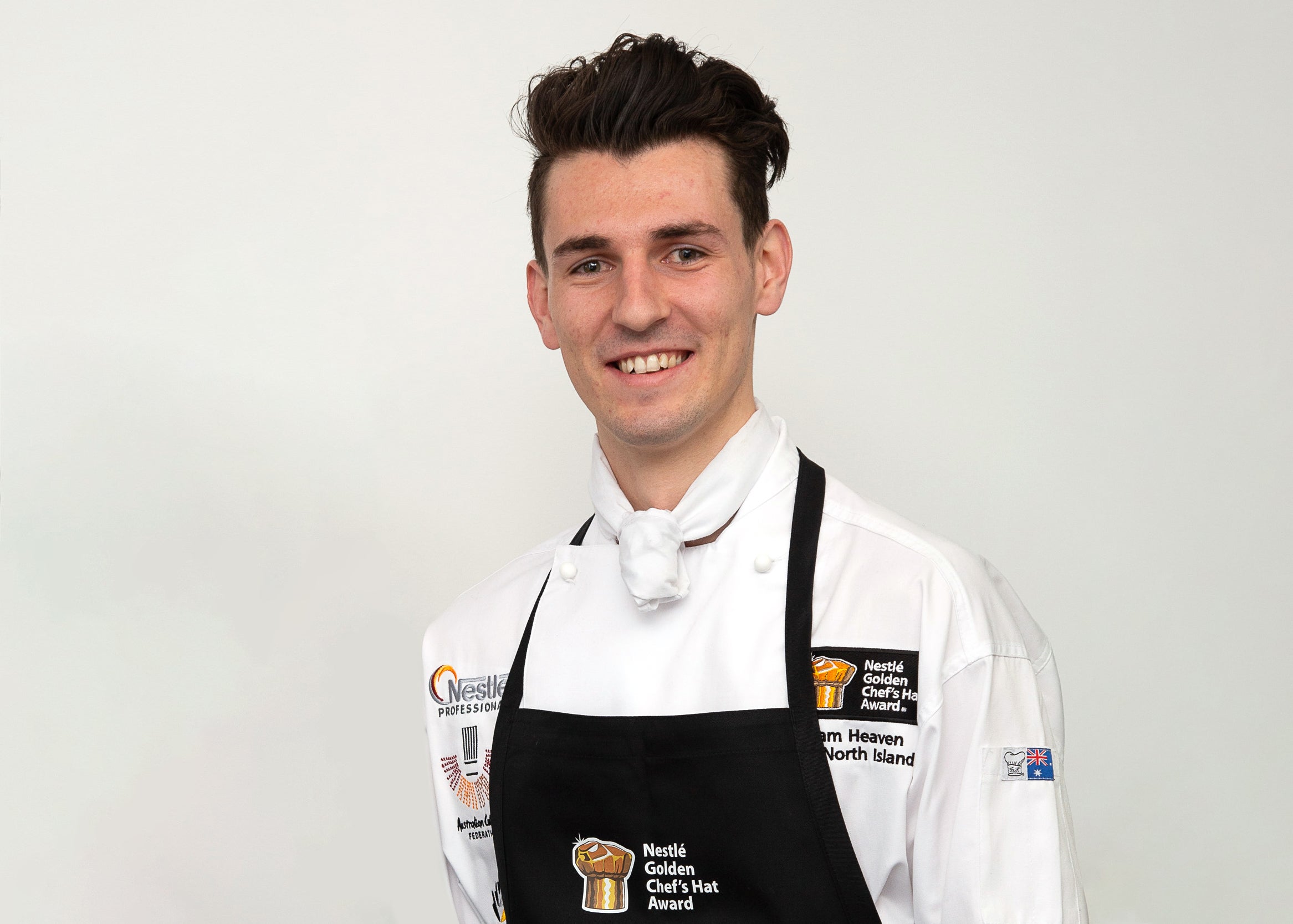 2020 Winner
Sam Heaven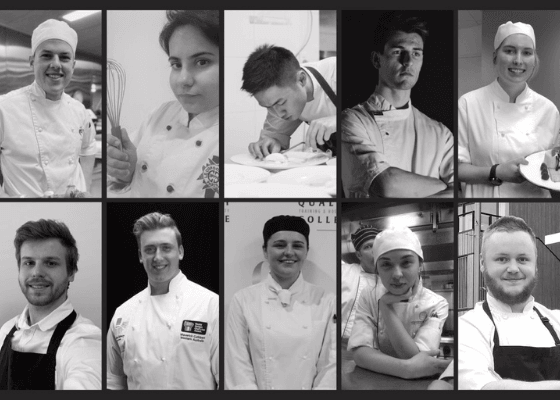 2020 Grand Finalists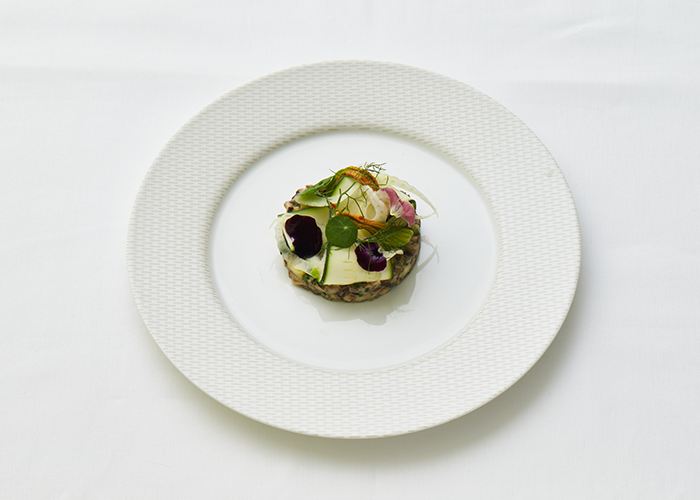 2019 Winning Entrée
"Tartare" of charred zucchini and roasted mushrooms, with smoked eggplant, lemon sour cream, and a salad of shaved fennel and zucchini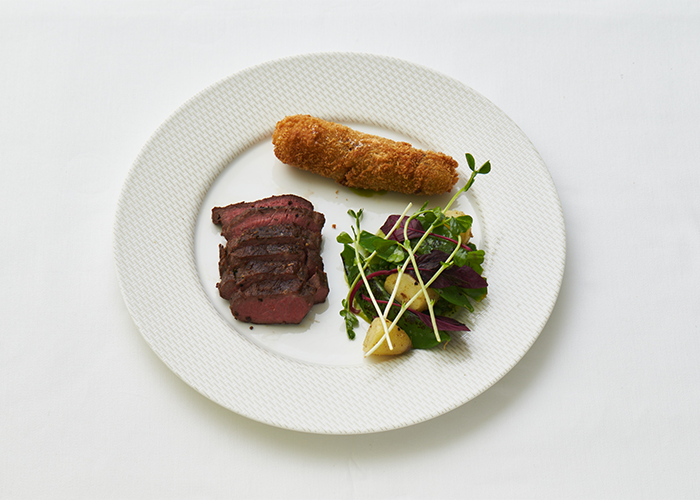 2019 Winning Main
Roasted lamb loin with a lamb and potato croquette, green pea and miso purée, peas dressed in a mint and caper salsa verde, a salad of pea shoots and red amaranth, and a smoked lamb jus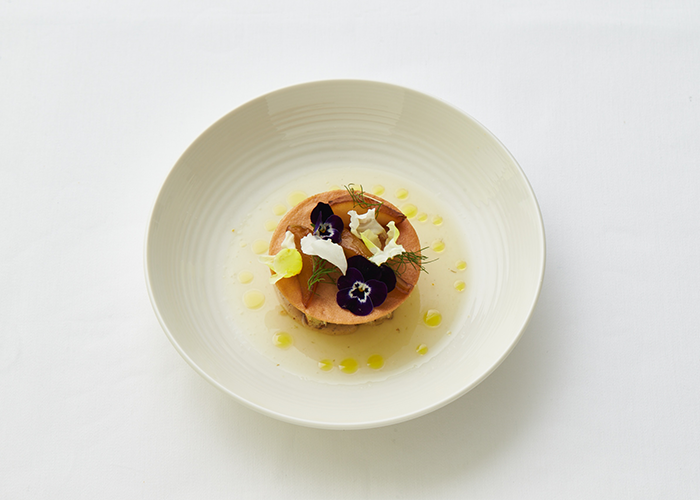 2019 Winning Dessert
Roasted and glazed pears with a crème fraiche and citrus parfait, toasted olive oil cake, burnt pear and brown butter emulsion, and an infusion of bitter citrus, fennel and olive oil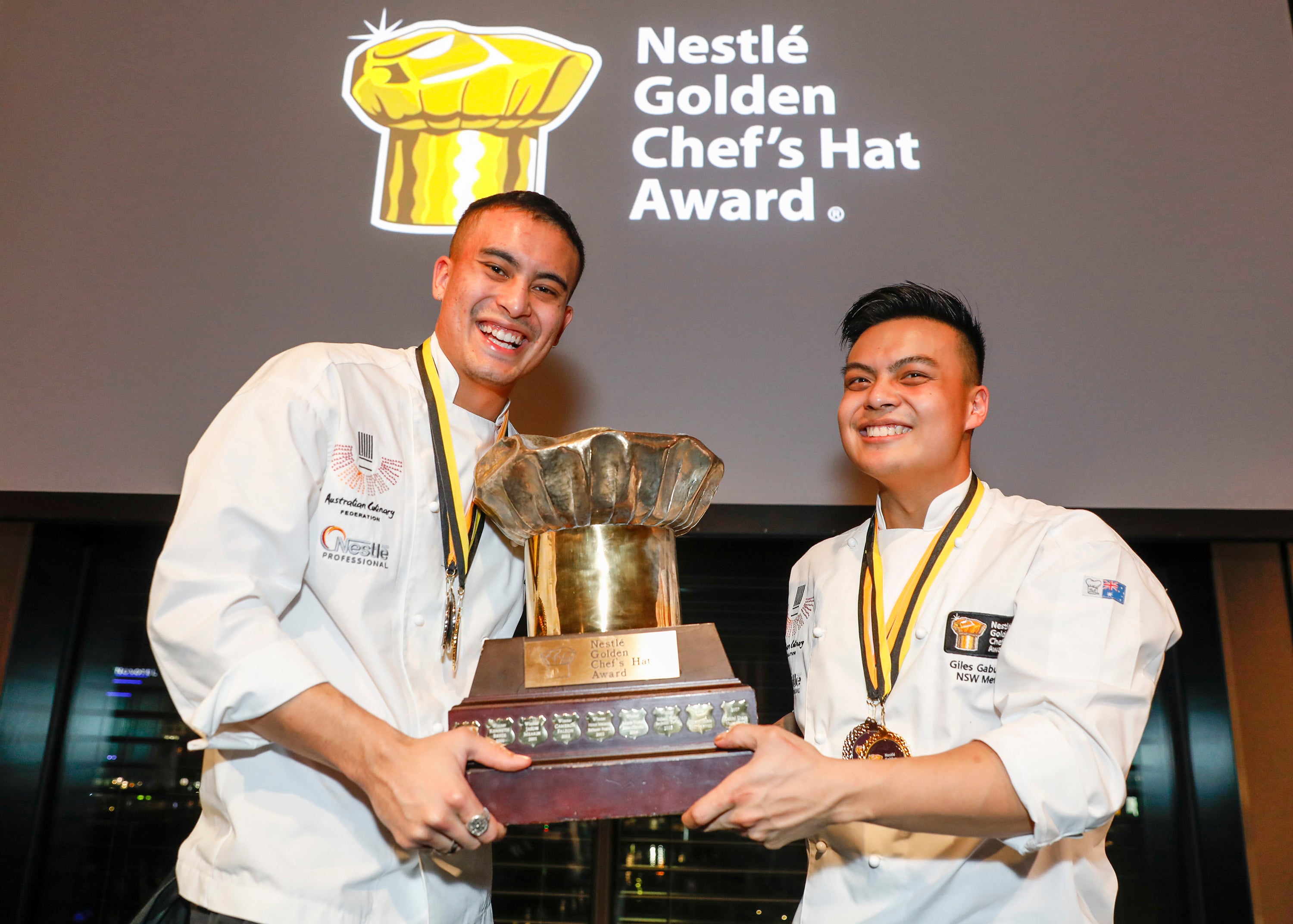 2019 Winner
Giles Gabutina & Alessio Nogaratto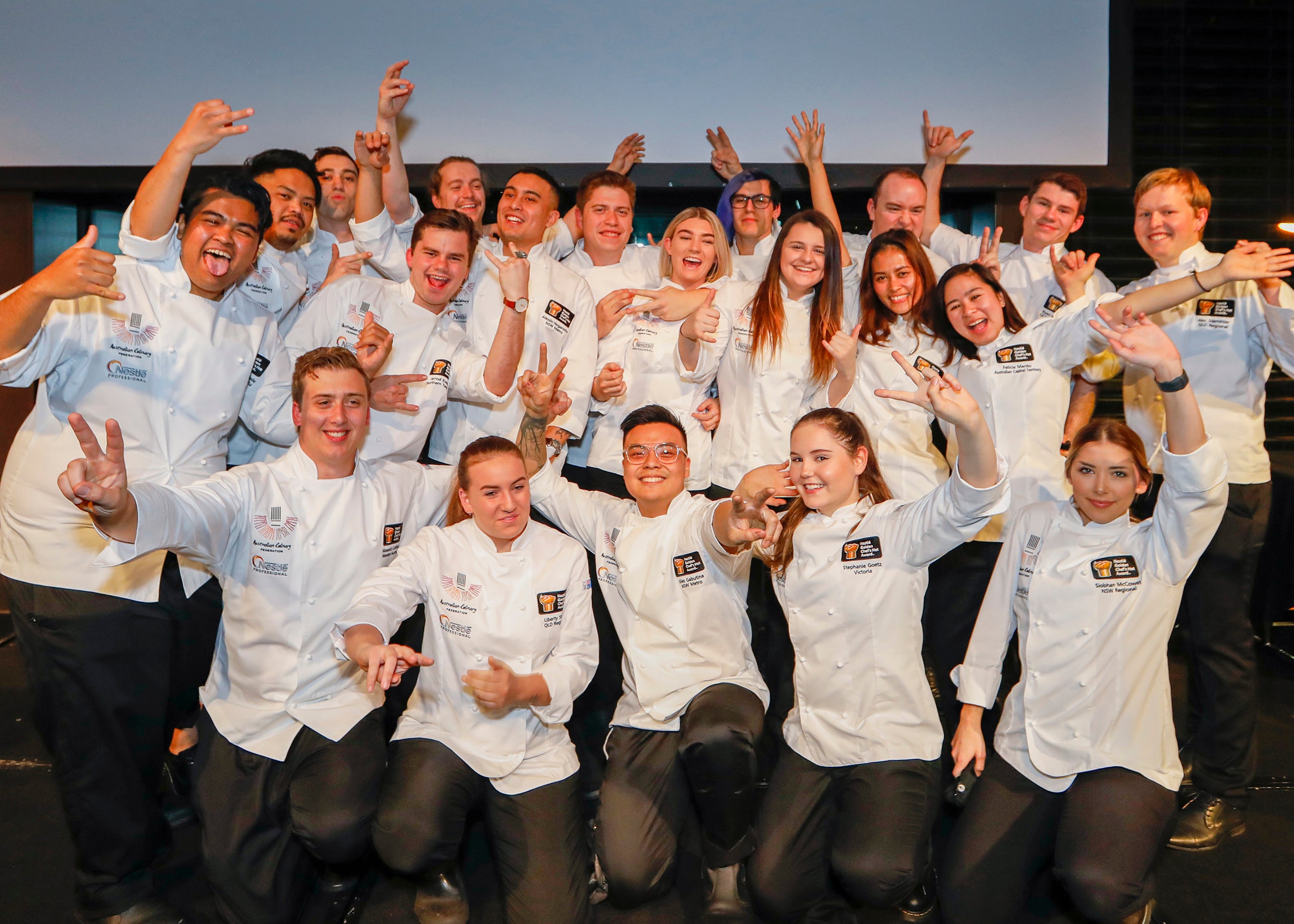 2019 Grand Finalists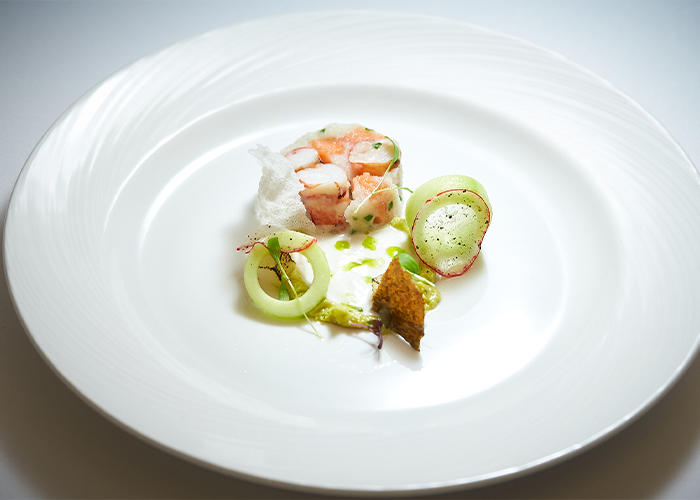 2018 Winning Entrée
Chive and Scallop Boudin centred with Salmon and Prawn, Coconut, lime, Cucumber, Radishes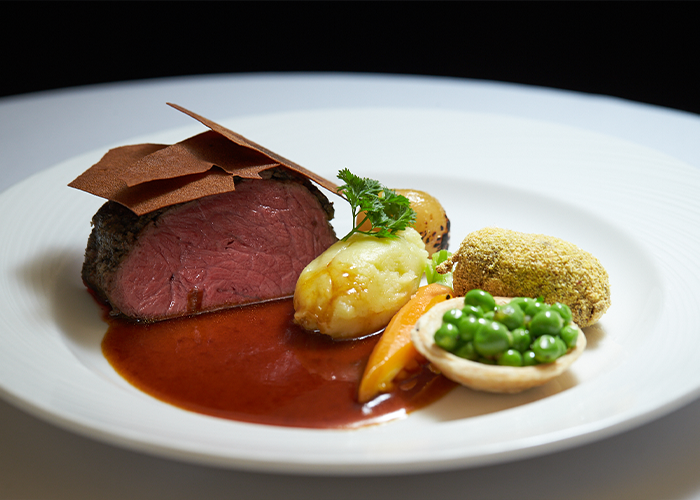 2018 Winning Main
Australian beef with mushroom crusted porterhouse and Korean BBQ oxtail with orange and maple carrot, pea tart and scented sauce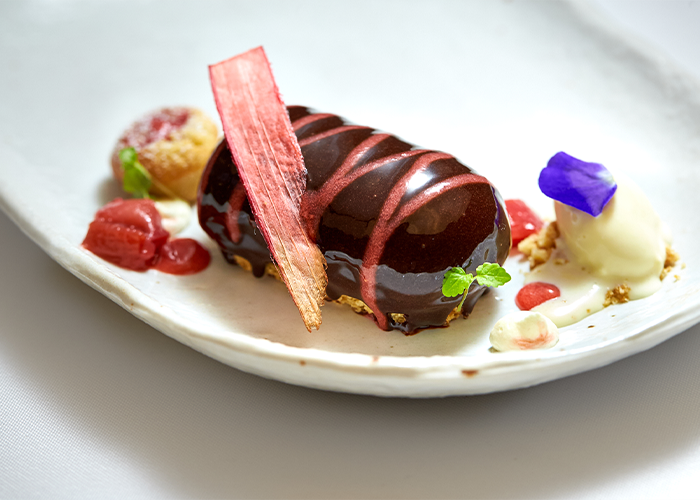 2018 Winning Dessert
Variations of Rhubarb, Chocolate, Honey, Crème Fraiche and Almond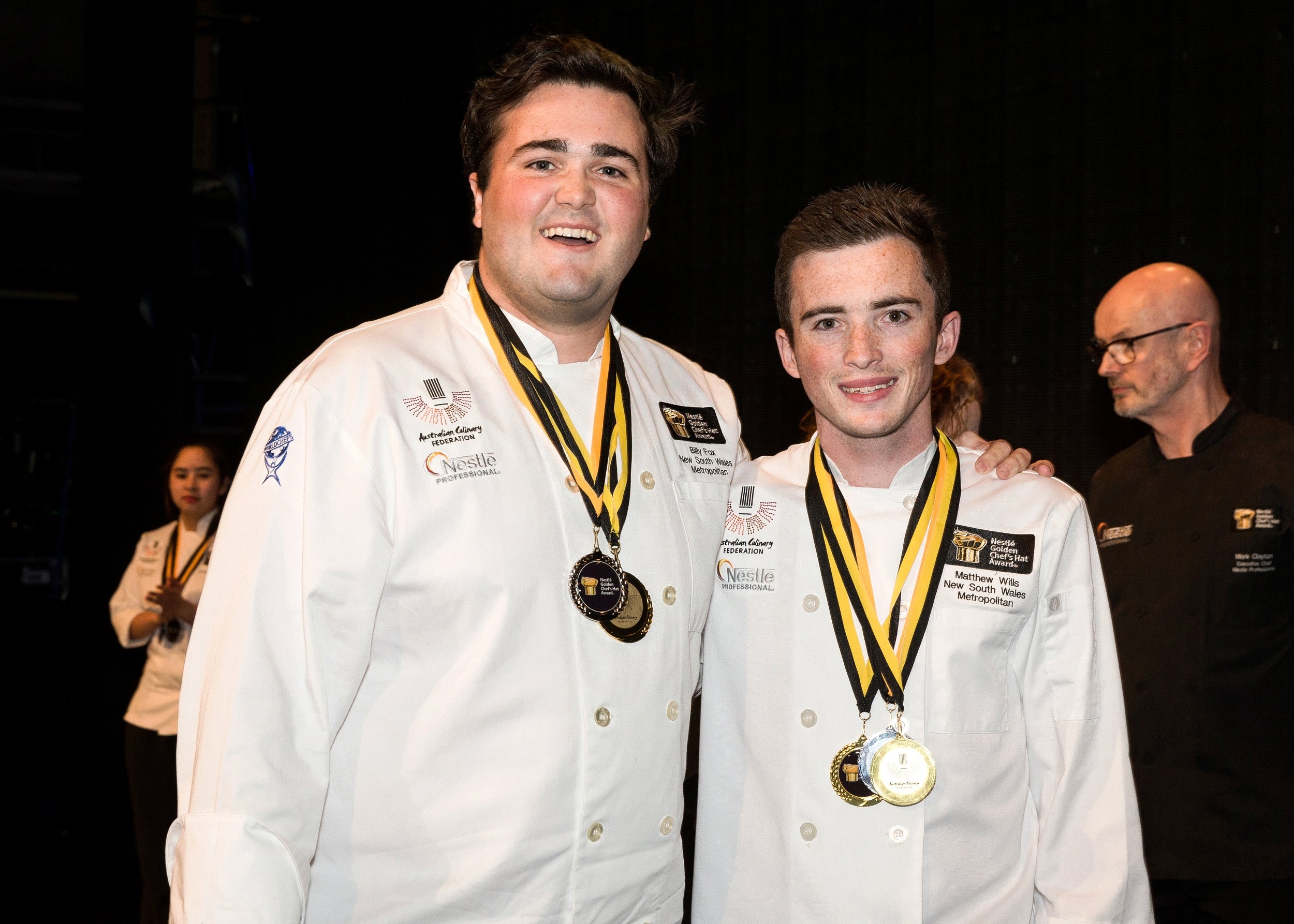 2018 Winner
Matt Wills & Billy Fox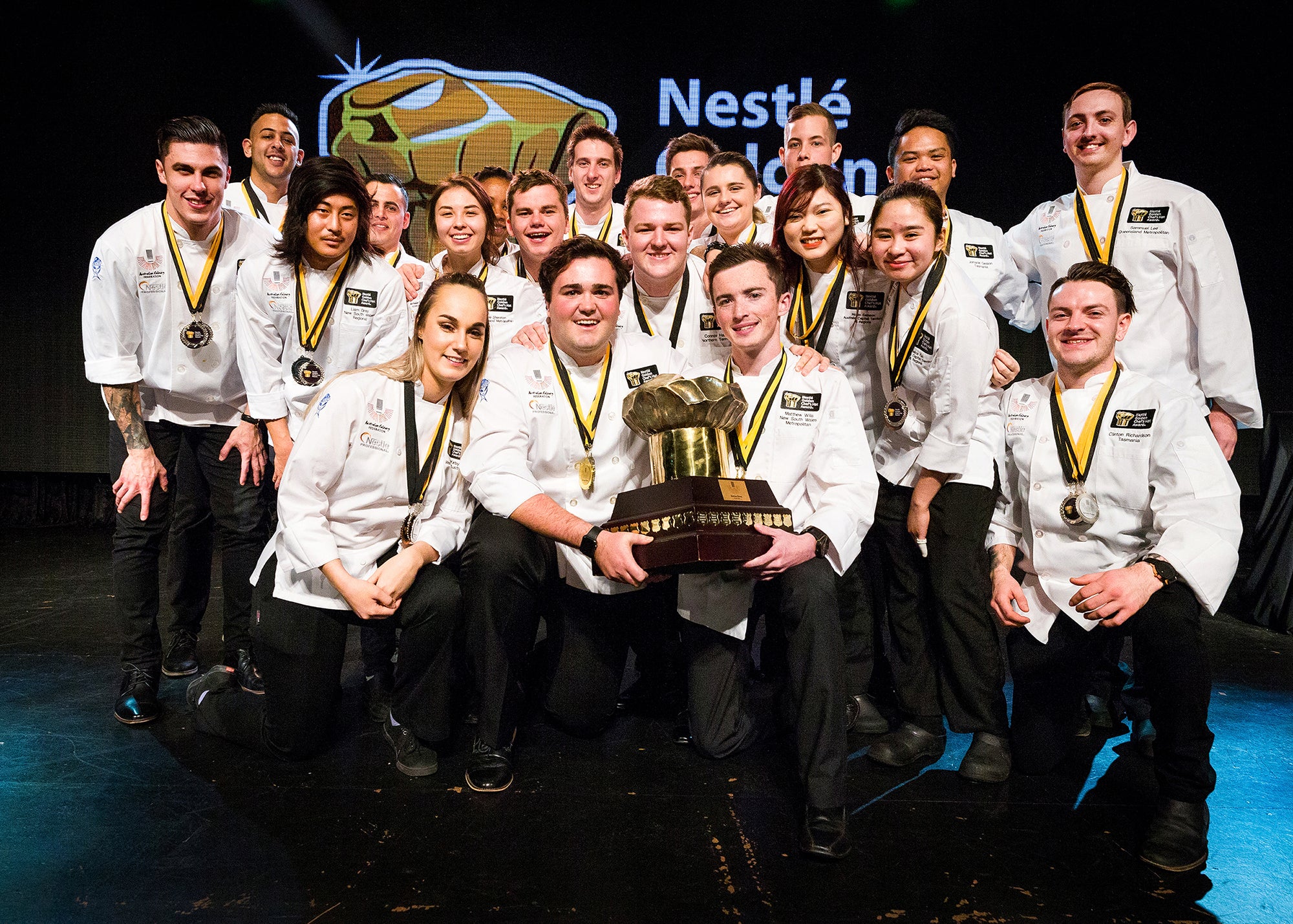 2018 Grand Finalists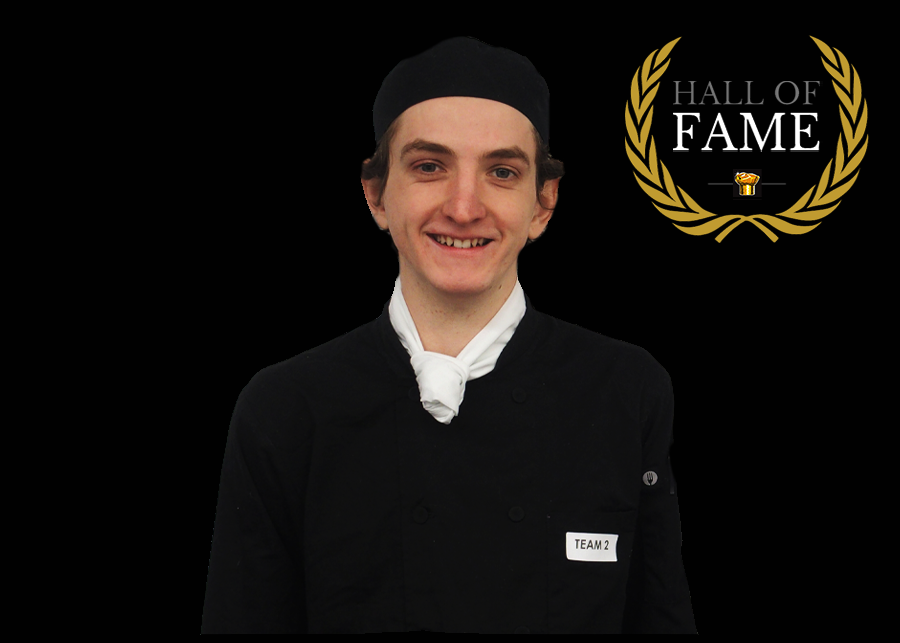 Tom Hitchcock
Read more about Tom's journey after competing in the 2017 & 2018 Nestlé Golden Chef of the Year in the Hall of Fame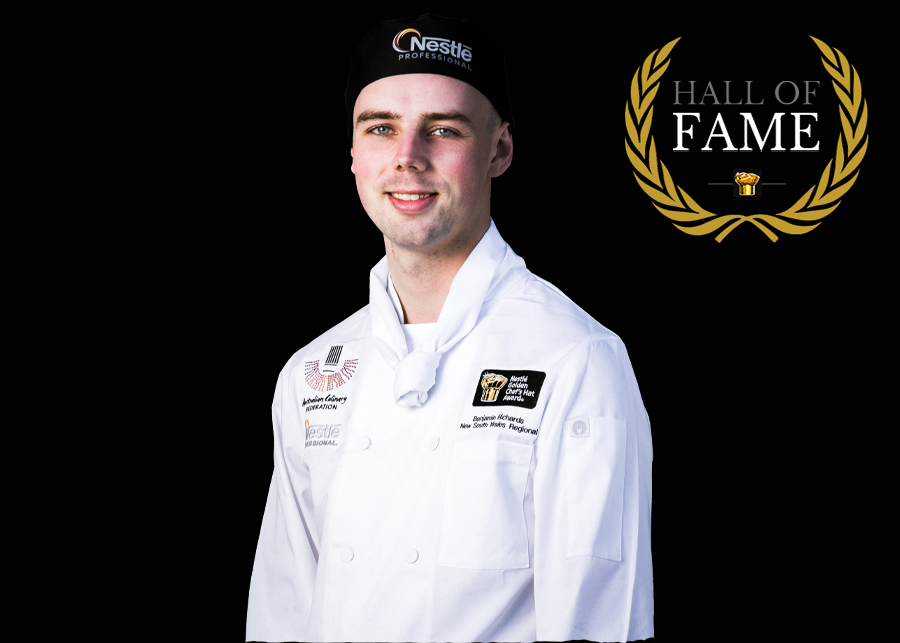 Ben Richards
Read more about Ben's journey after placing as a national finalist in the 2017 Nestlé Golden Chef of the Year in the Hall of Fame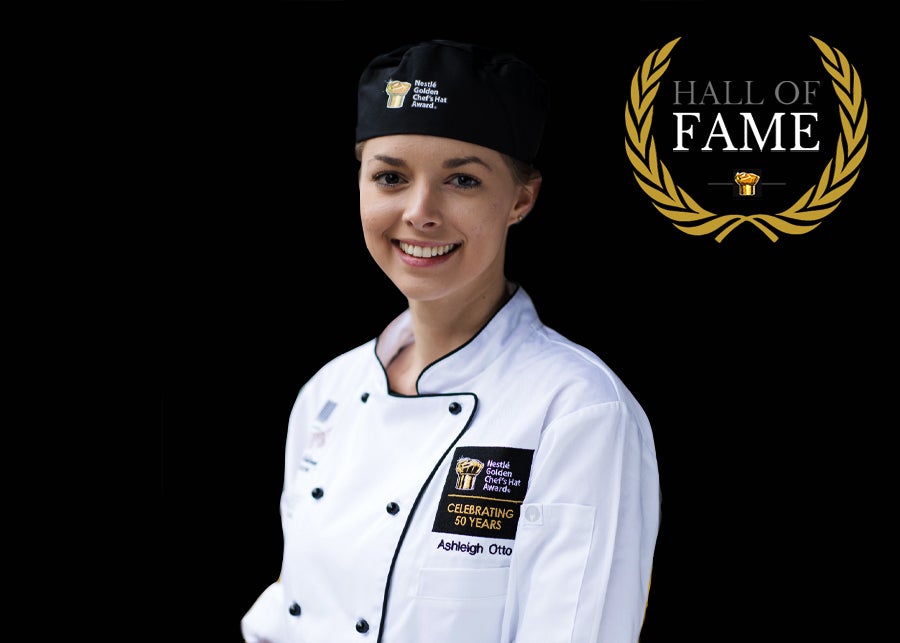 Ashleigh Otto
Read more about Ash's journey after placing as a national finalist in the 2017 Nestlé Golden Chef of the Year in the Hall of Fame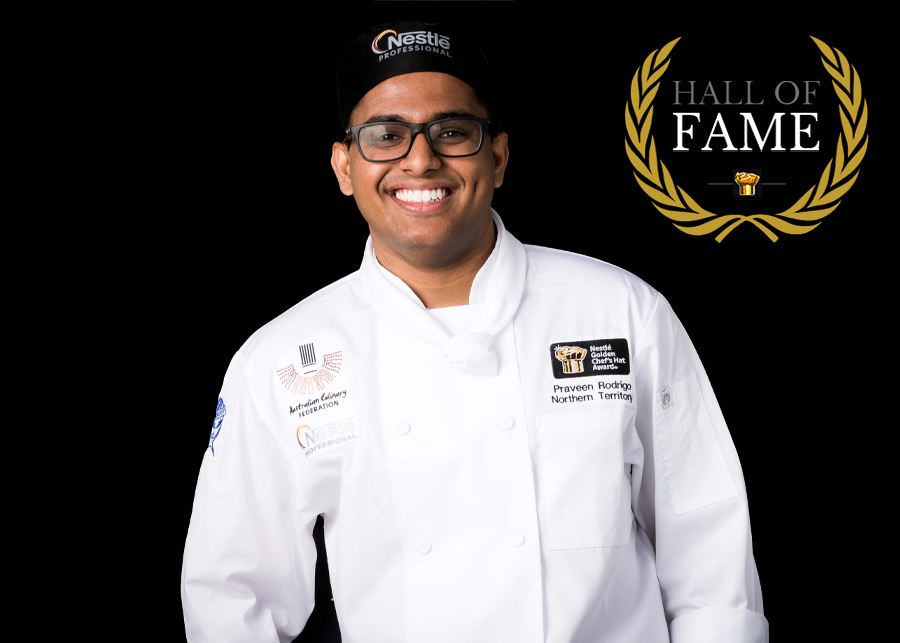 Praveen Rodrigo
Read more about Praveen's journey after placing as a national finalist in the 2017 Nestlé Golden Chef of the Year in the Hall of Fame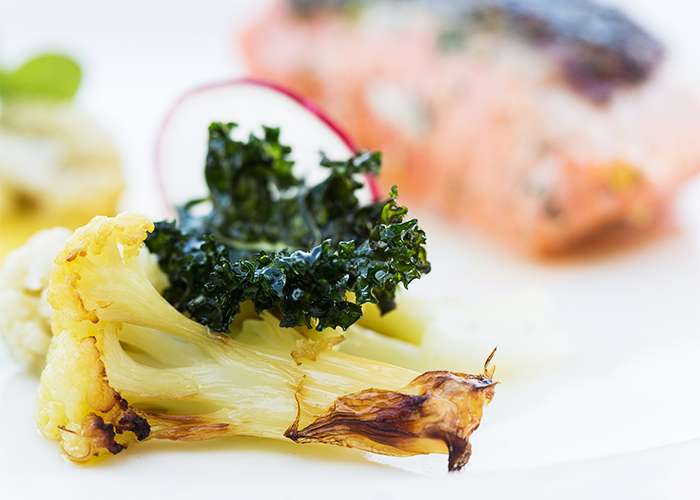 2017 Winning Entrée
Roasted Cauliflower, poached trout, crisp kale, lemon beure blanc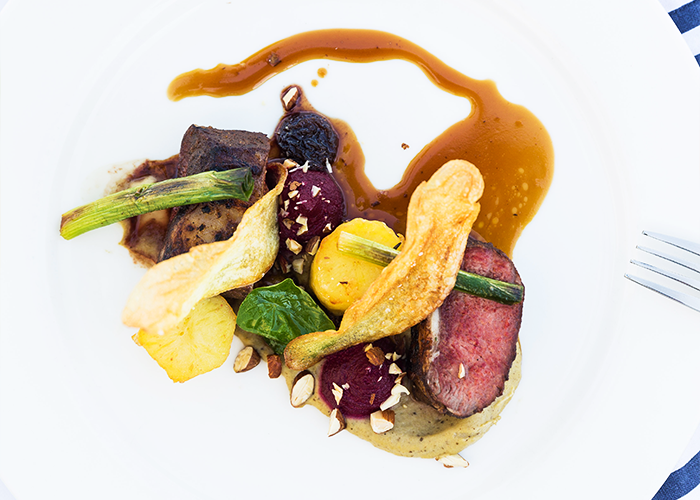 2017 Winning Main
Sous vide spiced lamb, roasted eggplant, char pencil leeks with kipfler's accompanied by a port glaze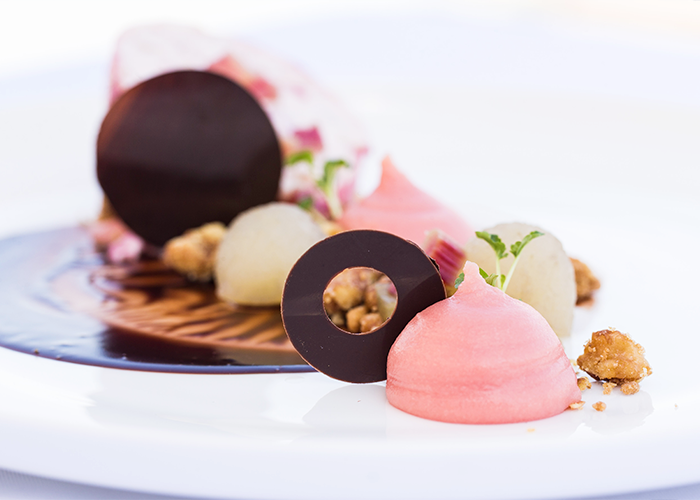 2017 Winning Dessert
Apple and rhubarb mousse, salted crumb with grapefruit curd and poached thyme pear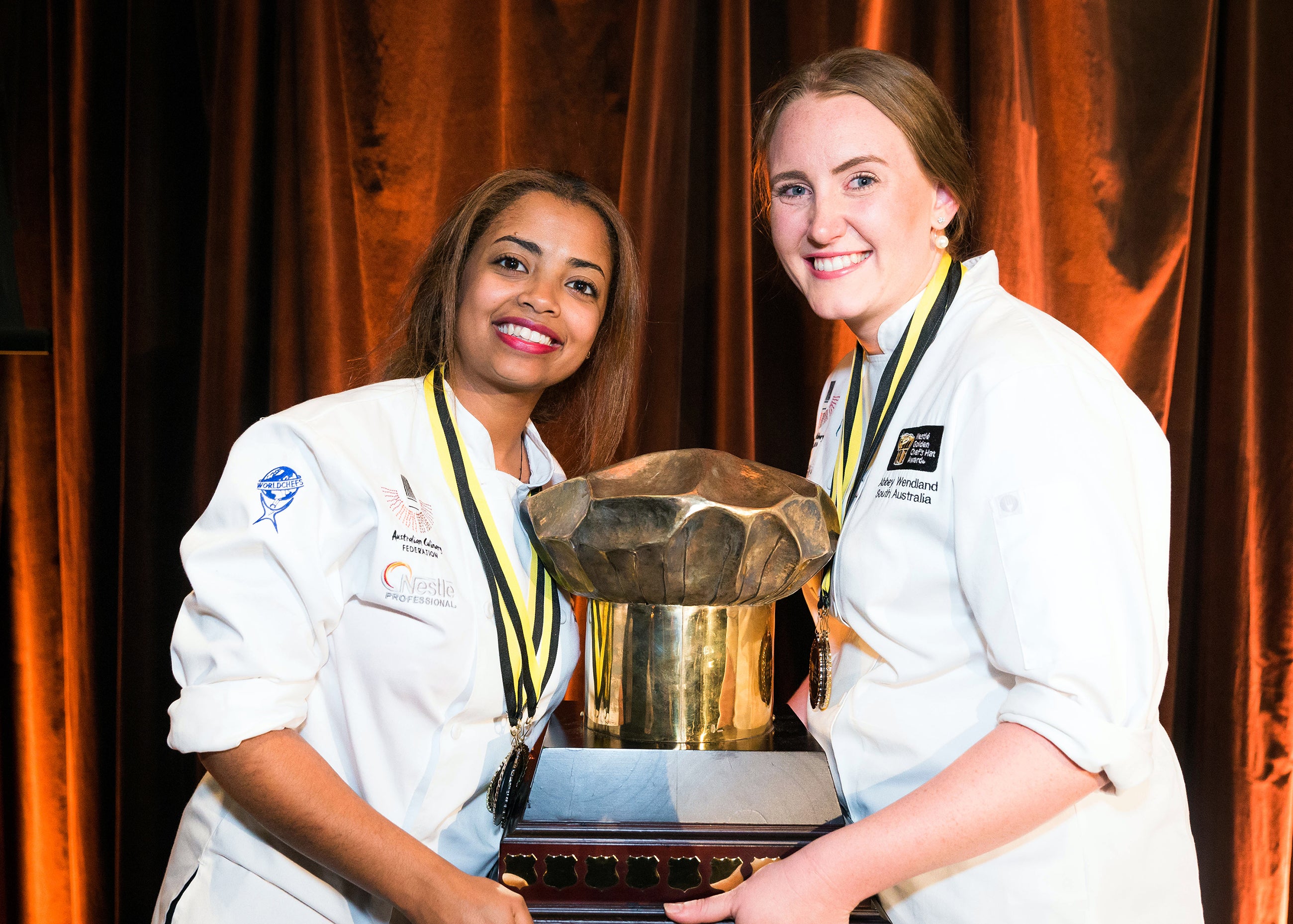 2017 Winner
Mahlet Girma & Abbey Wendland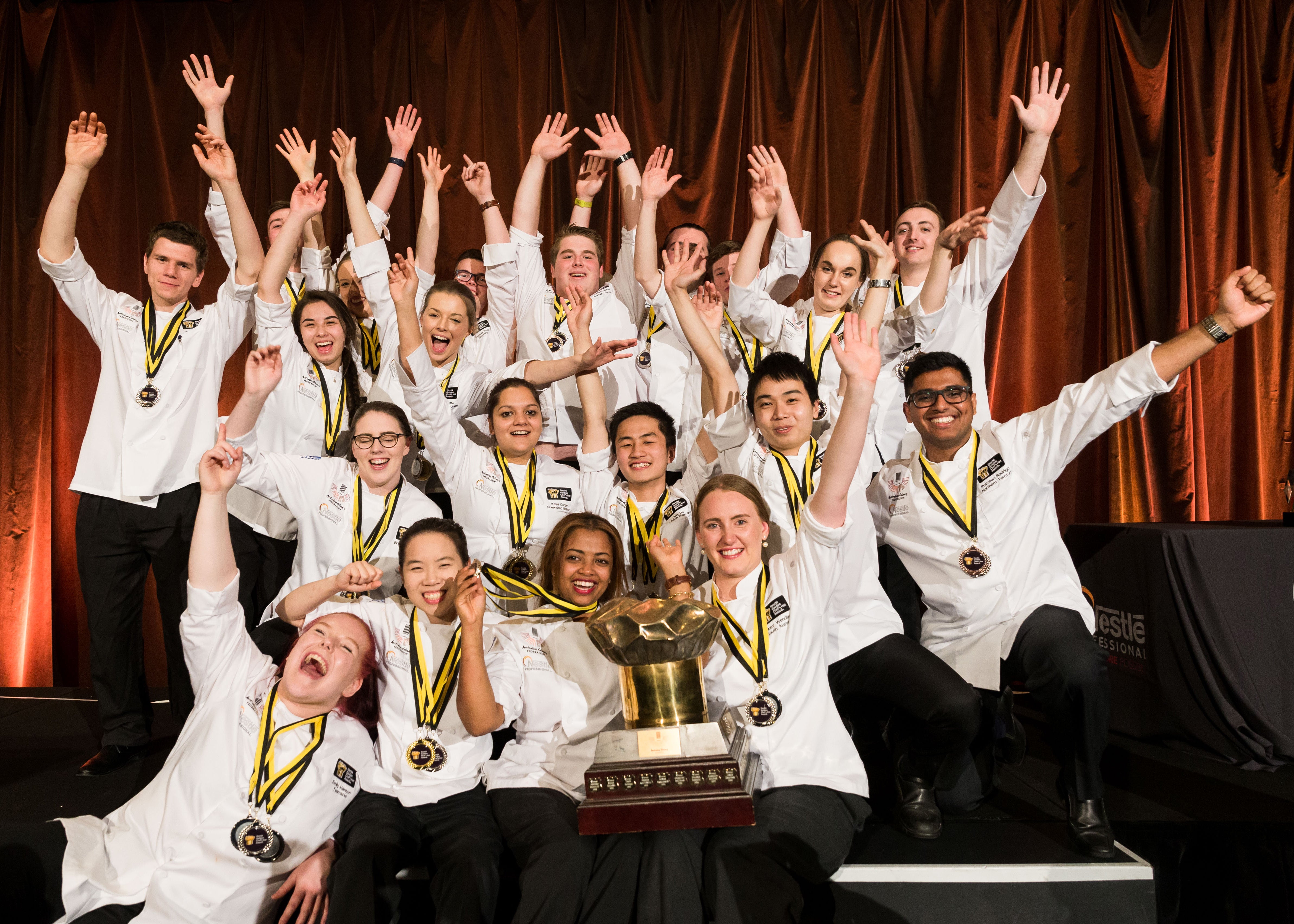 2017 Grand Finalists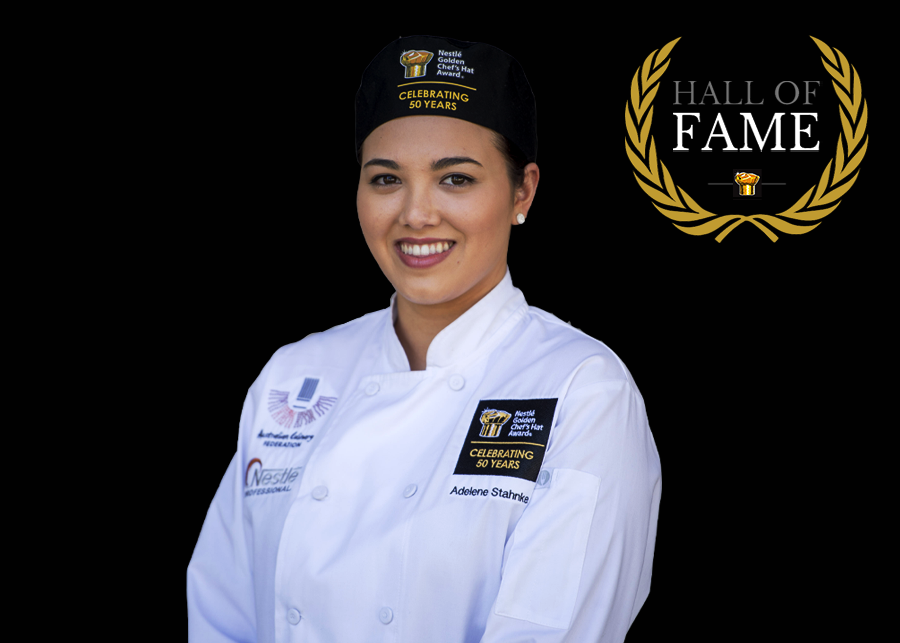 Adelene Stahnke
Read more about Adelene's journey after placing as a national finalist in the 2015 & 2016 Nestlé Golden Chef of the Year in the Hall of Fame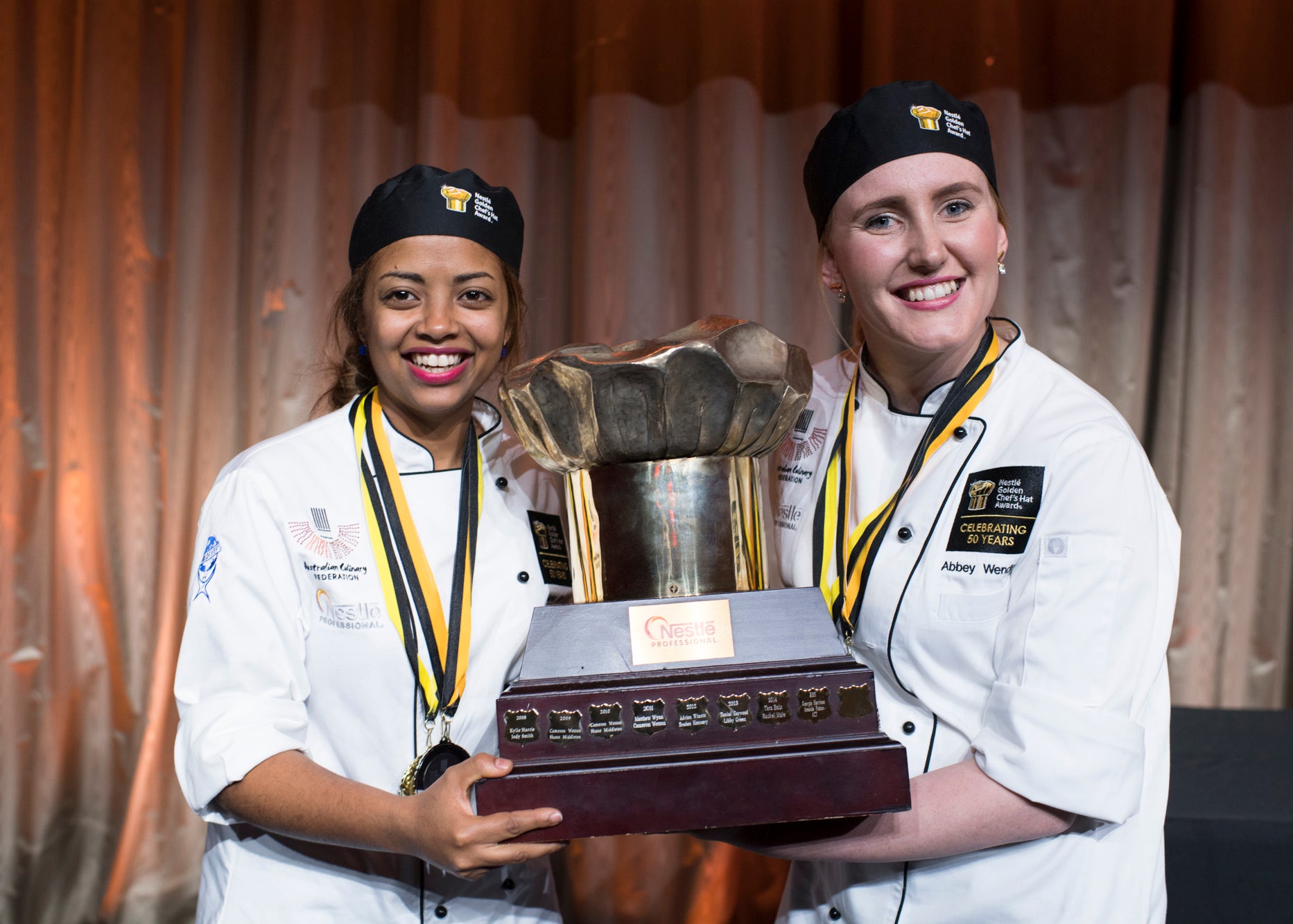 2016 Winner
Mahlet Girma & Abbey Wendland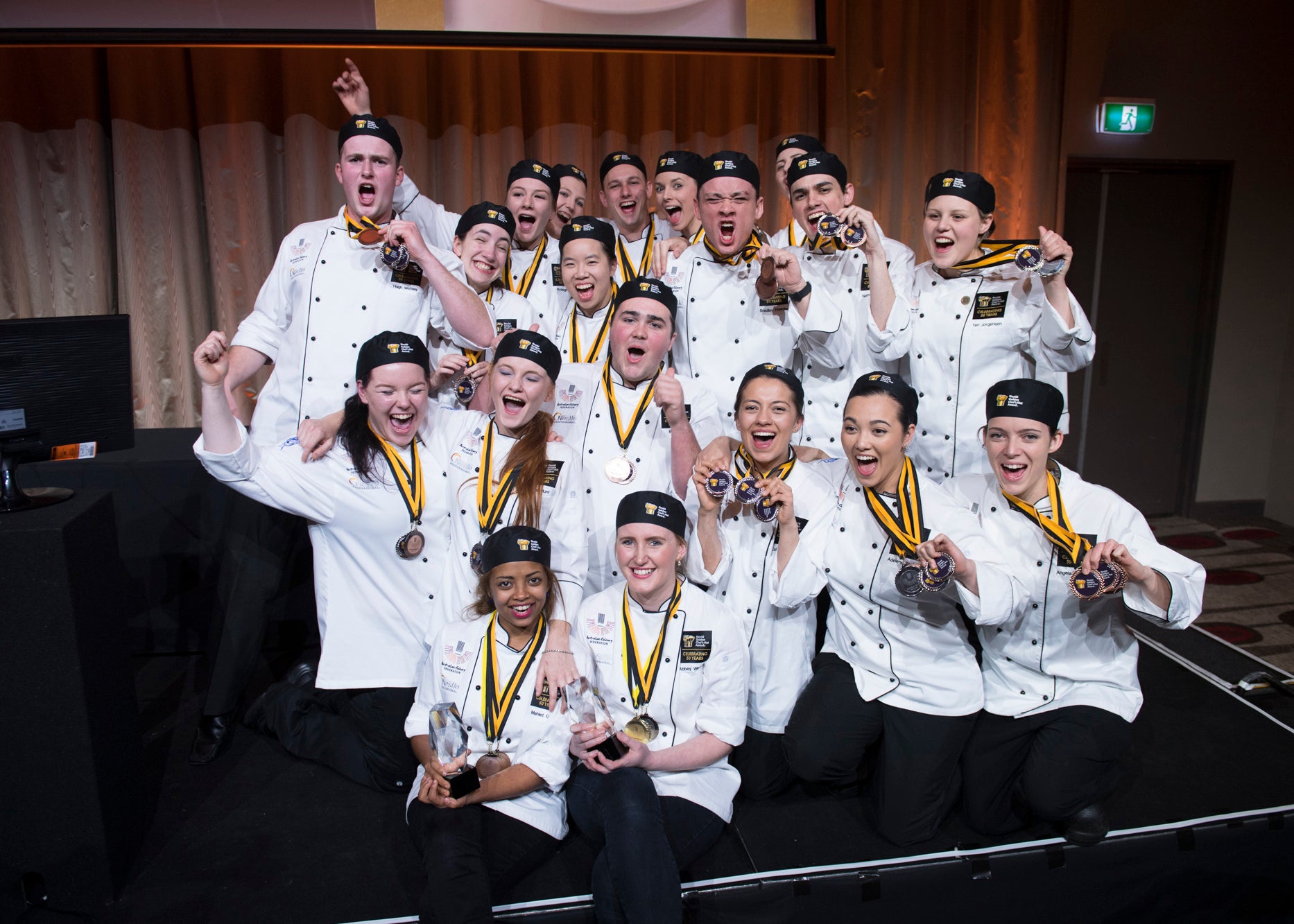 2016 Grand Finalists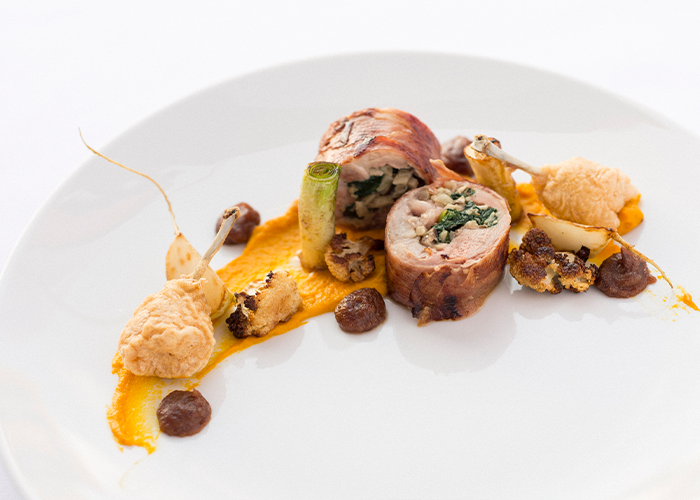 2015 Winning Entrée
Rolled quail breast stuffed with spinach and mushroom, wrapped in prosciutto. Vanilla and carrot puree, roasted cauliflower florets, buerre noisette sautéed pencil leeks, baby turnips, date and raisin jam and spiced quail lollipop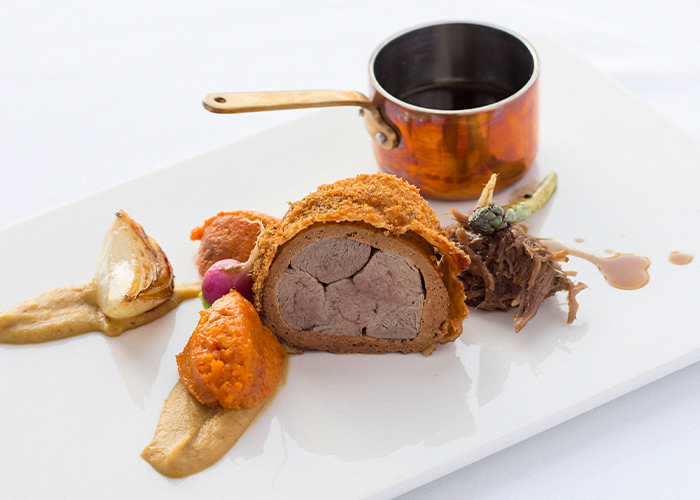 2015 Winning Main
Lamb tenderloin Rossini: Braised, pulled and glazed lamb shank, smashed sweet potato, onion soubise, baby radish, asparagus spears, blackened onion hearts and port wine jus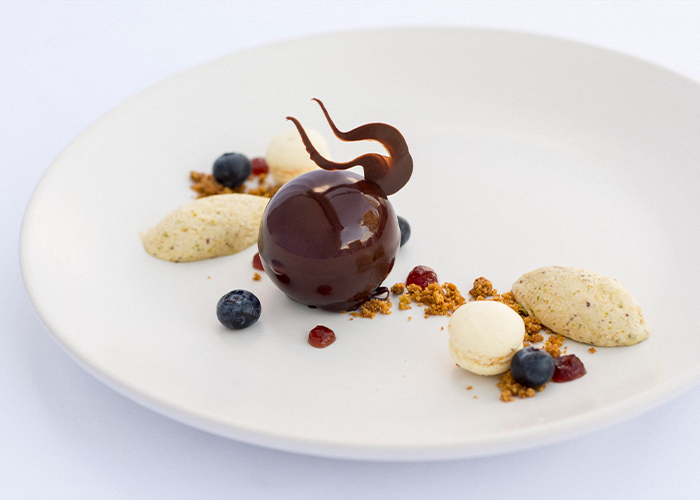 2015 Winning Dessert
Glazed Nestlé dark chocolate, caramel and port lava mousse, pistachio semifreddo, raspberry popping pearls, saffron macaron filled with Nestlé Docello French vanilla mousse, pistachio crumble and port wine gel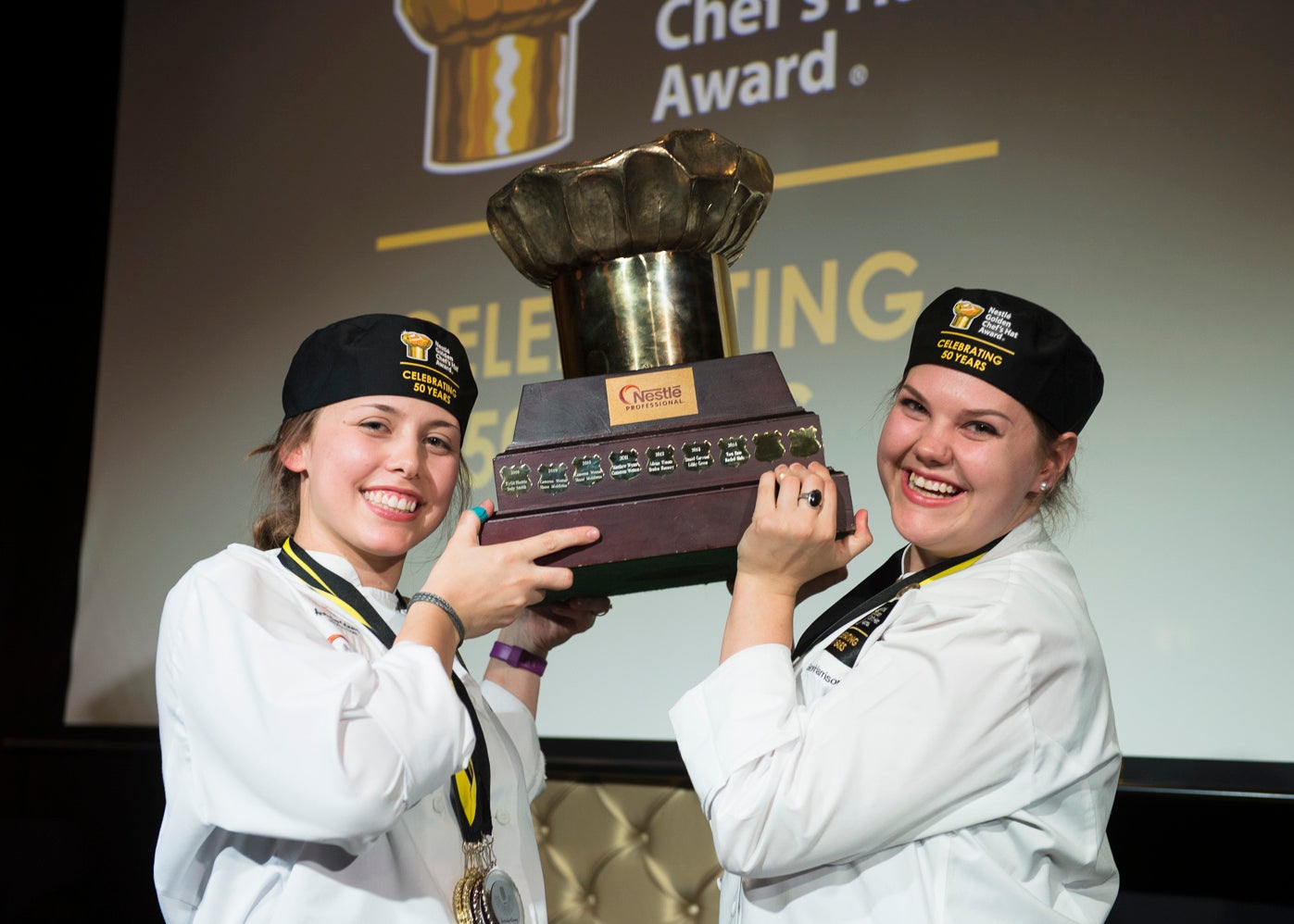 2015 Winner
Amanda Polsen & Georgia Harrison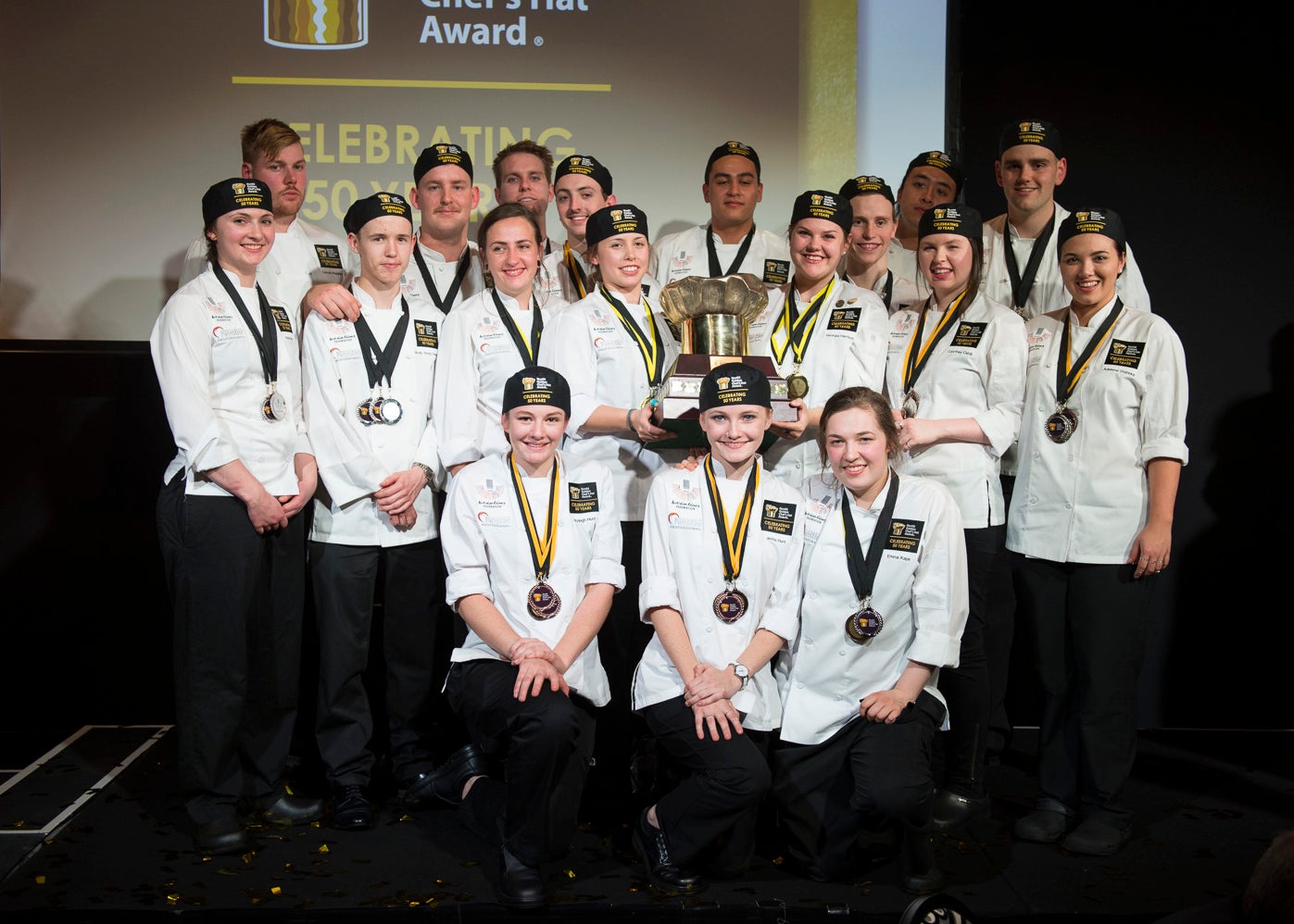 2015 Grand Finalists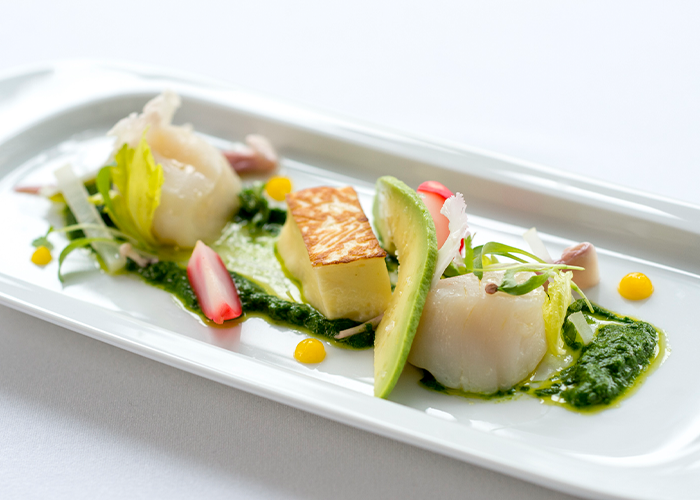 2014 Winning Entrée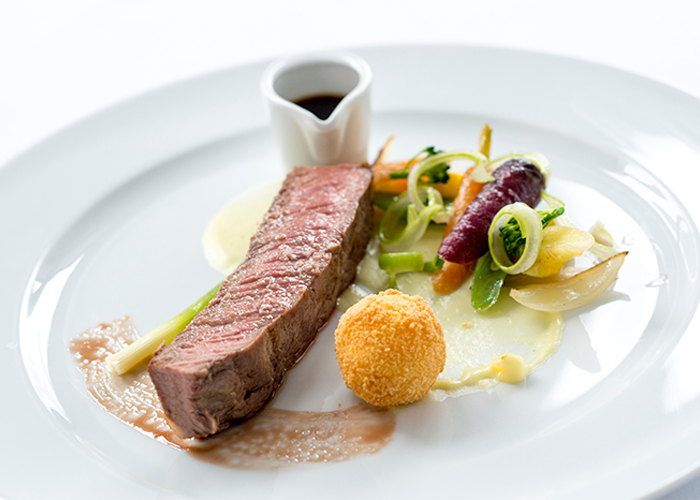 2014 Winning Main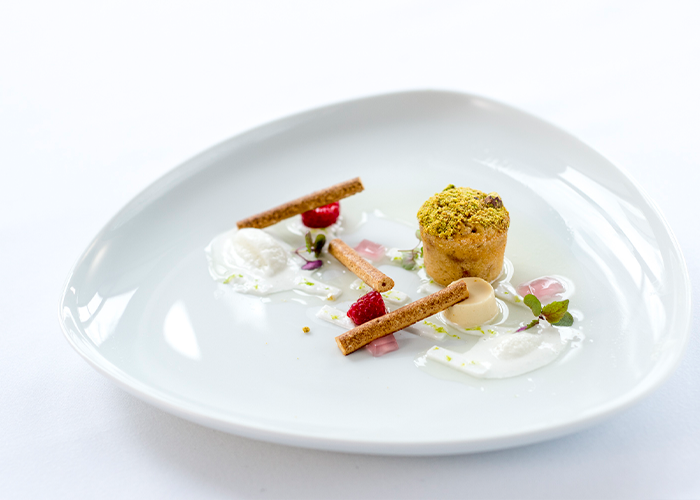 2014 Winning Dessert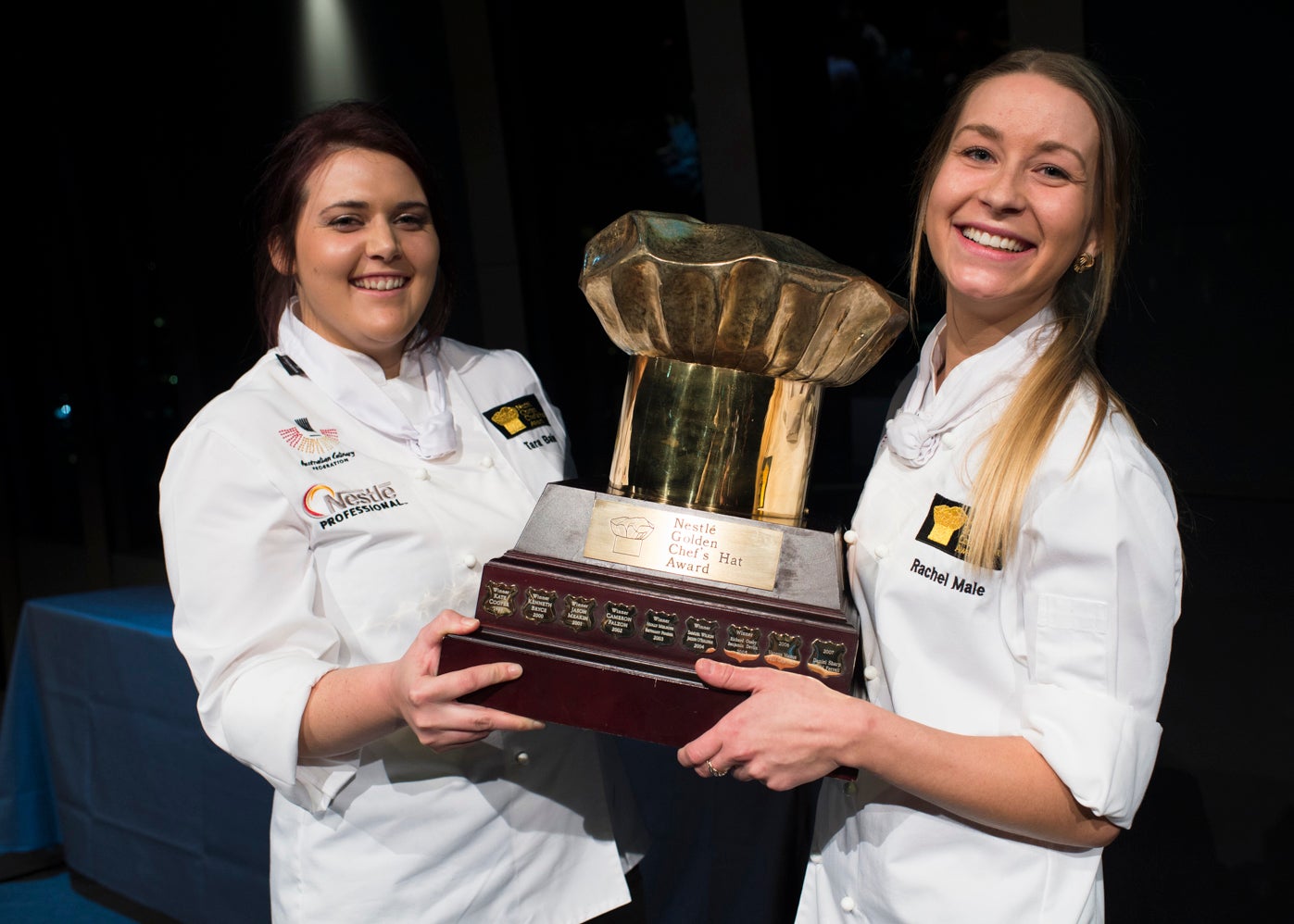 2014 Winner
Tara Bain & Rachel Male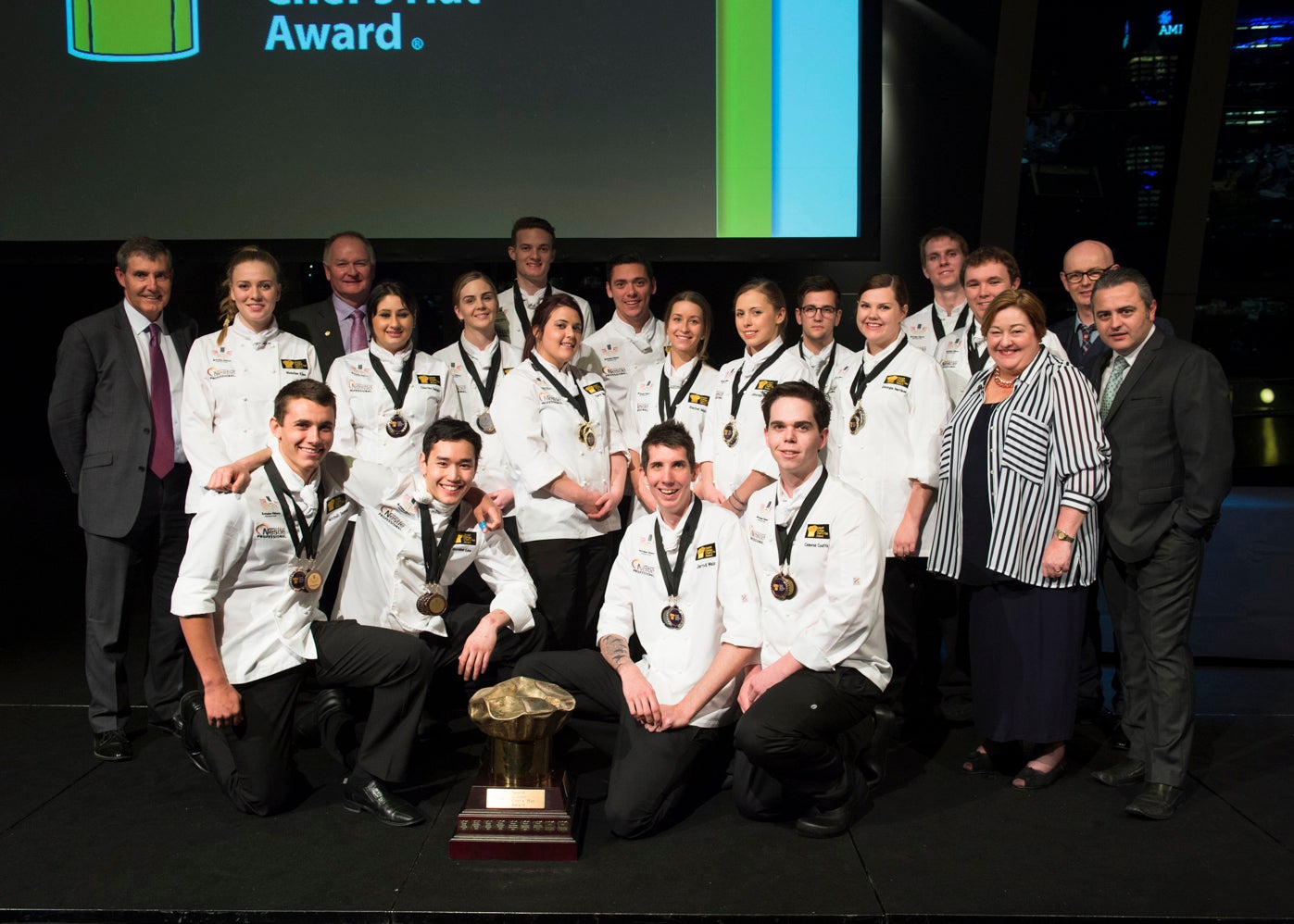 2014 Grand Finalists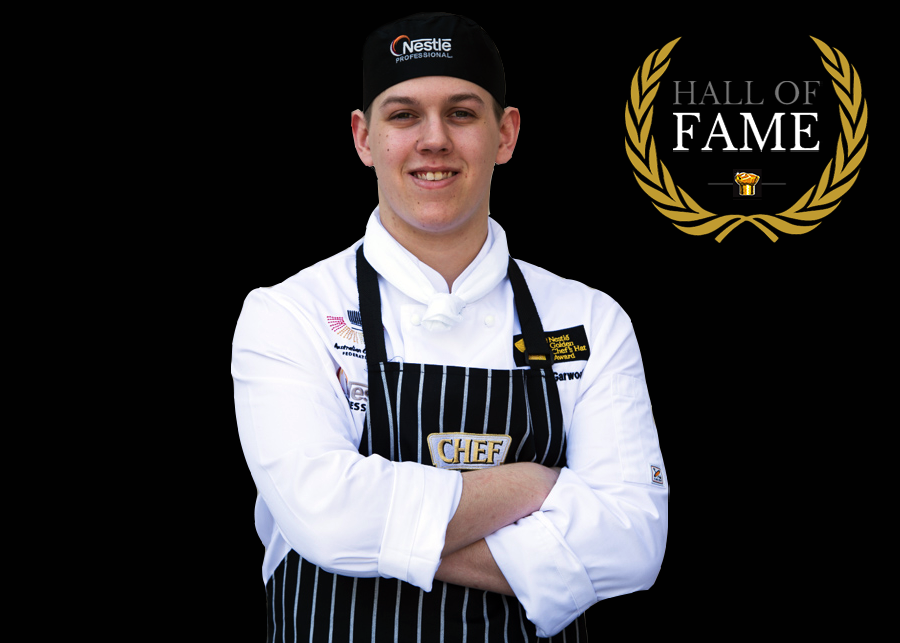 Daniel Garwood
Read more about Daniel's journey after being crowned the 2013 Nestlé Golden Chef of the Year in the Hall of Fame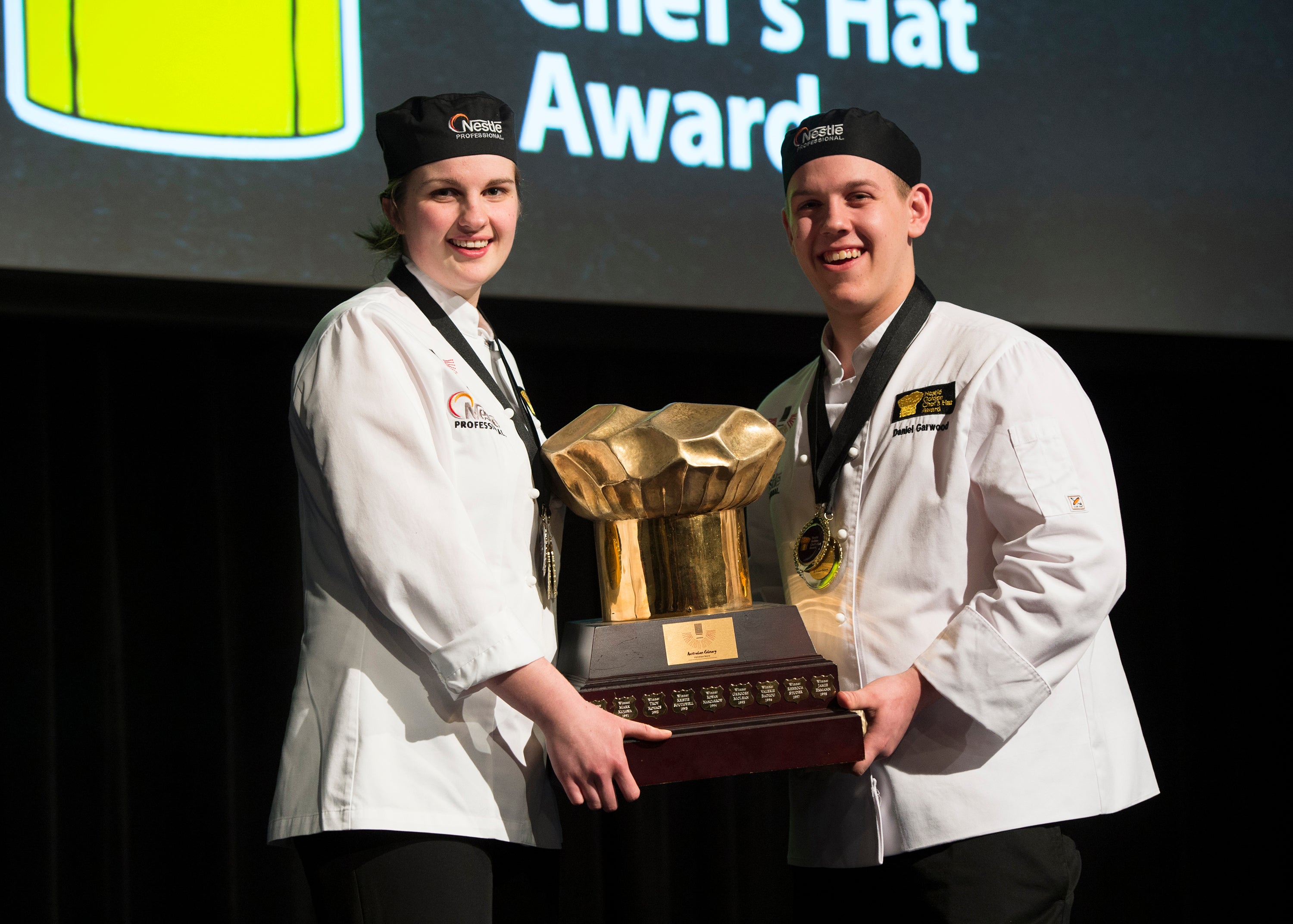 2013 Winner
Libby Green & Daniel Garwood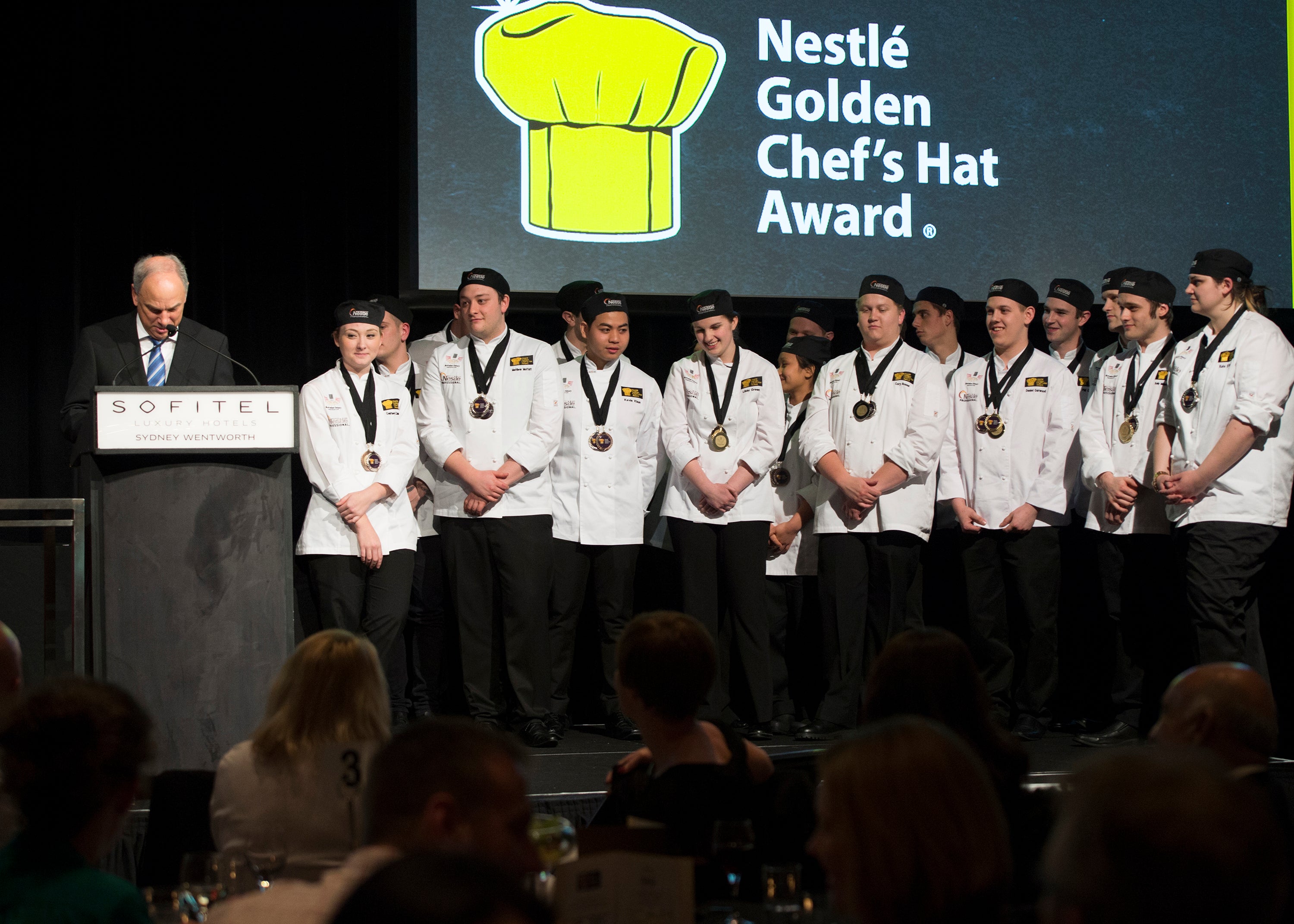 2013 Grand Finalists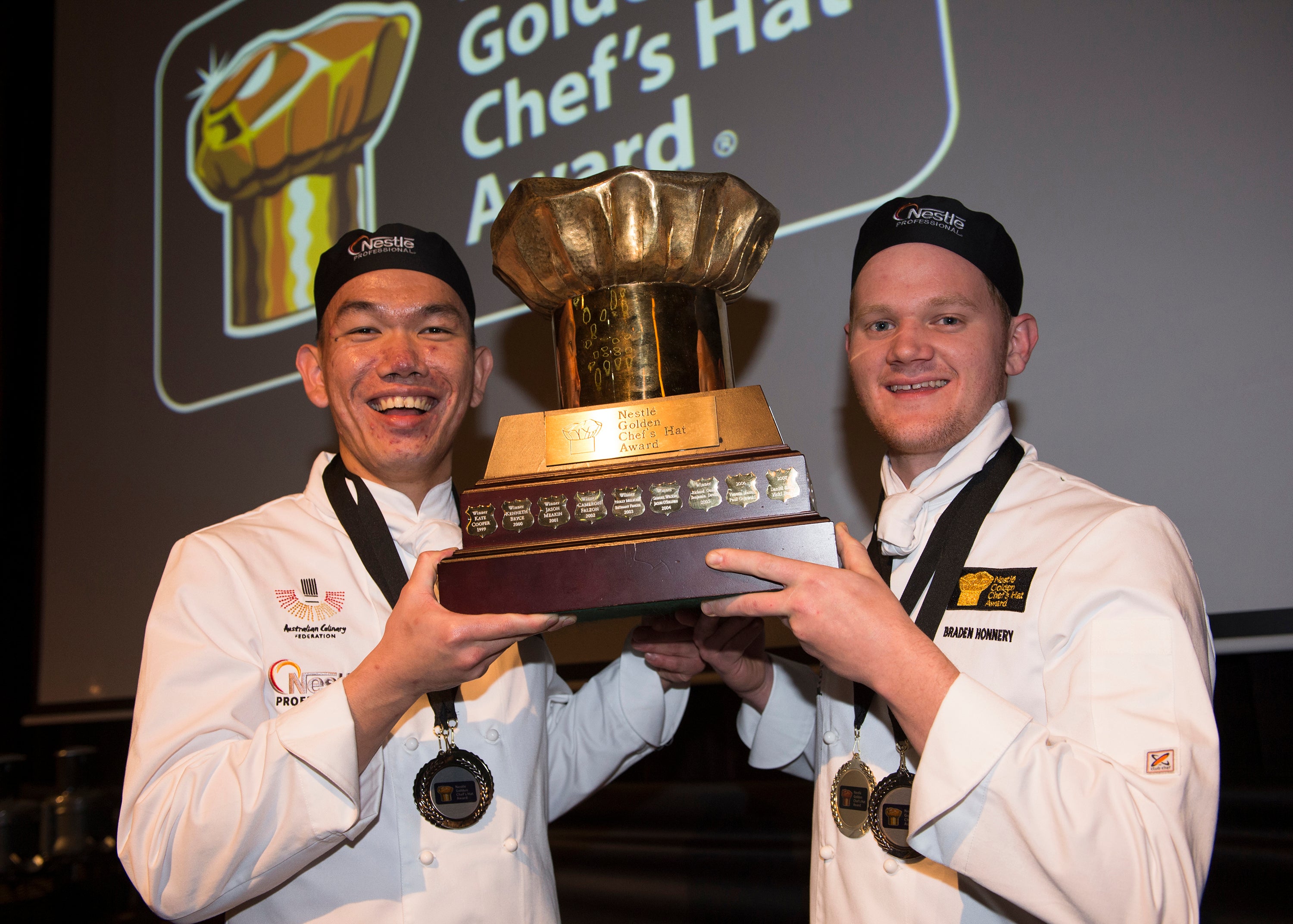 2012 Winner
Adrian Winoto & Braden Honnery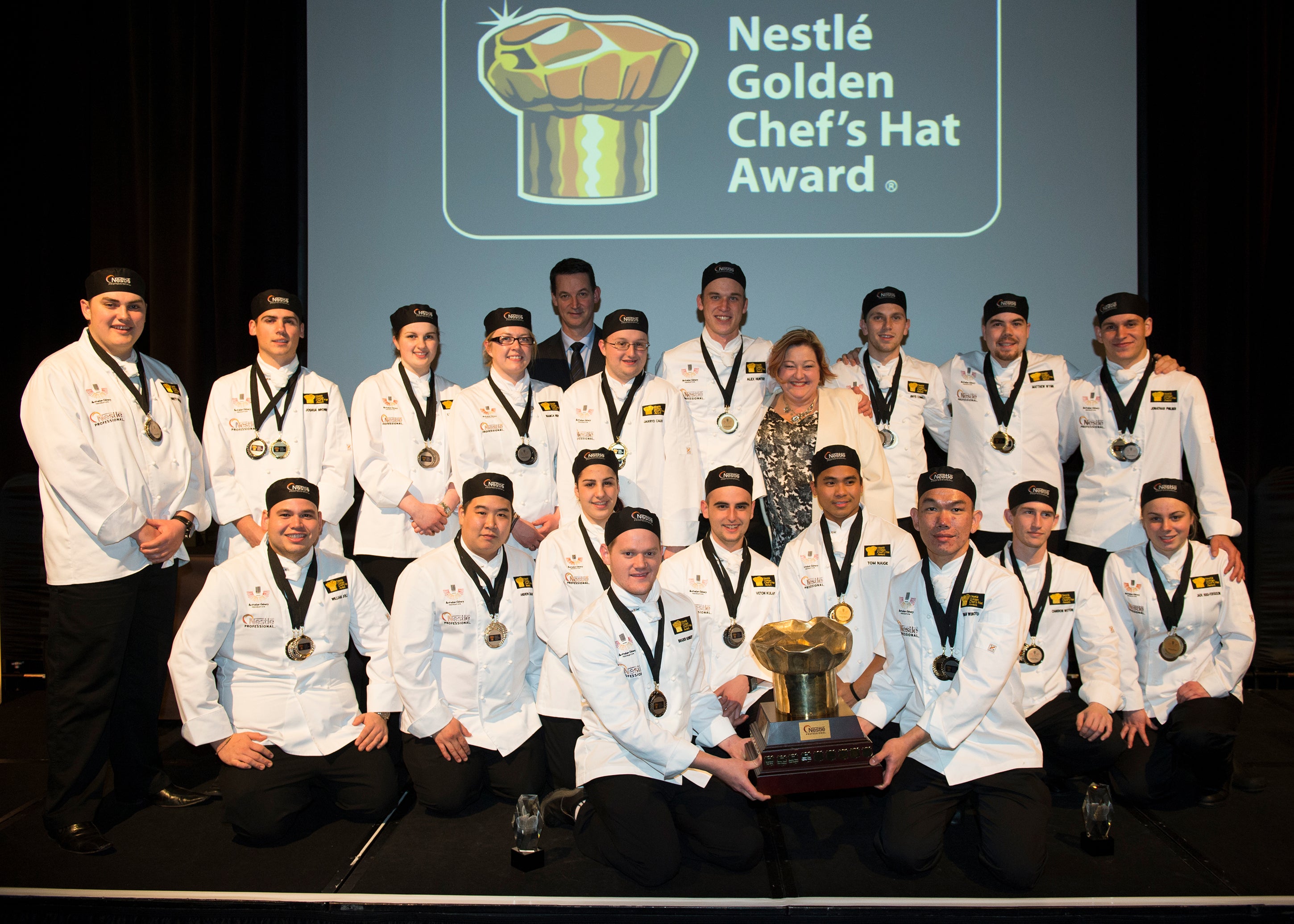 2012 Grand Finalists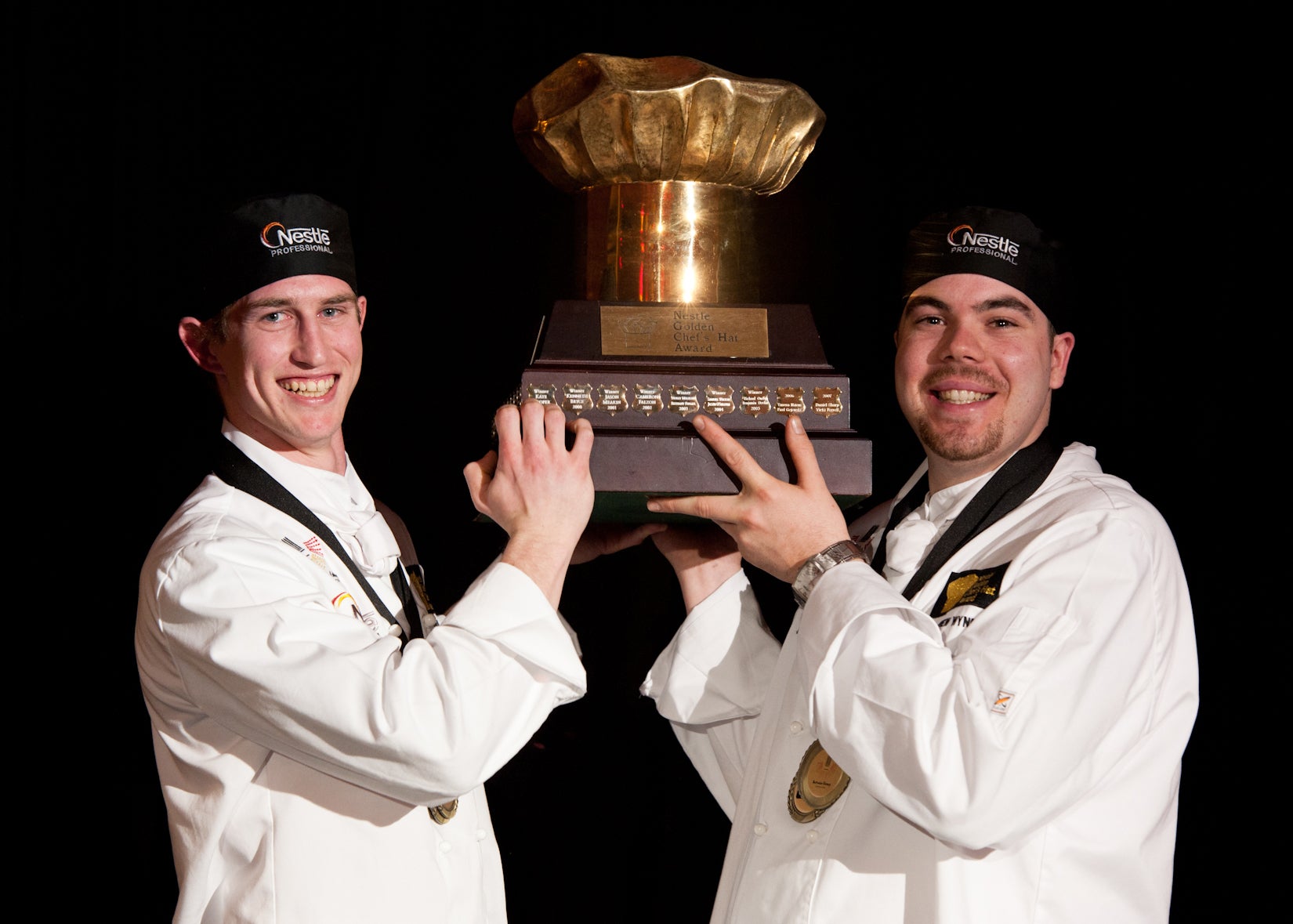 2011 Winner
Cameron Wetton & Matthew Wynn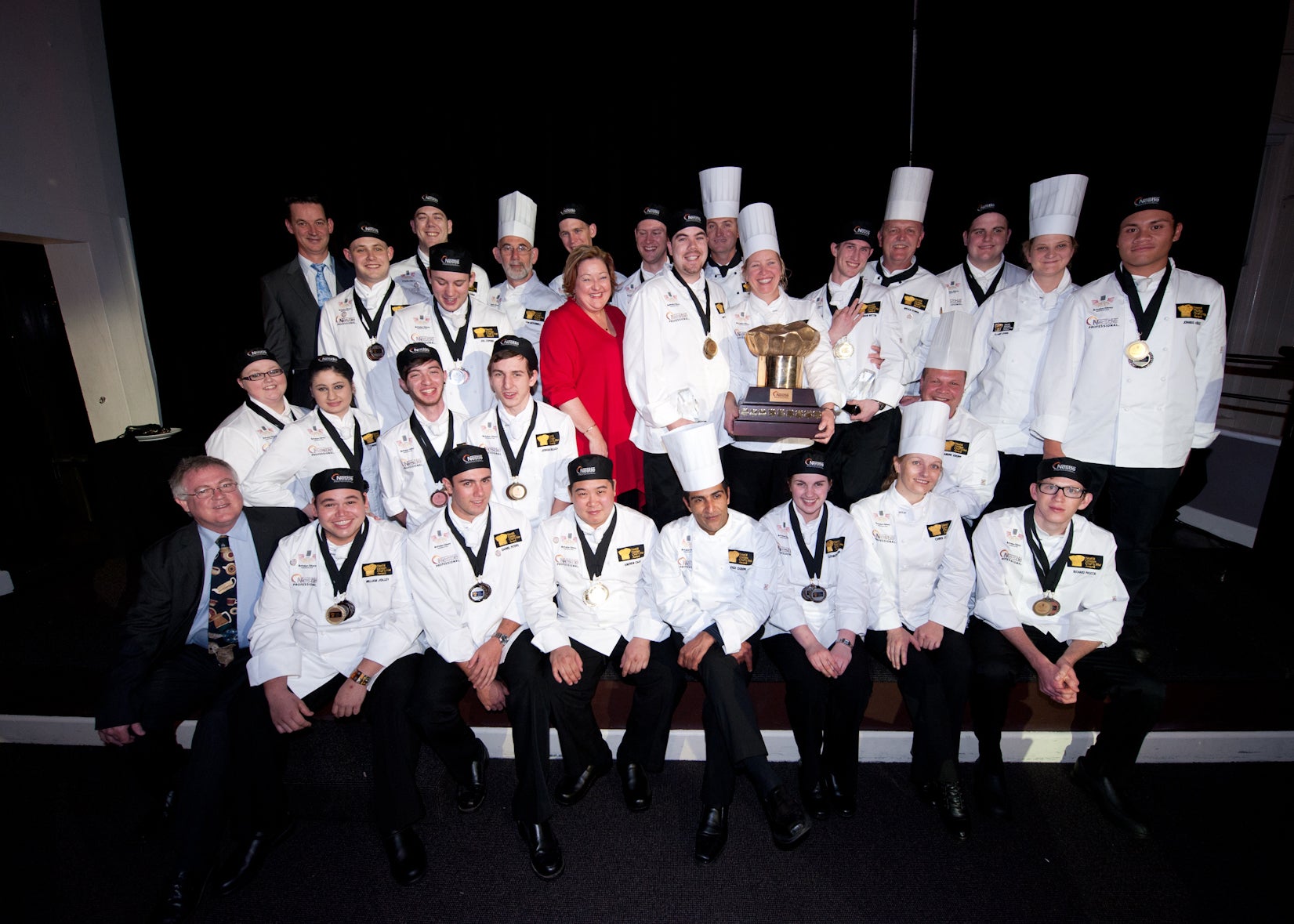 2011 Grand Finalists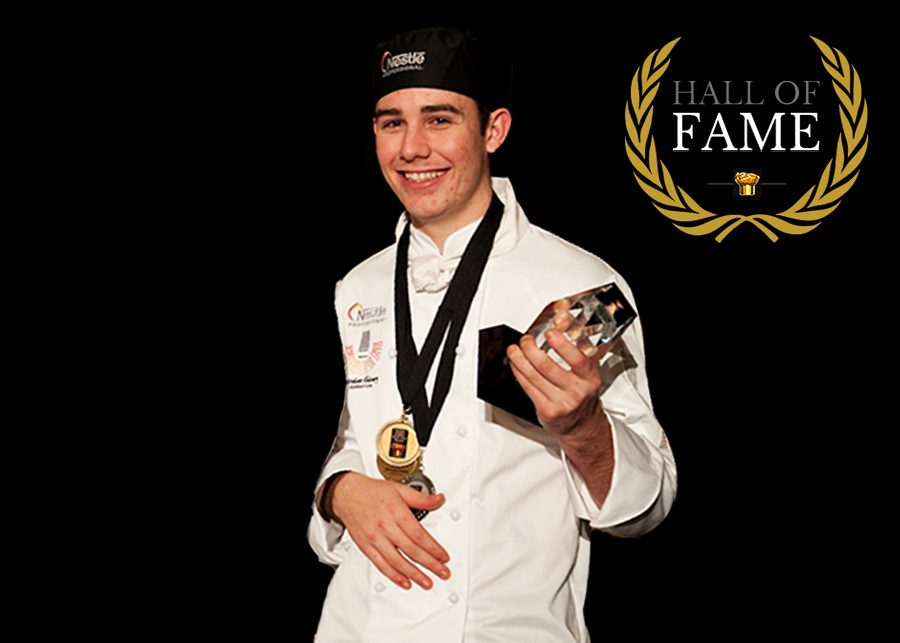 Shane Middleton
Read more about Shane's journey after being crowned the 2009 & 2010 Nestlé Golden Chef of the Year in the Hall of Fame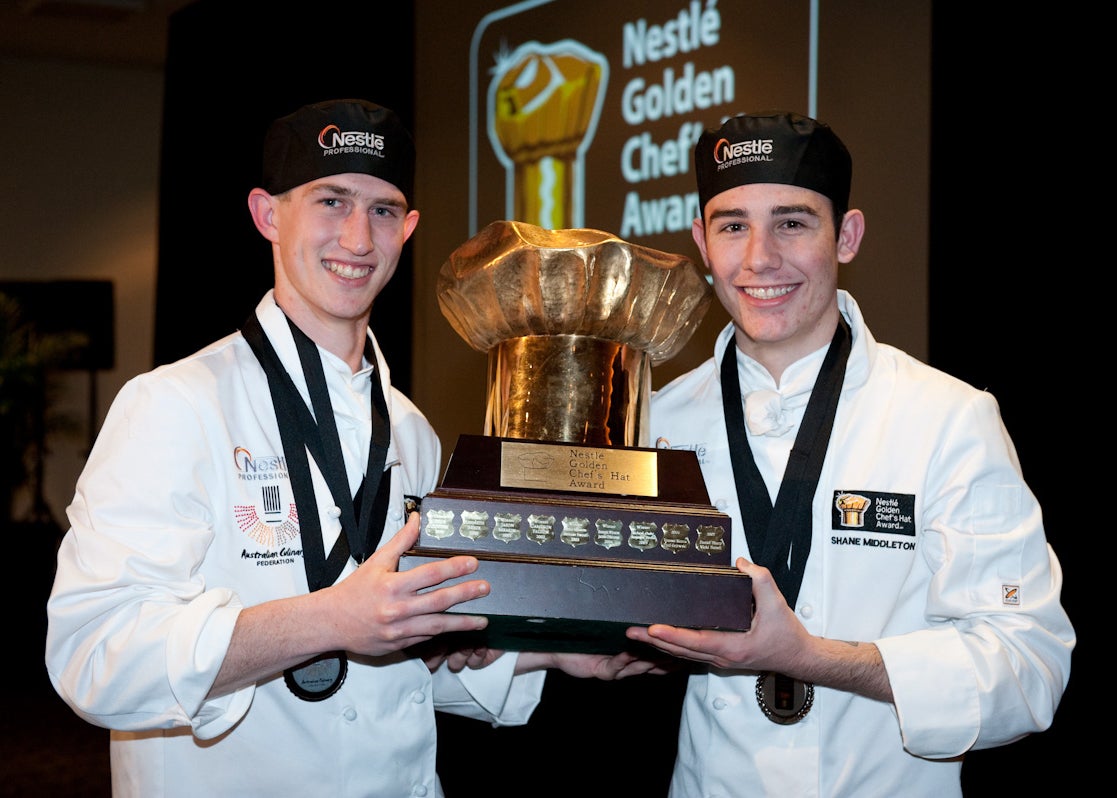 2010 Winner
Cameron Wetton & Shane Middleton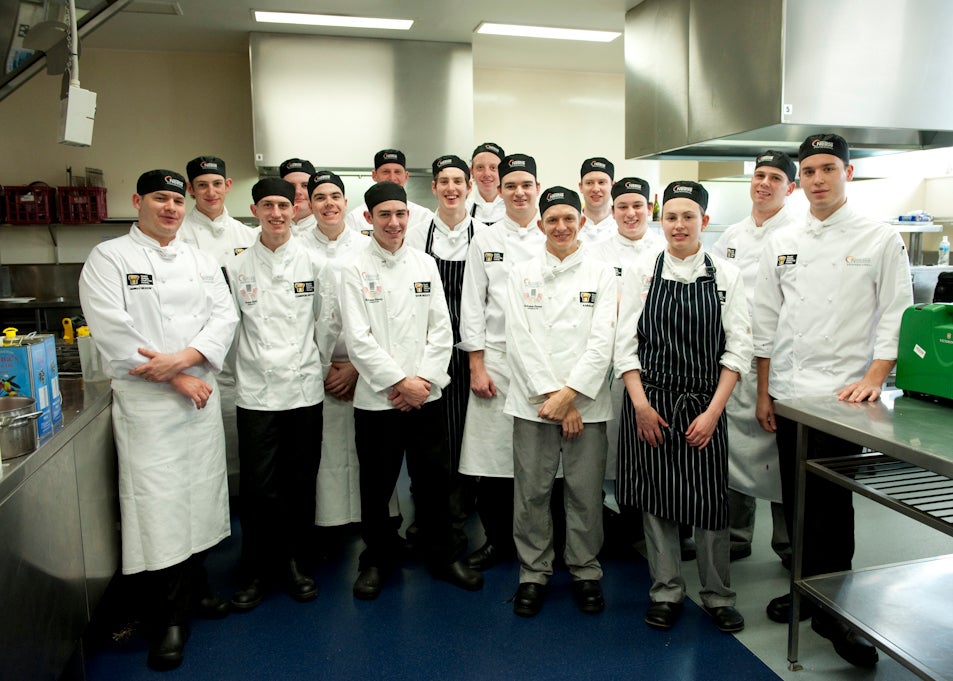 2010 Grand Finalists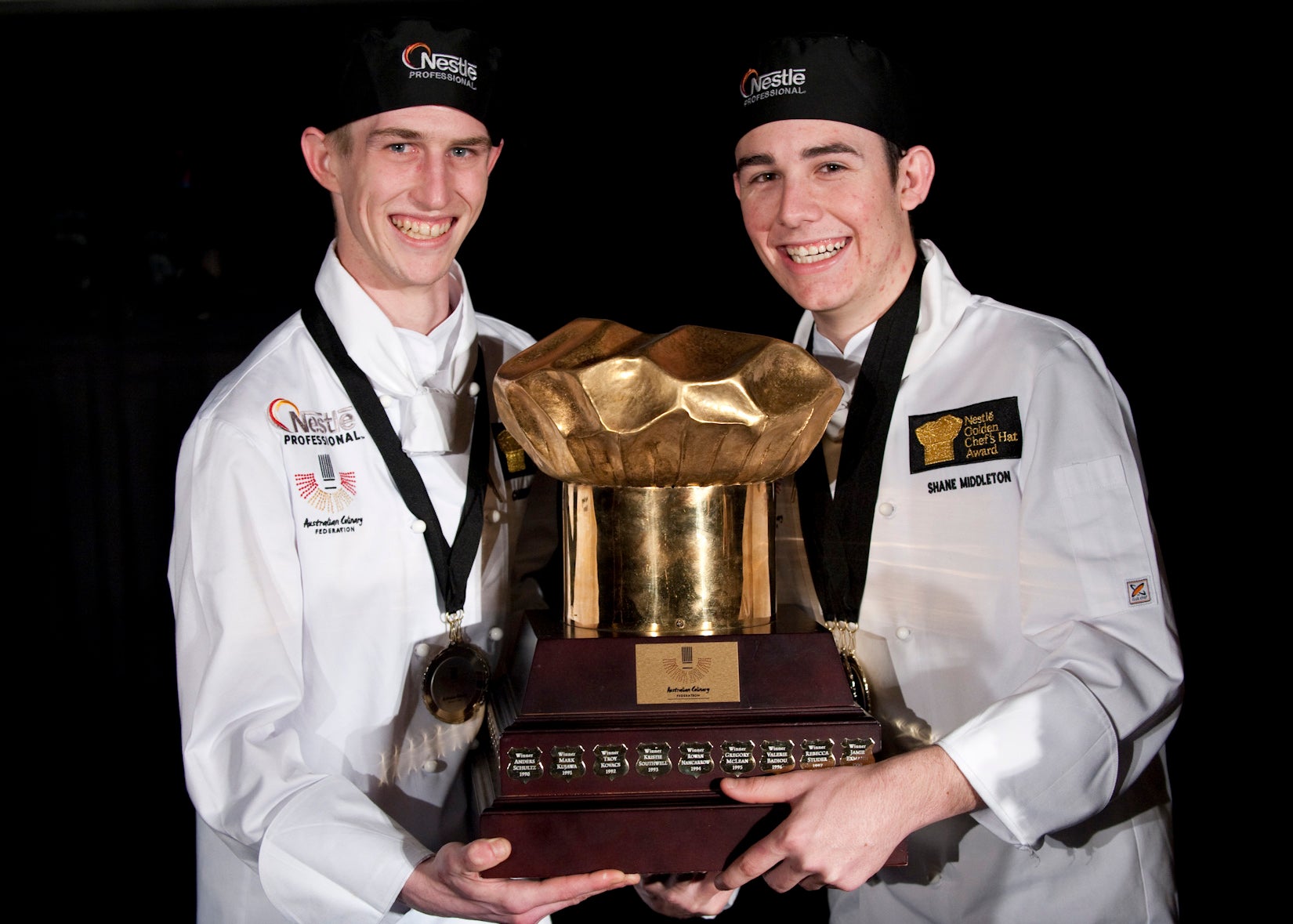 2009 Winner
Cameron Wetton & Shane Middleton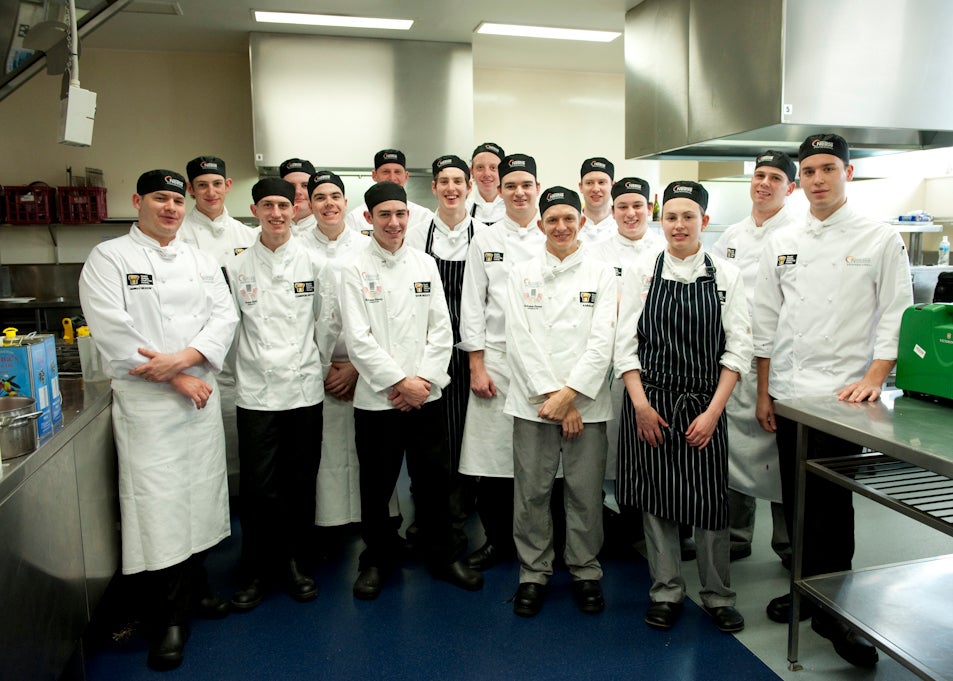 2010 Grand Finalists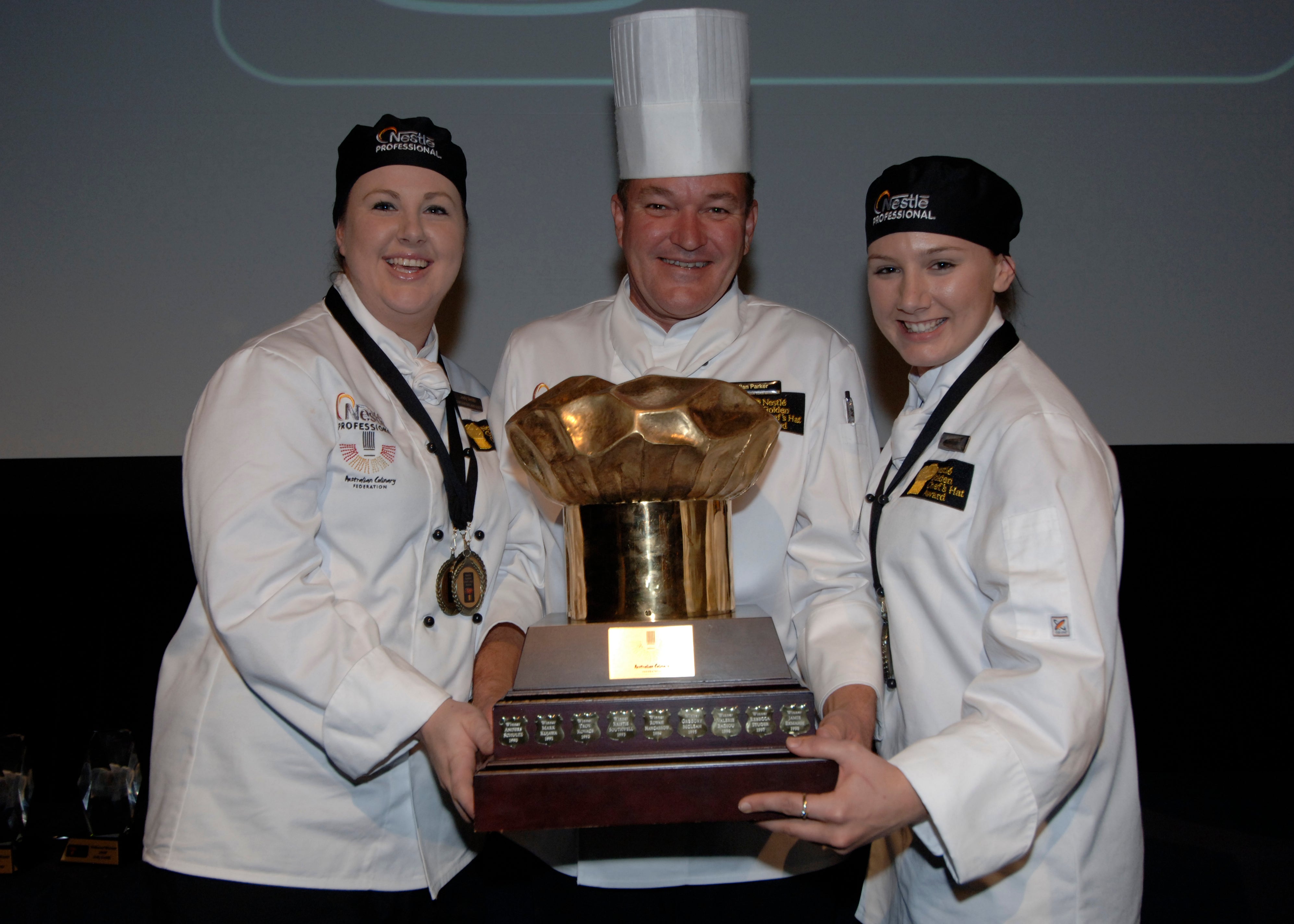 2008 Winner
Jody Smith & Kylie Harris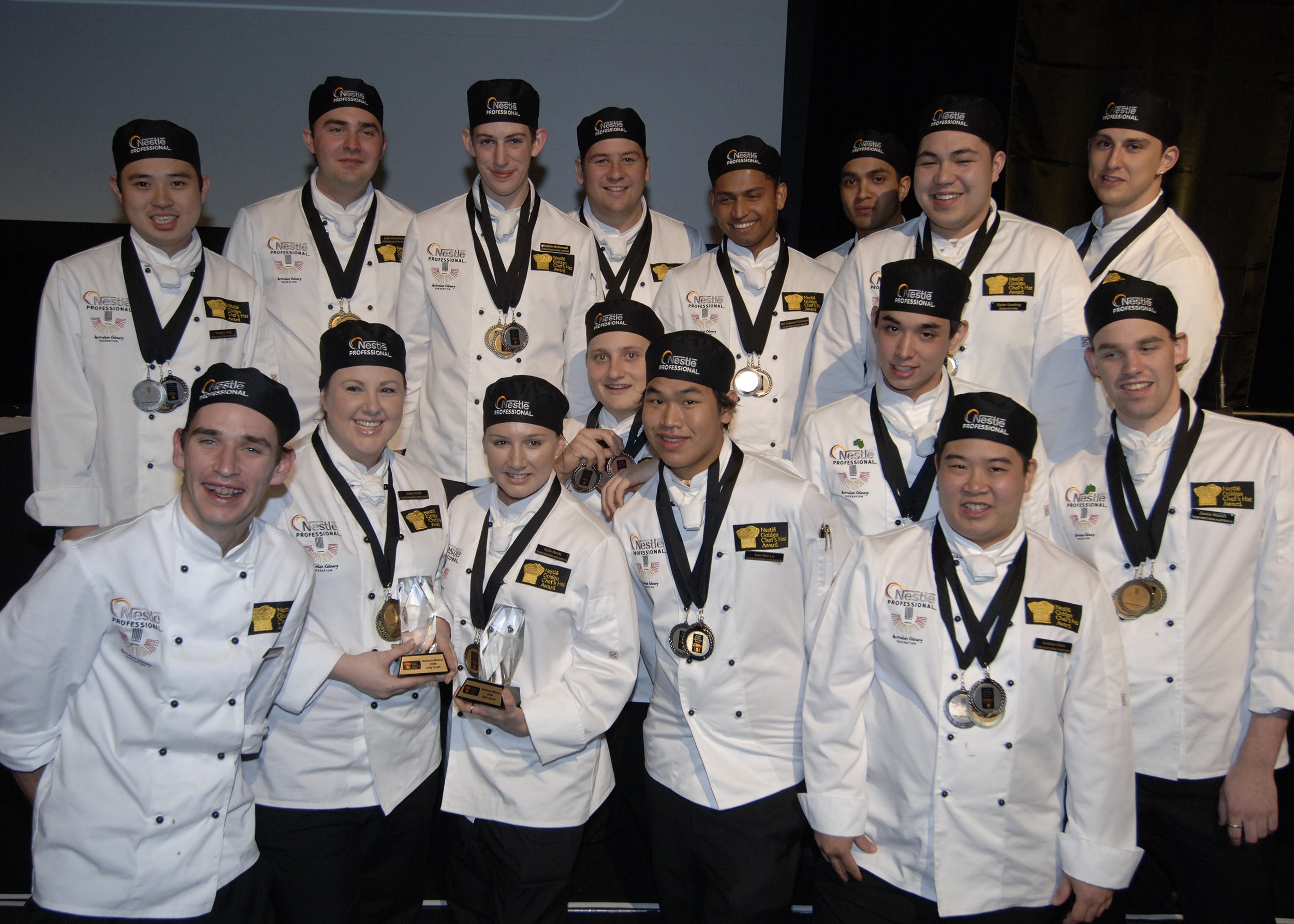 2008 Grand Finalists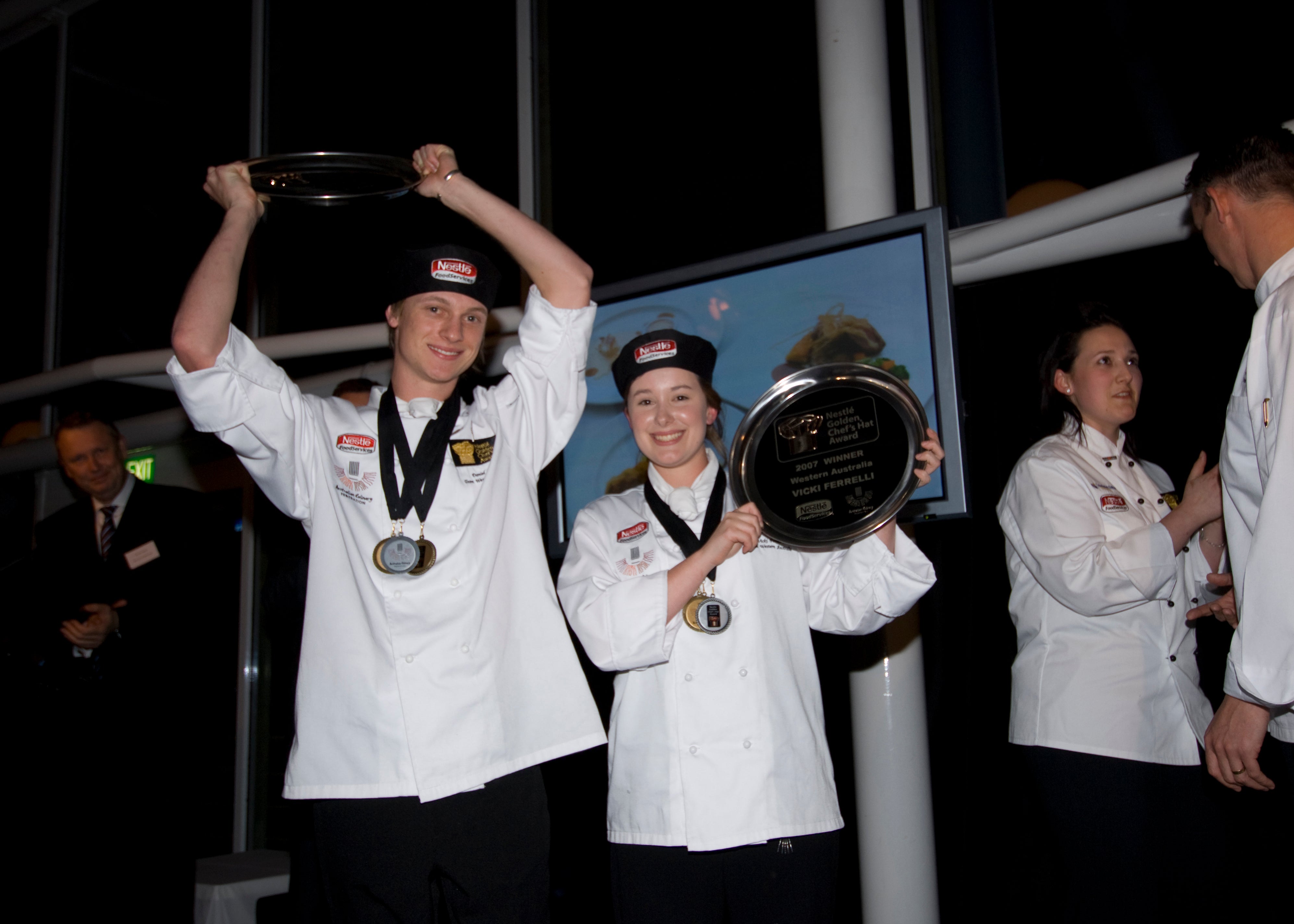 2007 Winner
Daniel Sharp & Vicki Ferrelli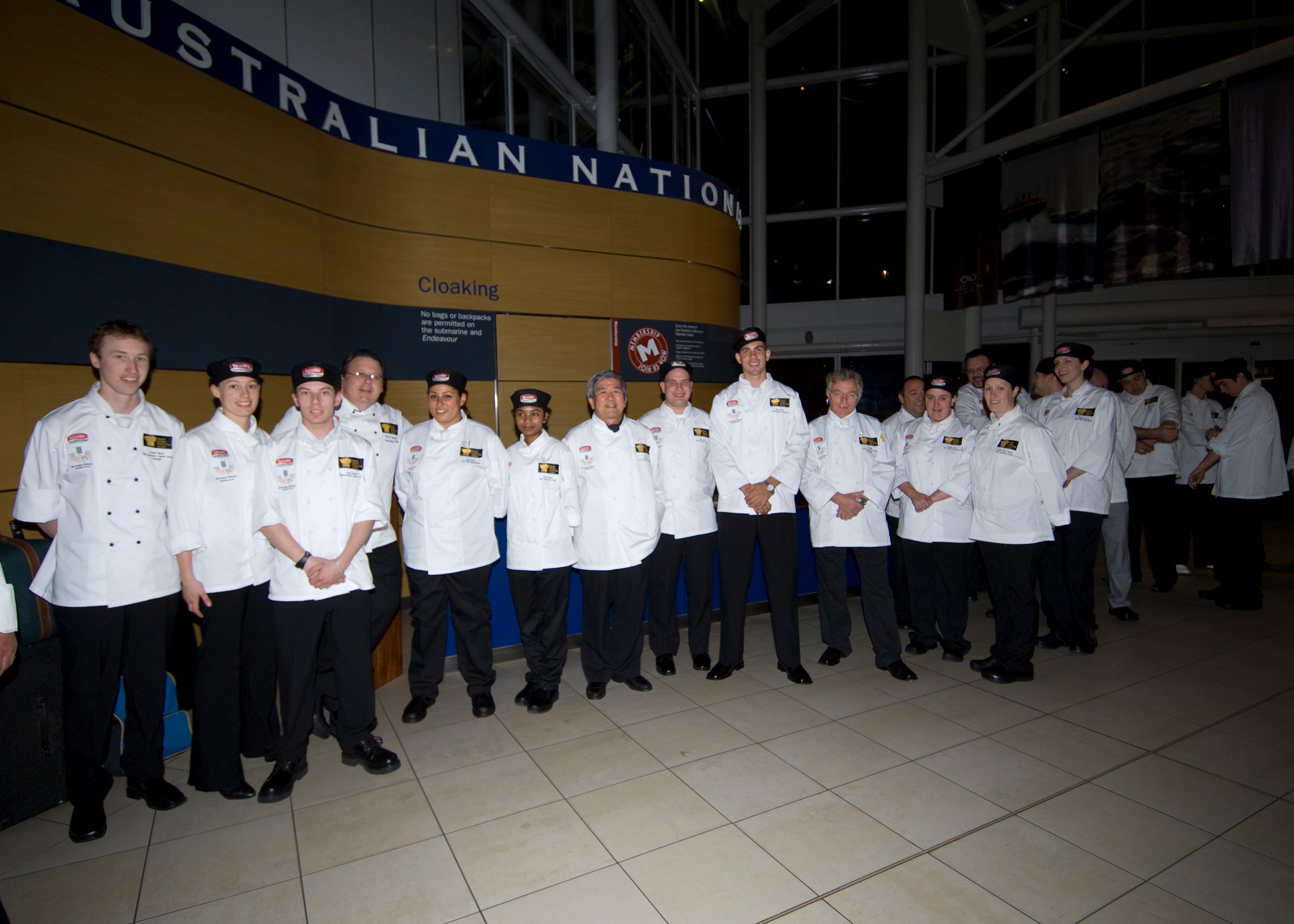 2007 Grand Finalists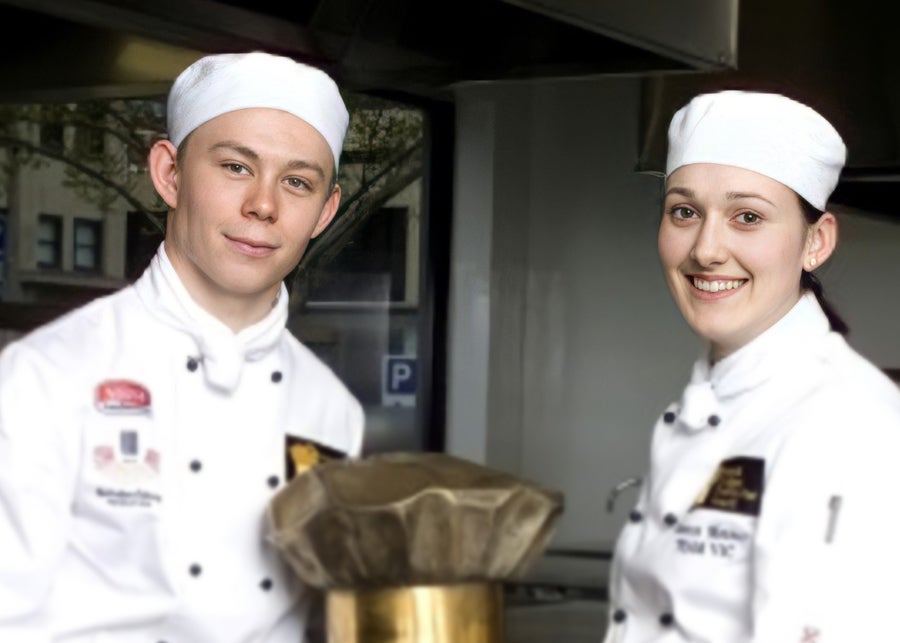 2006 Winner
Paul Gajewski & Vanessa Mateus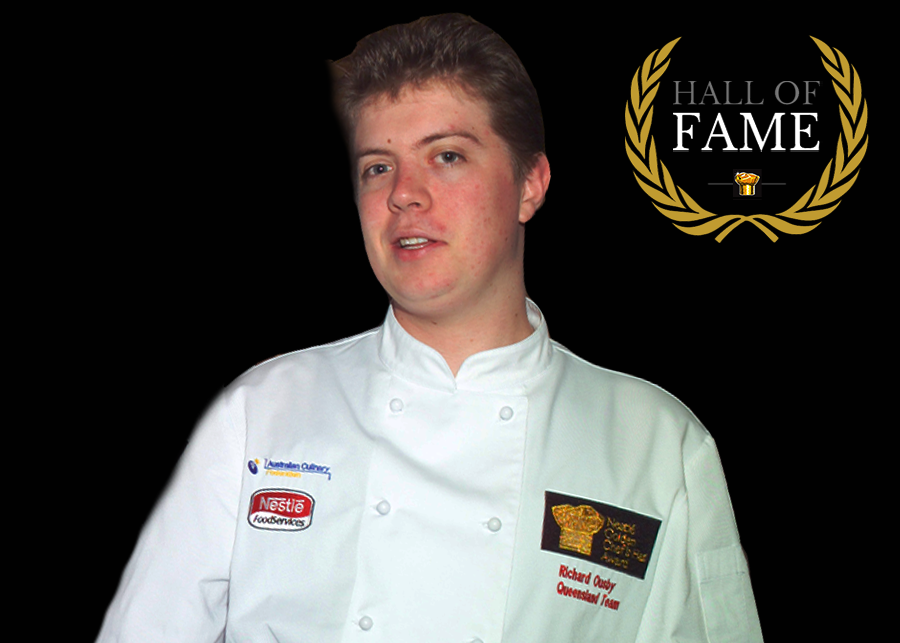 Richard Ousby
Read more about Richard's journey after being crowned the 2005 Nestlé Golden Chef of the Year in the Hall of Fame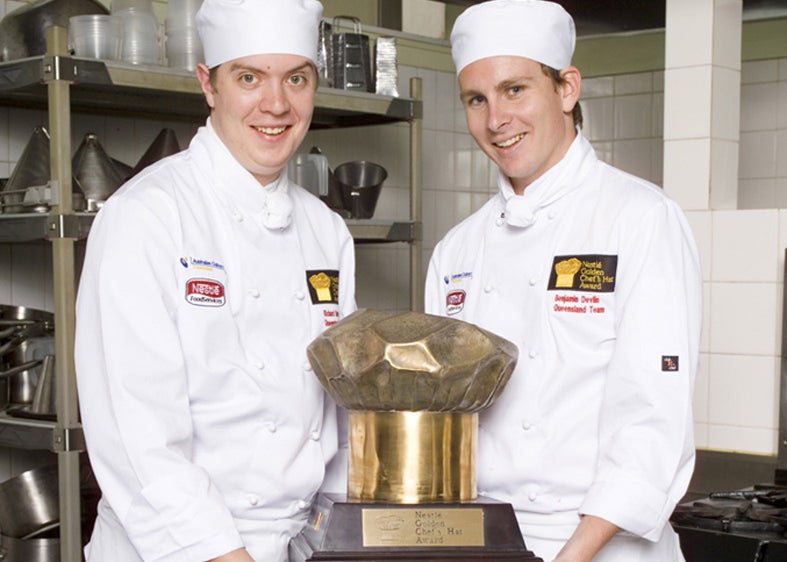 2005 Winner
Richard Ousby & Benjamin Devlin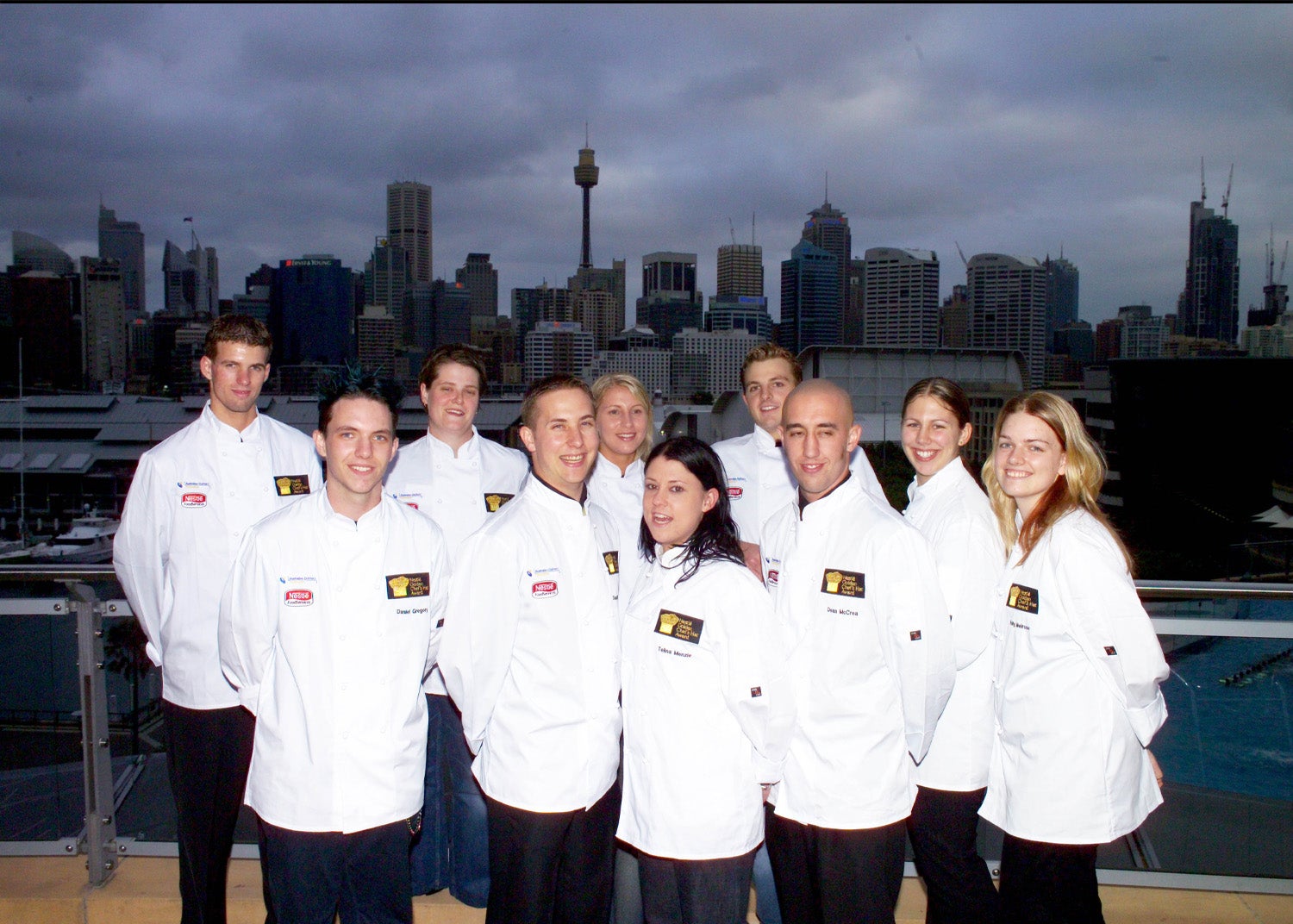 2005 Grand Finalists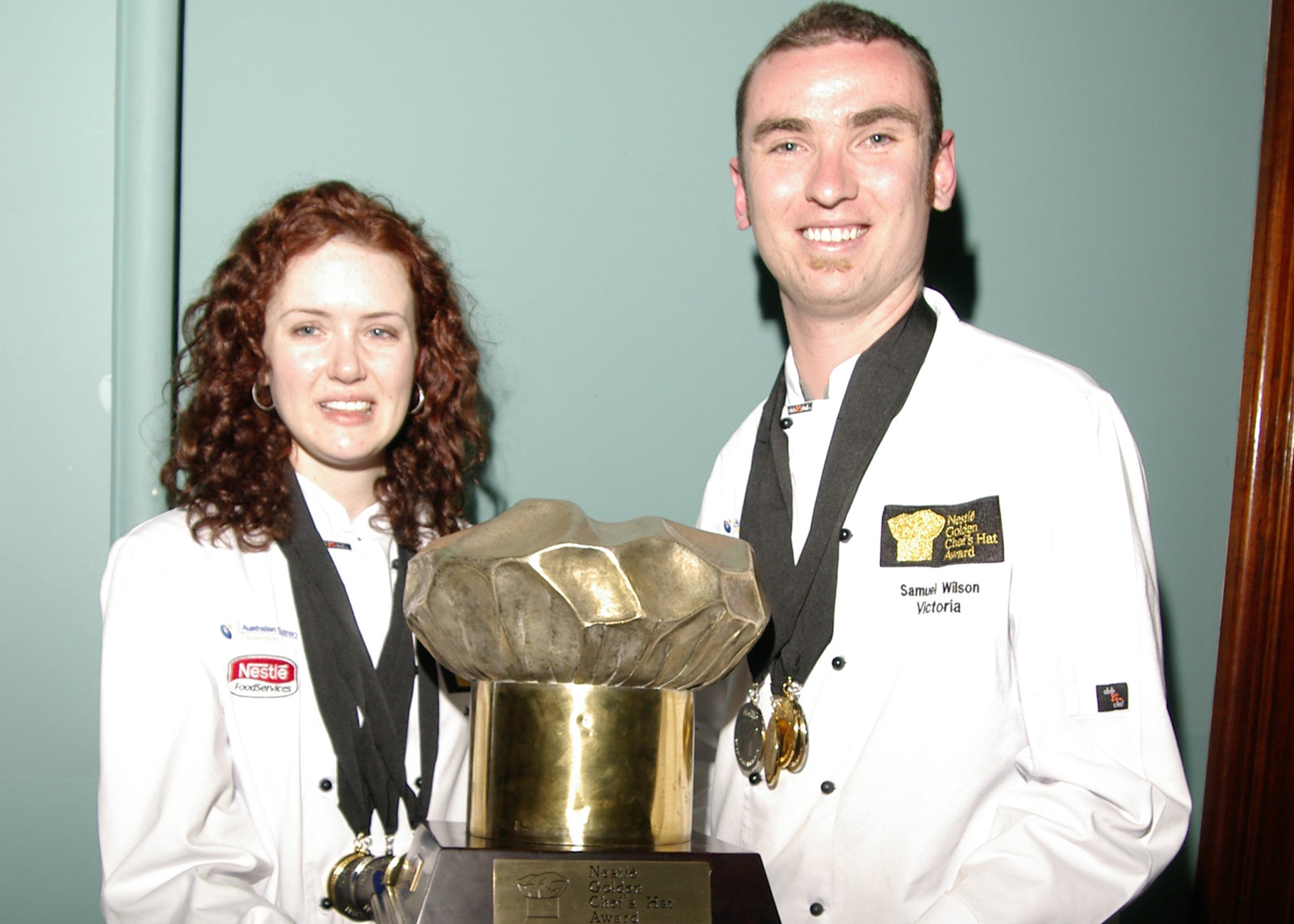 2004 Winner
Jaclyn O'Sullivan & Samuel Wilson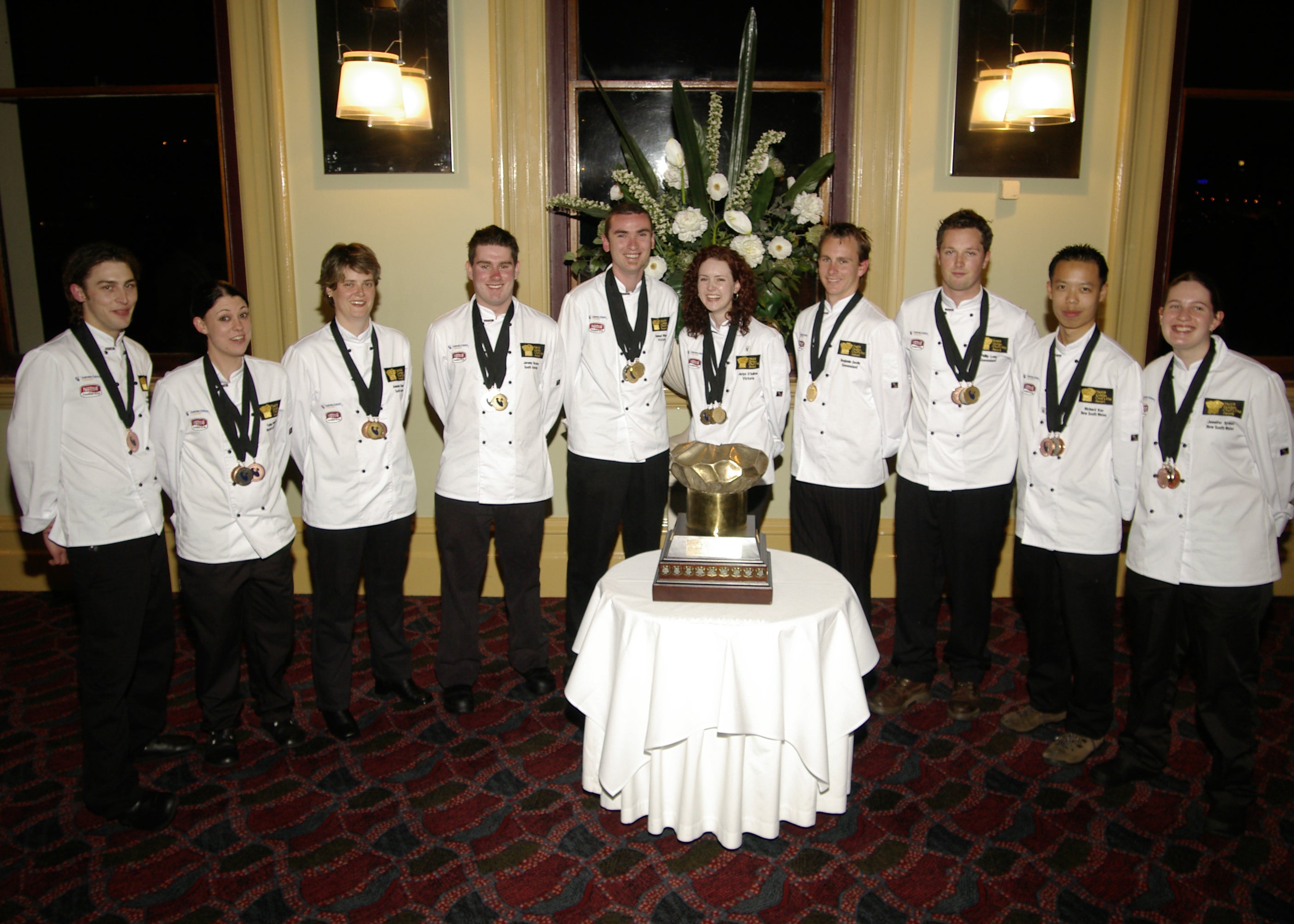 2004 Grand Finalists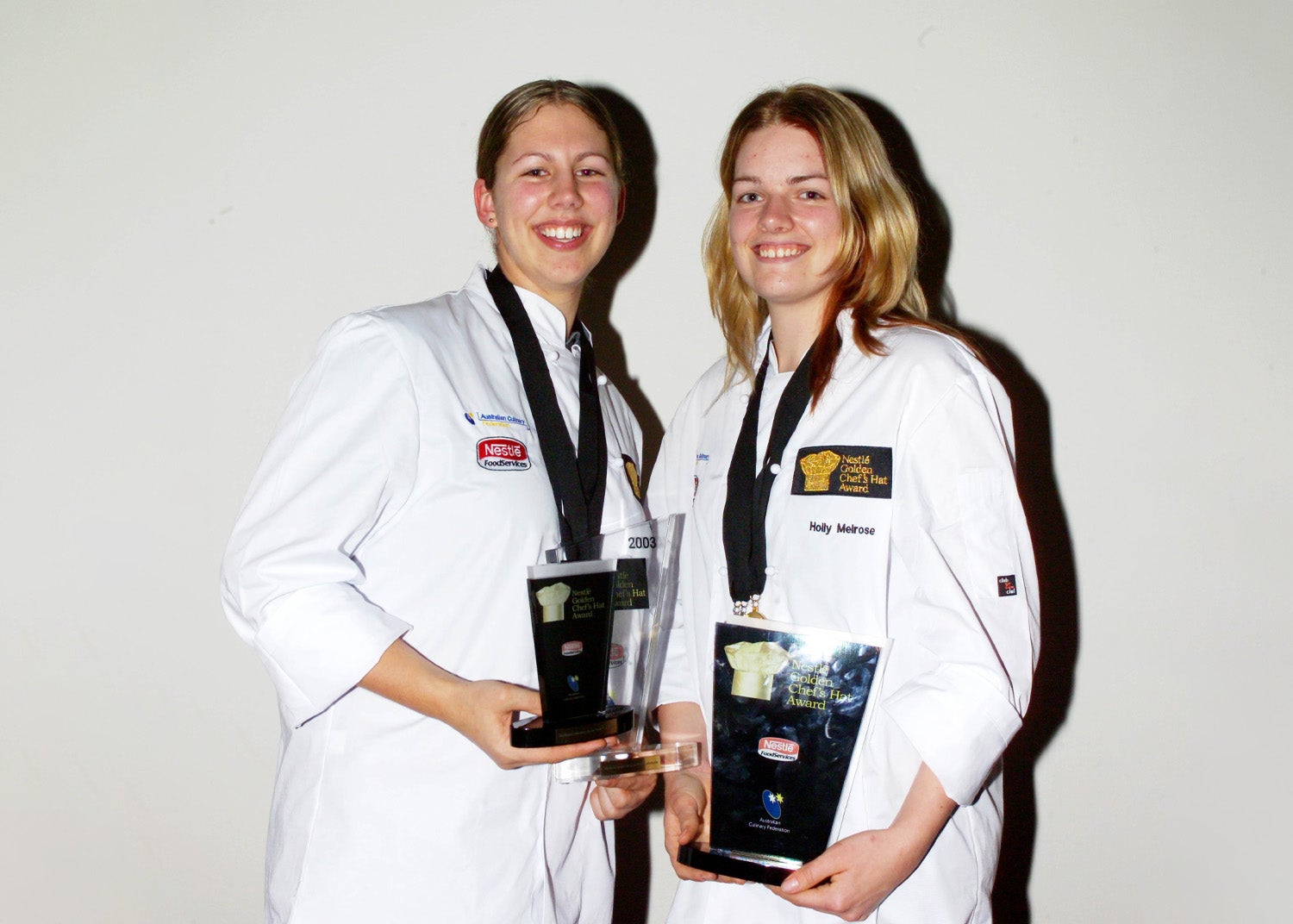 2003 Winner
Bethany Finger & Holly Melrose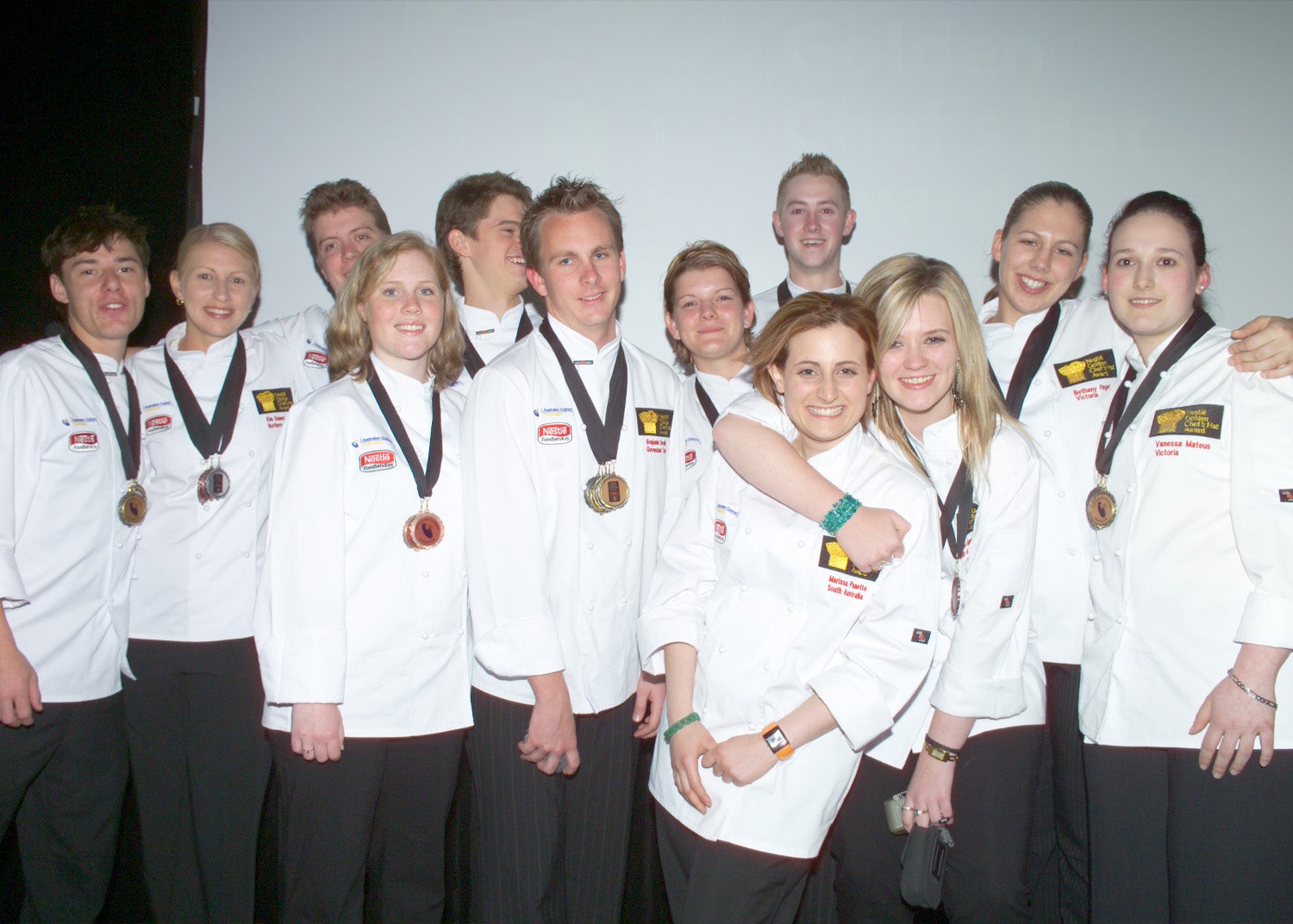 2003 Grand Finalists