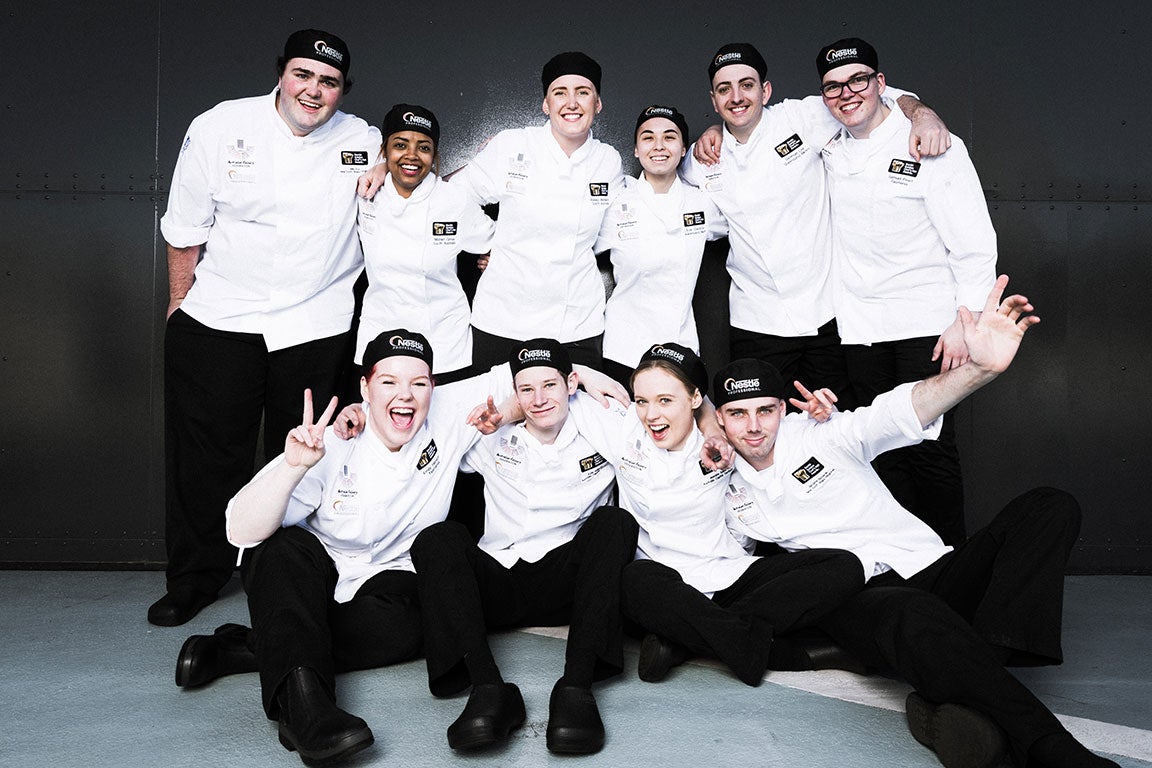 Entries for this year's comp are now closed. If you've missed out and are keen to register your interest for the 2022 Golden Chef's Hat Award, please register your details here.
Who can enter
Apprentice and junior chefs, who are:
Australian or New Zealand residents
Aged from 16 and under 25 years on 30th December 2021
Currently or recently employed (last 12 months) in the culinary industry (chef, cook, apprentice, culinary student)
Key Dates
29th March–21st May: Online Entry Open
---
21st May: Video Submissions Close
---
31st May: Round 1 Qualifiers and Round 1 Video Category Winners announced
---
June-July: Round 2 Regional and metro cook offs
---
June: Round 2 Regional and Metro cook off winners announced within 1 week of relevant cook-off
---
4th - 9th September: Round 3 Grand Final Cook offs
---
8th September: Industry Awards Night
How to enter
The 2021 Nestlé Golden Chef's Hat Award is now officially open and entering couldn't be easier.
1
Complete and submit the REGISTRATION FORM (takes 5 mins). You'll then be directed to a page that will confirm your successful registration.
YOU HAVE UNTIL FRIDAY 21st MAY (11.59pm AEST) TO COMPLETE YOUR REGISTRATION FORM.
It's no longer a mandatory requirement to submit a 3-minute video. However, if you do choose to submit a video, you can be in the running to win 1 of 6 $250 Prezzee cash vouchers. For details on this prize opportunity CLICK HERE. You can create any dish you think best showcases your skills and best demonstrates your personality as a chef.
Video category winners will be notified by 5pm Monday 31st May 2021, with the top video of each category receiving a $250 Prezzee/Prezzy (AUD/NZ) vouchers for you to spend as you wish.
2
So long as you've completed the registration form and meet the entry requirements, you'll get to cook-off against other chefs at the regional heats (between June – July) and will be notified within 1 week of your assigned regional or metro cook-off.
3
The top 12 winning chefs from round 2 across Australia and New Zealand will then go on to compete in Round 3: The Grand Final Cook-off which will be held virually on Wednesday the 17th November 2021.
Each of the finalists will compete in commercial kitchens across Australia and New Zealand with judges onsite to taste their food. At the same time, their dish creations will be live streamed to a panel of remote judges who will calibrate the results.

A Virtual Awards ceremony will be broadcast on 30th November 2021 to celebrate the results of the talented chefs, so stay tuned for more details...
to be held at Fine Food Australia (International Convention Centre in Sydney). Finalists need to be available from 4th – 9th September inclusive. Reasonable travel costs including accommodation will be provided. Note: Date/location is subject to change.
At the grand finals, one chef will take out the Nestlé Golden Chef of the Year title and be awarded an AUD$10,000 cash prize to support their culinary advancement.