The Golden Chef winners of 2018, 2019, 2020 & 2021
Their dishes, work experience and what they're up to now...
Kimberly Tang, 2021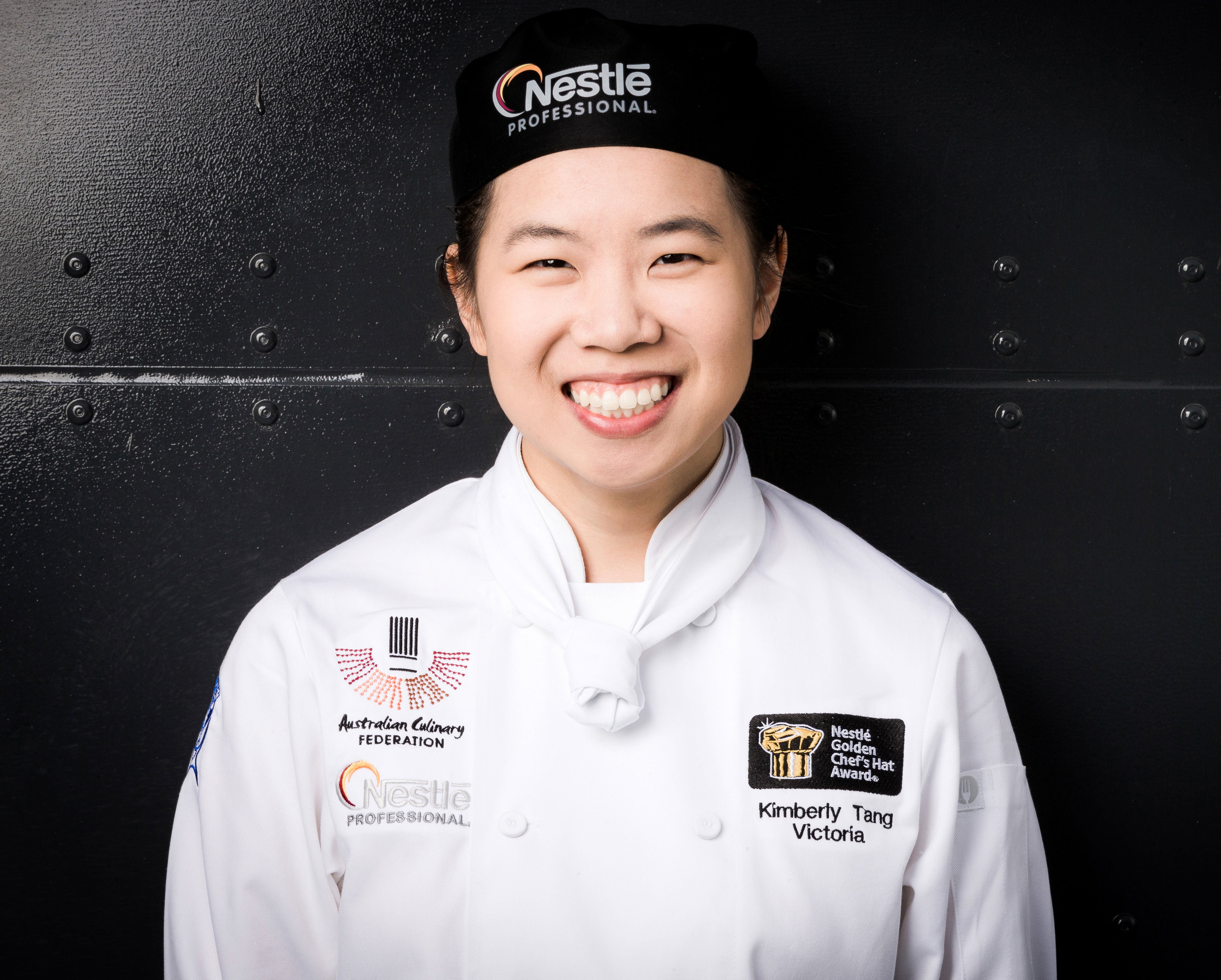 Winning Dishes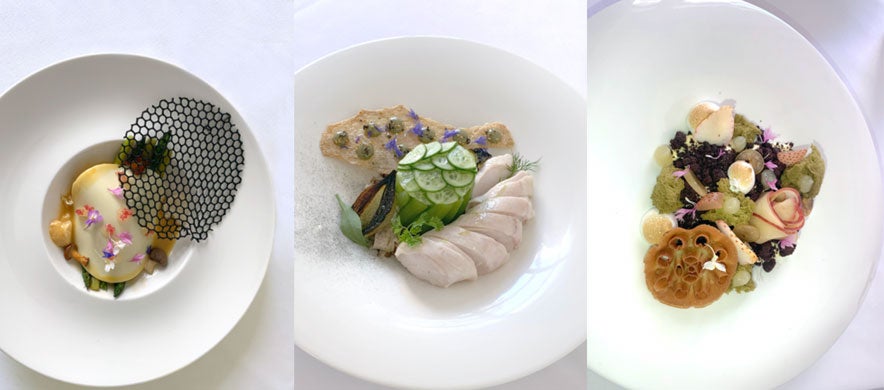 Entrée: Mushroom Ravioli – Onion and horseradish jelly, mushroom and black garlic Parcel, asparagus, pickled foraged mushrooms, yuzu gel, black garlic tuile, and ponzu emulsion.
Main: Hainanese Chicken – Hainanese style chicken with black garlic emulsion, mushroom pearl barley, crispy chicken skin, negi oil, baby onions, shitake, and smoked charcoal pepper dust.
Dessert: Peaches & Strawberries Cream Zen Garden – Mascarpone Cremeux, black garlic and chocolate soil, matcha sponge, mushroom meringue, coconut lotus cookie, umeboshi compressed white peaches, strawberries, grapes, and yuzu gel.
Another Virtual Award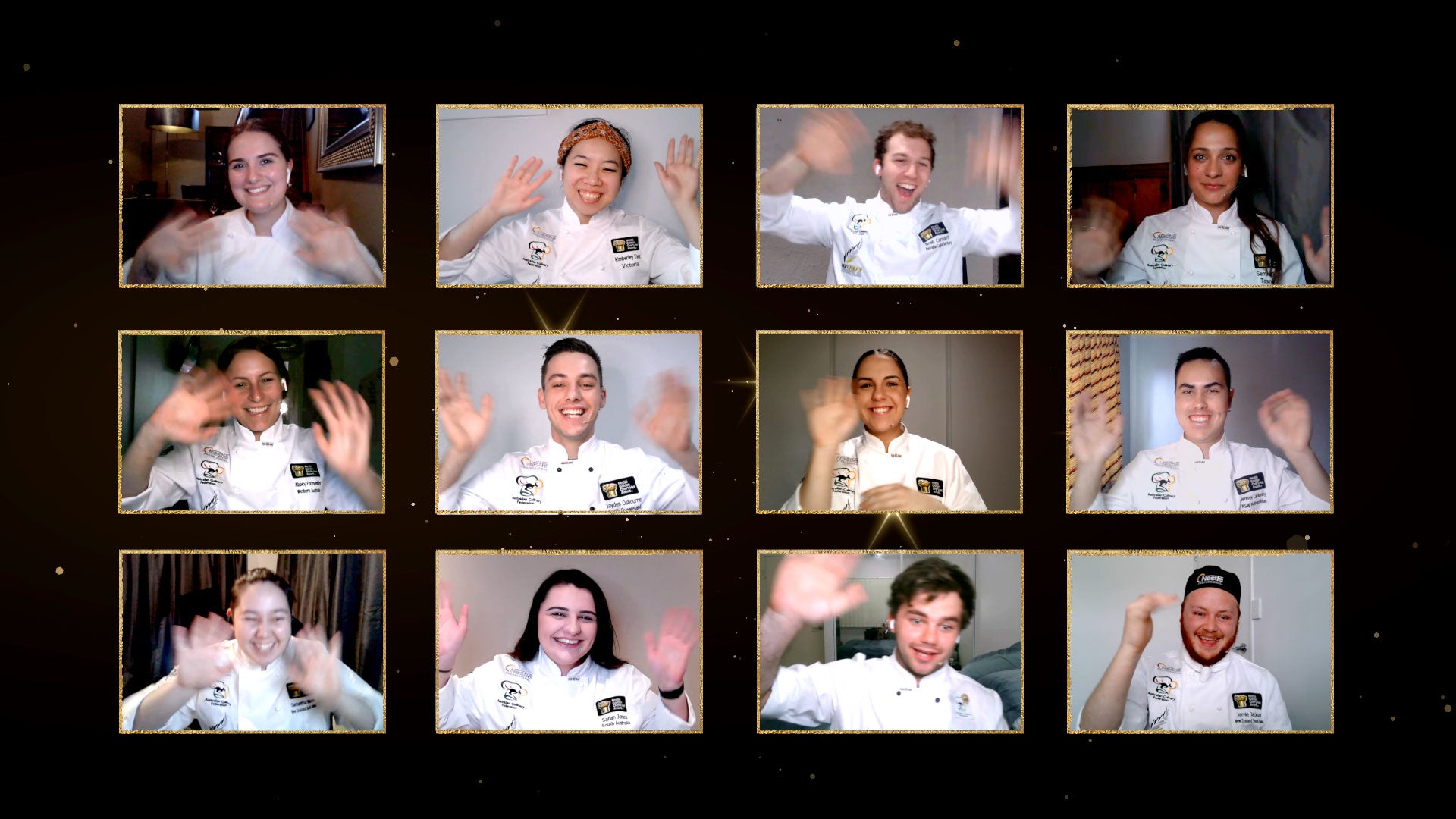 For the second year running, the award successfully adapted to a virtual grand final format, attracting an outstanding level of culinary talent across Australia and New Zealand.
The stakes were high, with the top eleven chefs pushing themselves across (vegan) entrée, main and dessert courses. Female chefs dominated in the finalist line-up, and an un-precented five gold medals were awarded.
Kimberly's Story
This impressive chef is a familiar face, having previously competed in 2016 & 2017. Always having her sights set high, Kimberly has also represented Australia in both the prestigious Bocuse d'Or and Chaine des Rotisseurs.
Her previous culinary roles include Dinner by Heston Blumenthal Melbourne and Nobu, Crown Casino. Kimberly is now about to embark on her latest culinary role as sous chef at Society (LUCAS Restaurants).
"I love the thrill of this competition and it's true that if at first you don't succeed, try and try again! Never give up because anything is possible, it's what you make of every opportunity that counts. I went all out to stay true to myself this year, drawing on traditional concepts from my heritage and then taking them to a new place with interesting technical applications."
Follow Kimberly as she continues her culinary journey @lightand.tangy
Sam Heaven, 2020
 
Winning dishes

Entrée: Salt Baked Onions, Mushroom, Fennel and Fermented Rice purée, Juniper
Main: Reconstructed Chicken and Butternut Tart
Dessert: Chocolate, Sour Pear Mousse, Umami Caramel and CHEF Black Garlic Paste

A Virtual Competition


 


2020 was the first time the competition went 'virtual' whilst the world was in lockdowns, and Sam smashed it! Sam was awarded a $10,000 cash prize for winning the competition up against nine other talented chefs across each region in AU & NZ. 

 
Sam's Story
Sam Heaven has always had his eye on what's next and making the most of opportunities that come his way. During his short career, he has already notched up a number of impressive highlights including stints at The Sugar Club, the Park Hyatt in Auckland and now Oncore by Clare Smyth at Crown Sydney.
 
In the build up to competing at Nestlé Golden Chefs Hat Award, Sam spent hours of his own time perfecting the menu he developed and making sure he was in top form for competition day. For Sam, winning the event was a "truly humbling experience".
 
"It taught me that with enough practice and perseverance and by cooking the food I love I could achieve top results in a highly competitive event."  
 

 
In 2021, Sam was also named Beef + Lamb's Young Ambassador Chef! See his winning dishes and more details @nzbeeflambchefs.

Be sure to keep an eye on what Sam is doing and find him on Instagram @sam_heaven.