The Golden Chef winners of 2018, 2019 & 2020
Their dishes, work experience and what they're up to now...
Sam Heaven, 2020
 
Winning dishes

Entrée: Salt Baked Onions, Mushroom, Fennel and Fermented Rice purée, Juniper
Main: Reconstructed Chicken and Butternut Tart
Dessert: Chocolate, Sour Pear Mousse, Umami Caramel and CHEF Black Garlic Paste

A Virtual Competition


 


2020 was the first time the competition went 'virtual' whilst the world was in lockdowns, and Sam smashed it! Sam was awarded a $10,000 cash prize for winning the competition up against nine other talented chefs across each region in AU & NZ. 

 
Sam's Story
Sam Heaven has always had his eye on what's next and making the most of opportunities that come his way. During his short career, he has already notched up a number of impressive highlights including stints at The Sugar Club, the Park Hyatt in Auckland and now Oncore by Clare Smyth at Crown Sydney.
 
In the build up to competing at Nestlé Golden Chefs Hat Award, Sam spent hours of his own time perfecting the menu he developed and making sure he was in top form for competition day. For Sam, winning the event was a "truly humbling experience".
 
"It taught me that with enough practice and perseverance and by cooking the food I love I could achieve top results in a highly competitive event."  
 

 
In 2021, Sam was also named Beef + Lamb's Young Ambassador Chef! See his winning dishes and more details @nzbeeflambchefs.

Be sure to keep an eye on what Sam is doing and find him on Instagram @sam_heaven.



Giles Gabutina & Alessio Nogaratto, 2019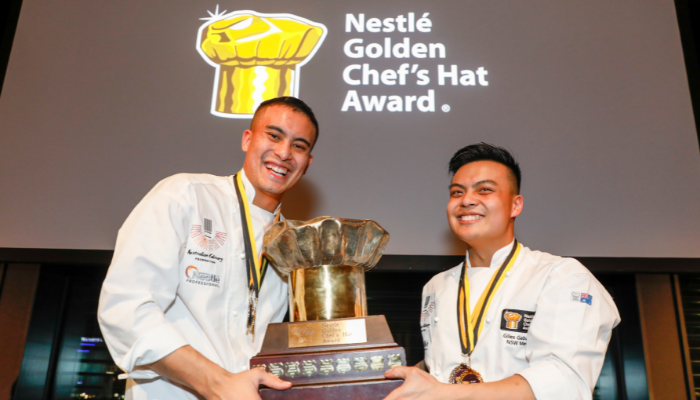 Winning dishes

 

Entrée: "Tartare" of charred zucchini and roasted mushrooms, with smoked eggplant, lemon sour cream, and a salad of shaved fennel and zucchini 

Main: Roasted lamb loin with a lamb and potato croquette, green pea and miso purée, peas dressed in a mint and caper salsa verde, a salad of pea shoots and red amaranth, and a smoked lamb jus

Dessert: Roasted and glazed pears with a crème fraiche and citrus parfait, toasted olive oil cake, burnt pear and brown butter emulsion, and an infusion of bitter citrus, fennel and olive oil
Awards Night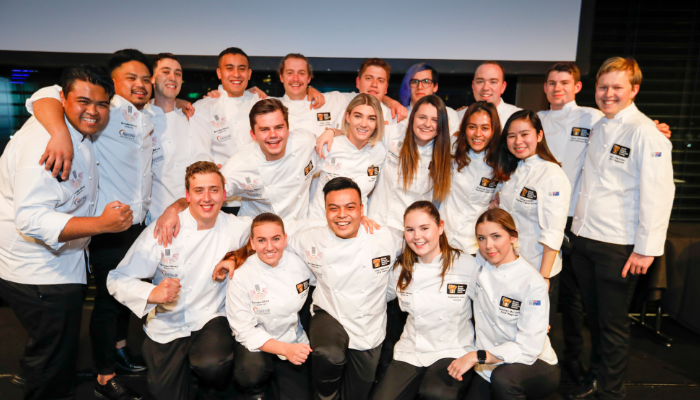 Their Story 
Giles Gabutina and Alessio Nogarotto were crowned the winners of the competition back in 2019. The two best friends, roommates and workmates both worked at Bentley Restaurant & Bar at the time and have since both worked in different restaurants.

"It's still so surreal Alessio and I have won. We're totally shocked but so happy with the result. I couldn't have asked for a better partner and brother to do this with, and I'm so proud of what we have achieved together and what we will achieve in the future. A massive thank you for providing me with one of the best experiences of my life so far. It's been incredible from start to finish."- Giles Gabutina, 2019

Giles has a long history as a pastry chef, working in top restaurants such as Tetsuya and Bentley, Sydney. He has also done work placement at Maaemo, based in Oslo, Norway. No stranger to cooking competitions, Giles also won the Proud to be a Chef culinary competition in 2017.

Alessio was born into a family of chefs and grew up working in his family's Italian restaurant, a Chefs Secrets. His natural ability as a chef shone through when he started to work for his family, then going on to work at other venues in Sydney including Bentley Sydney. The Golden Chefs competition was the first comp he'd competed in!

The pair were awarded $10,000 each for winning the comptition (unable to travel on their planned culinary trip due to Covid). Excitingly, the due are about to begin their new adventure and open up their own restaurant Cricca, located in Windsor, Sydney. 

Stay up to date with what these legends are doing and follow Giles @gileskai and Alessio @alessio_nogaratto